The Latin Cheese Bread recipe is created with America's Dairy Farm Families and Importers, in partnership with the Innovation Center for U.S.Dairy however, the views and opinions included are my own.
I love making bread, and the idea of mixing cheese in the dough is very traditional in Latin cuisines. The result is excellent and tasty bread that can be eaten as avocado toast or toasted with marmalade. And as a hamburger bread, it is superb, but I recommend it above all for chicken or turkey burgers. It will give a perfect touch to your sandwiches.
During my childhood with my family, we made many road trips. My grandfather loved going out to see places around our city, country festivals or carnivals to attend, other times the whole idea was to climb a hill with a beautiful view. My mom and my grandmother were masters when it came to making a sandwich for the road. And we always had a thermos of tea with milk, and although it was the same tea we have at the house, it always tasted three times better on the road, just like the sandwiches. The key to a sandwich that stands the test of a road trip is to spread the bread with mayonnaise or butter that acts as a barrier so that the bread does not get soggy. Then alternate the ingredients so that the sides do stick together. Wrap everything in wax paper, then plastic wrap.
What is your favorite sandwich for the road? Mine is tuna, tomato, avocado, and lettuce. In our road trips, we often passed through fields with cows and even dairy farms. Did you know that 97% of dairy farms are family-owned and operated? Most of the milk one consumes is produced on farms close to our cities and contribute to the farm-to-table movement. Milk is produced in every state, and most milk travels on average less than 300 miles from the farm to the grocery store. For more information on how dairy farmers work every day around our local communities visit Undeniably Dairy.

This bread incorporates cheese, milk, and butter, which contribute to the texture and color of the bread. All the cheeses used in this recipe come from my home state of Texas. It's so easy to consume local products when it comes to milk and dairy products. If you do not like or can't find Queso Fresco or Feta in your local supermarkets, you can use other cheeses like mozzarella or grated parmesan. Enjoy your road trips this summer with a good sandwich made with this recipe; it will not disappoint you.
Latin Cheese Bread with Queso Fresco
For 12 buns

Ingredients:
1/2 cup of whole milk or 2%
1 tablespoon of sugar
2 teaspoons instant yeast
2 eggs
2 tablespoons melted butter
1 teaspoon salt
4 cups flour (can be 2 of flour of bread and 2 of flour of all use, without powder)
1 cup crumbled Queso Fresco
1 cup crumbled feta cheese
To brush,
Preparation:
Heat the milk until warm (20-30 seconds in the microwave), add the yeast and sugar. Stir. Let stand 10 minutes; it should bubble and grow if the yeast is alive.
In a large bowl place the eggs and beat until well mixed, add melted butter, salt, and milk with yeast. Add 2 cups of flour and half the cheese mixture. Mix well with a wooden spoon or with the mixer.
Add the rest of the flour and cheese and form a dough.
Knead for 10 minutes by hand or 5 minutes with the mixer. Or until the dough is elastic and if you stick a finger in the dough, the dough tends to close.
Cover with a cloth and let it grow in a warm place for 1 hour.
Separate the dough into 12 portions, if you want to make sure, you can weigh the dough (mine weight 1200 grams), so I made 12 100 gram balls.
Make balls and flatten lightly. Place in a 9″x12″ buttered baking pan.
Preheat oven to 350F or 180C.
Cover the baking pan with a cloth and let stand 30 minutes.
Beat the egg with the milk and brush the buns.
Bake for 30-35 minutes or until golden brown.
Let cool for 10 minutes before serving.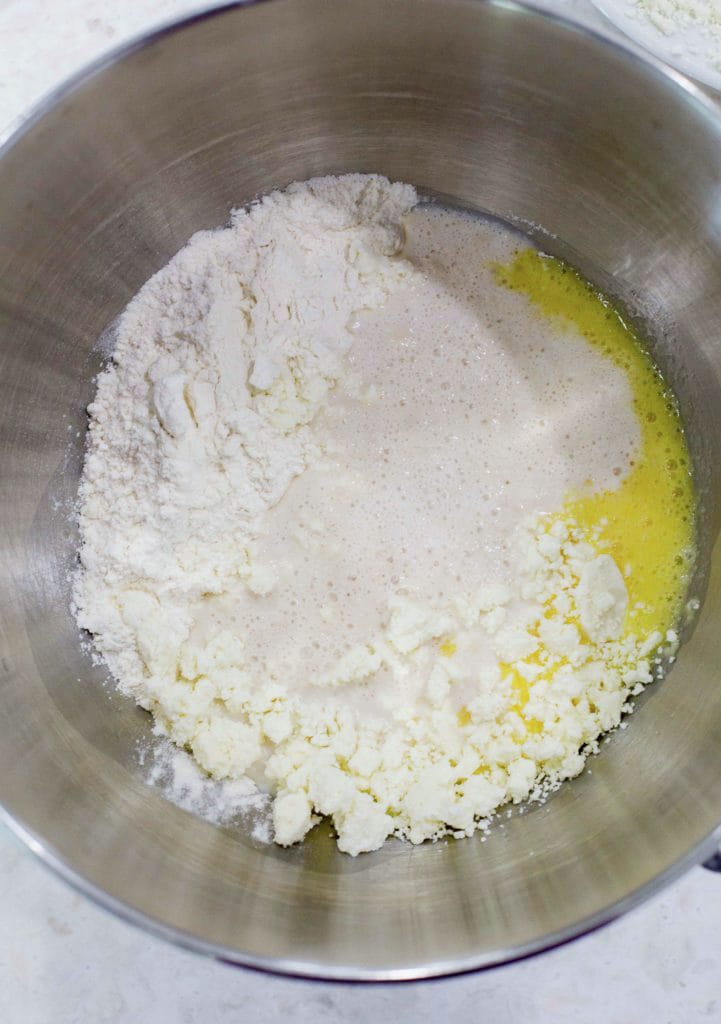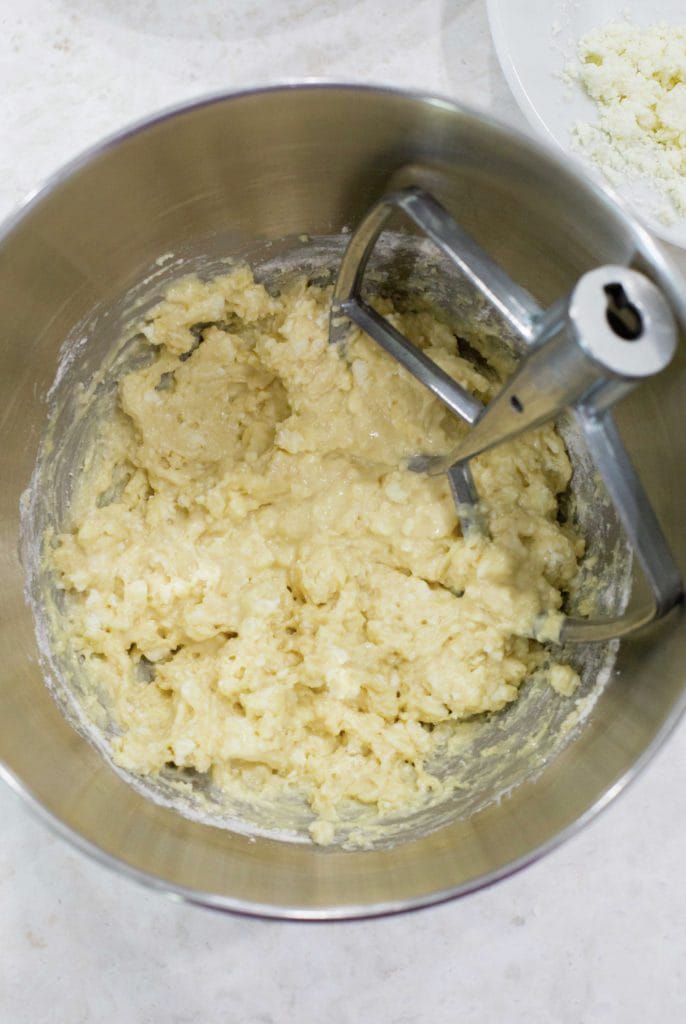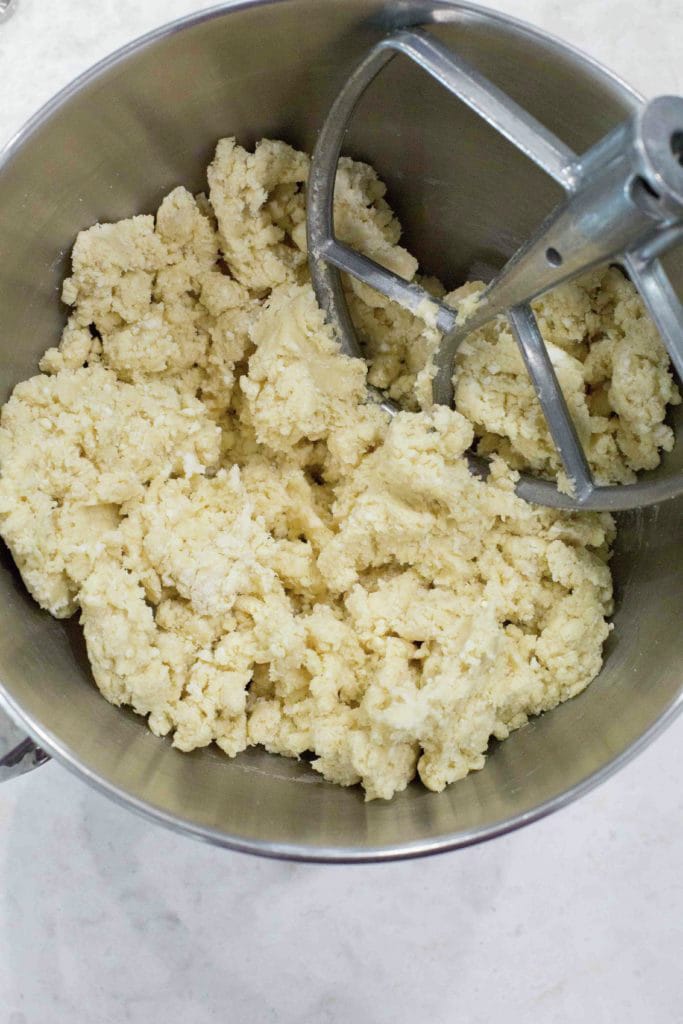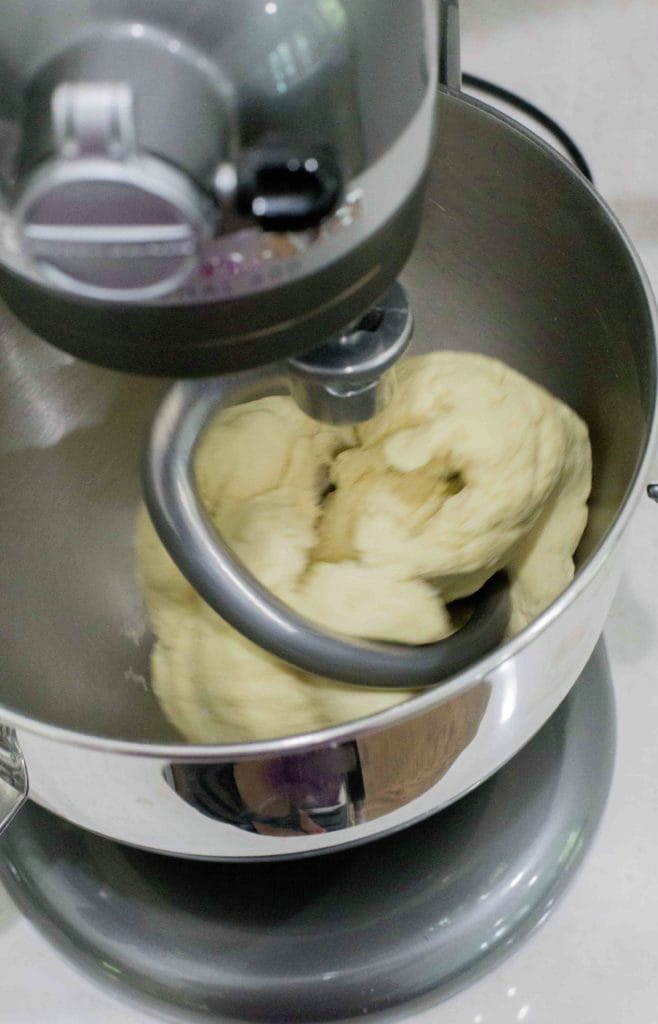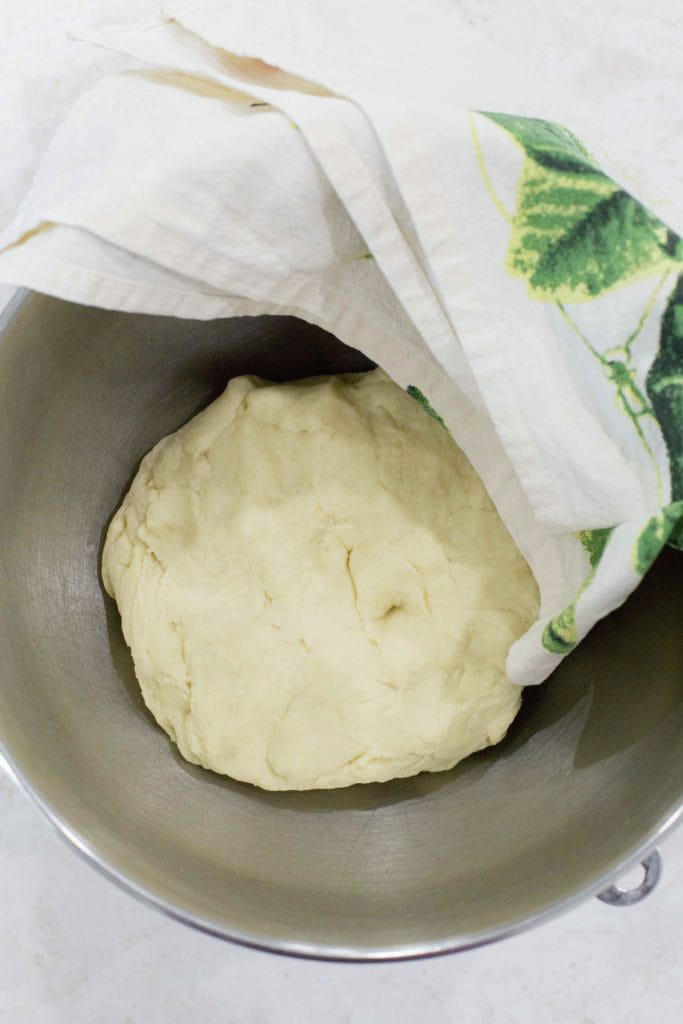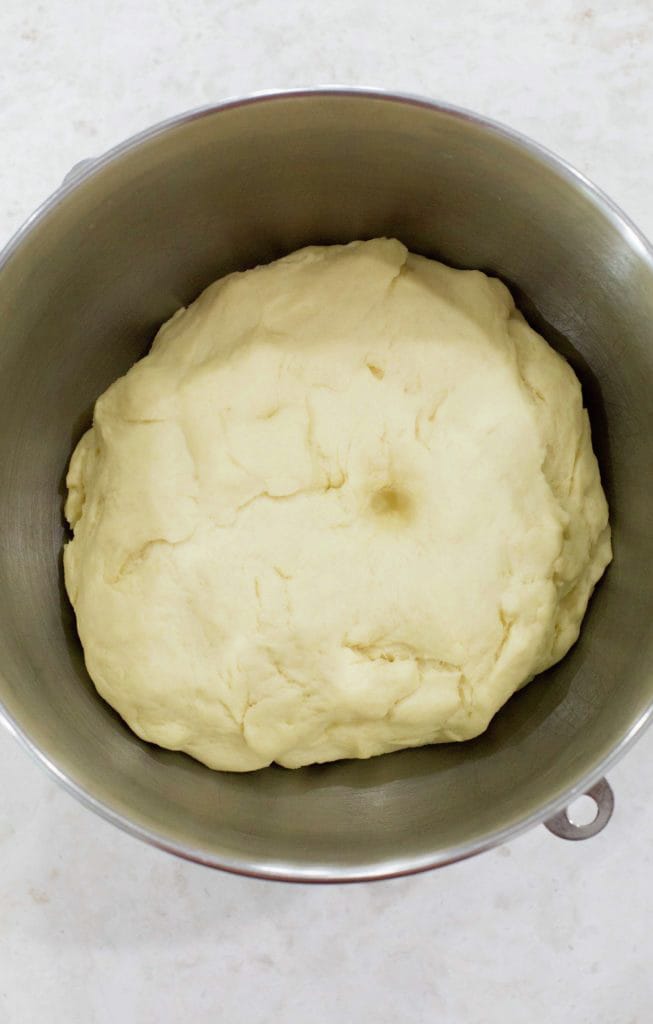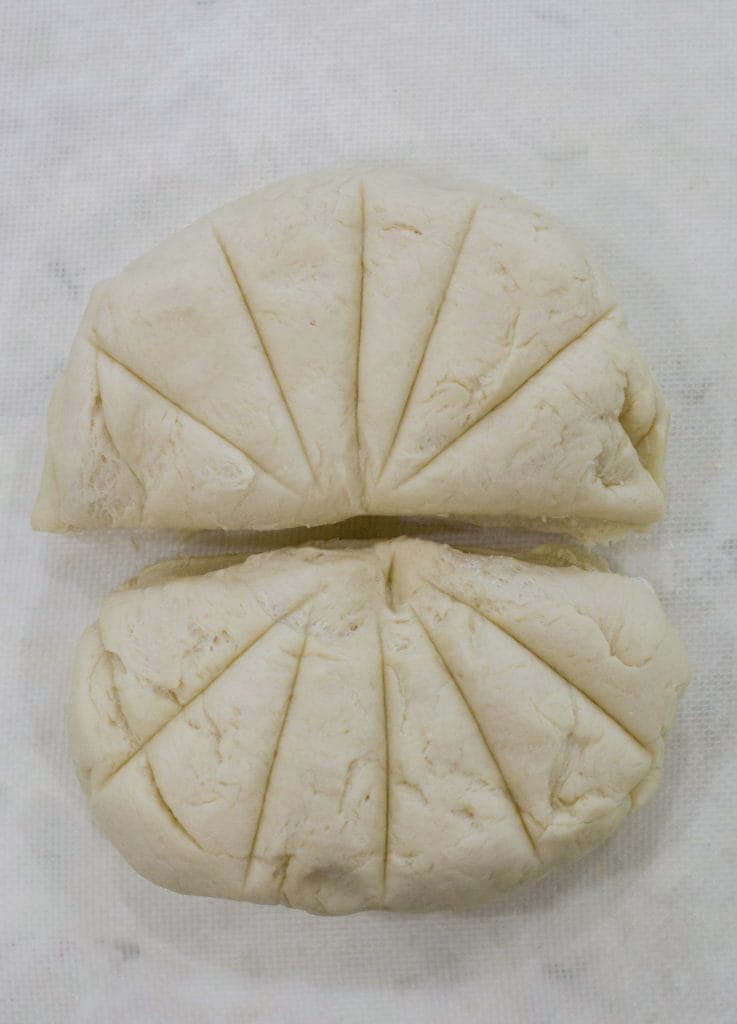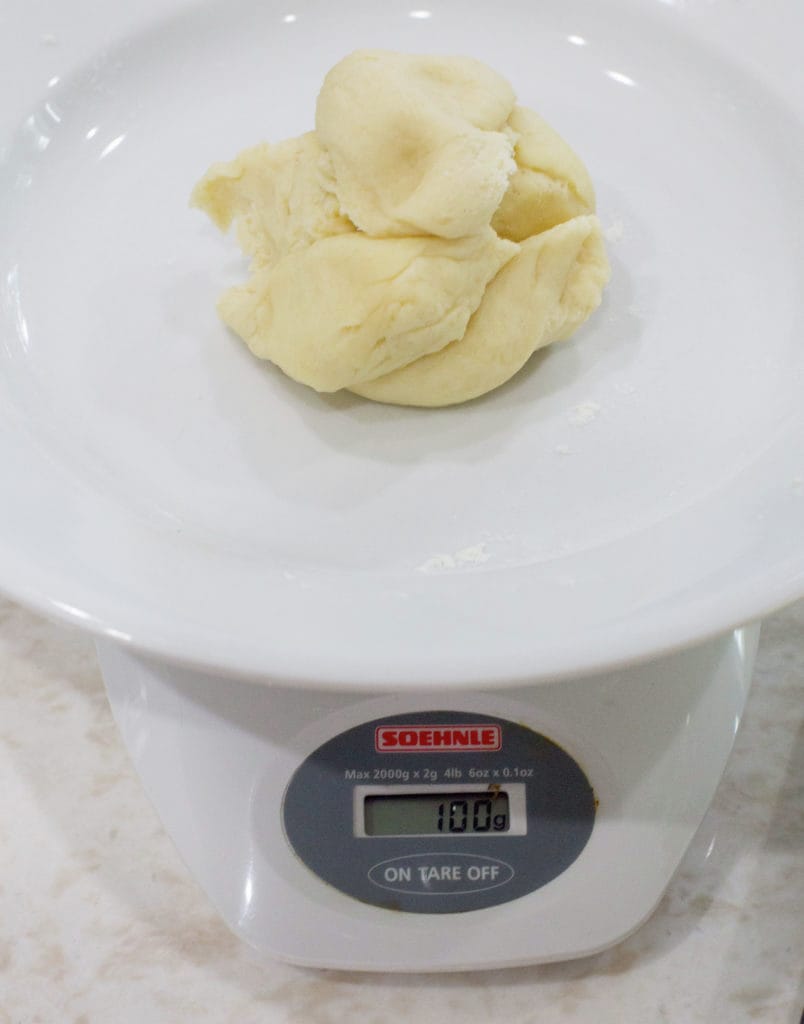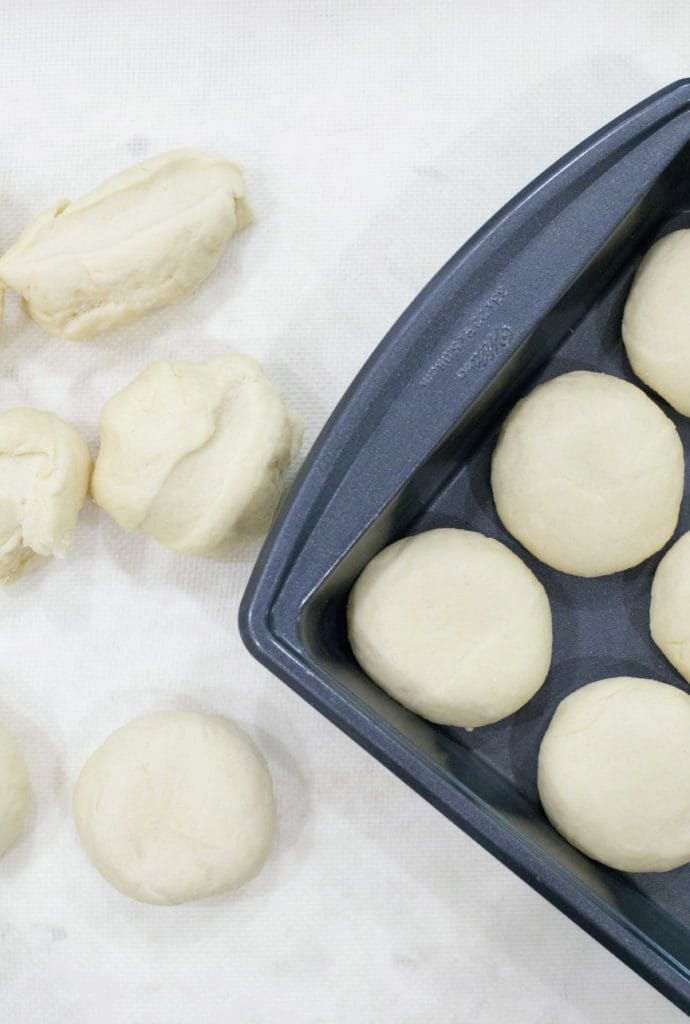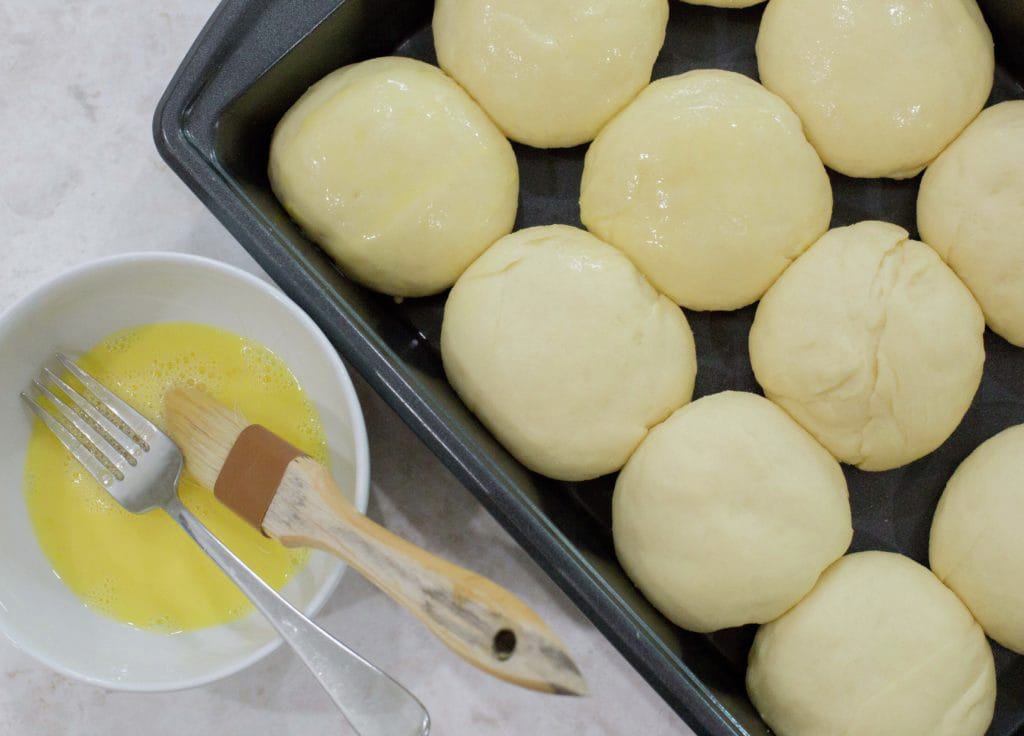 This post is created with America's Dairy Farm Families and Importers, in partnership with the Innovation Center for U.S. Dairy, however, the views and opinions included are my own.