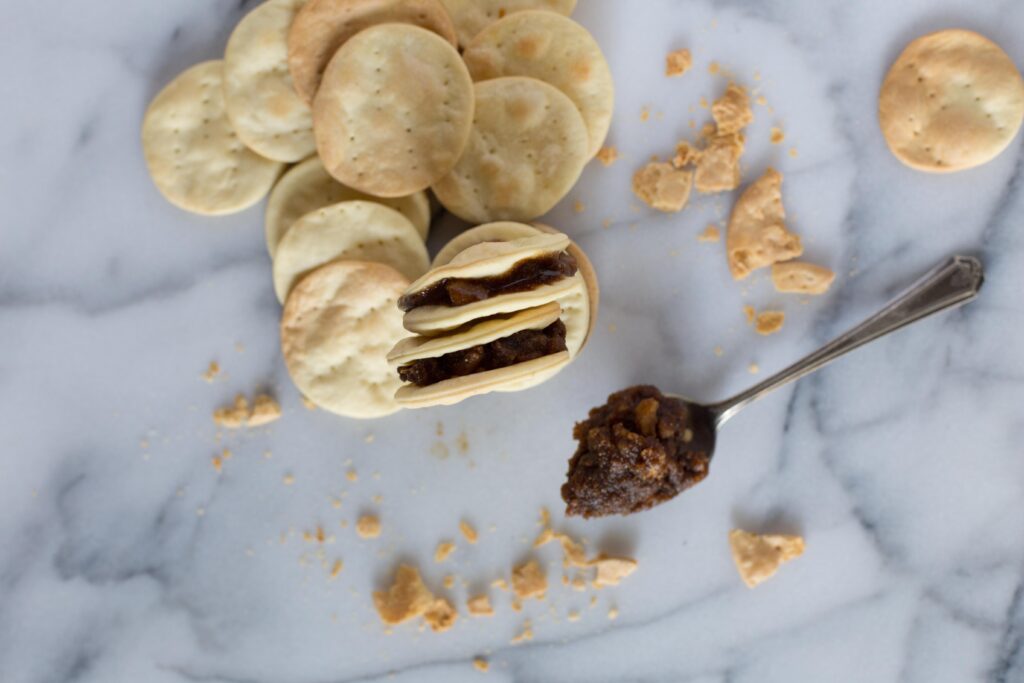 Alfajores with chancaca or molasses, also known as Alfajores Atoradores, are mainly popular in northern Chile, La Serena, and Coquimbo. This recipe has two versions, one as written, and an alternative is to grind the walnuts before adding them to the cooked molasses. I do like the different textures, so I leave it to you.
What are Alfajores made of and filled with?
Great question and it depends. Alfajores is a cookie filled with something, and like many recipes introduced by the Spaniards, with time, they have gotten different variations throughout Latinoamerica.
They are most popular in South America, especially in Chile, Peru, and Argentina.
In Peru and Argentina, the most common variation of Alfajor is the recipe: a melt-in-your-mouth cornstarch cookie filled with dulce de leche.
In Chile, alfajor is a cookie made with a crunchy dough (Hojarasca) made with egg yolks and flour and filled with dulce de leche. See the recipe here: Chilean Alfajores.
In Argentina and Chile, Alfajores Mendocinos are very popular too. I included a recipe in my book, The Chilean Kitchen (Amazon affiliate link). You can see a recipe here, too: Chocolate alfajores, which are similar to the commercial ones Alfajores Havanna (Amazon affiliate link).
Print
Alfajores Atoradores with Molasses
A traditional Chilean cookie.
Total Time:

1 hour 30 minutes

Yield:

35
2

cups

sifted flour

3

egg yolks

5 tablespoons

milk

1 teaspoon

vinegar

1 tablespoon

melted butter
for the molasses filling,
225

grams

of panela or piloncillo

1/3

cup

water

1/2

cup

toasted flour

1/3

cup

chopped walnuts
zest of

1/2

orange optional
Instructions
Preheat the oven to 350F or 180C.
Put flour in a large bowl.
Add the egg yolks and work with a fork or your hands to form crumbs. Add milk, vinegar, and melted butter. Form a soft dough, and add water, if necessary, by teaspoons.
Knead to a smooth dough for about 10 minutes. Wrap in plastic wrap and rest in the refrigerator for at least 2 hours and up to 2 days.
Roll thin, cut the Alfajores, prick with a fork, and bake for 10-12 minutes or until golden brown.

You can save the Alfajores cookies without filling them in an airtight tin for up to 1 week and freeze them for up to 2 months. Once fill is best to eat them the same day.

Place the chopped or grated molasses (panela) in a saucepan, add water and cook over medium heat, occasionally stirring, until all the molasses is melted. Add the orange zest. Add the flour slowly, stirring all the time with a wire whisk. Boil gently for 3 minutes, stirring occasionally. Remove from heat and add chopped nuts.

Cool and fill Alfajores.

Author:

Pilar Hernandez

Prep Time:

1 hour

Cook Time:

30 minutes

Category:

Cookies

Method:

Oven

Cuisine:

Chilean
Keywords: Alfajores Atoradores, Molasses Alfajores