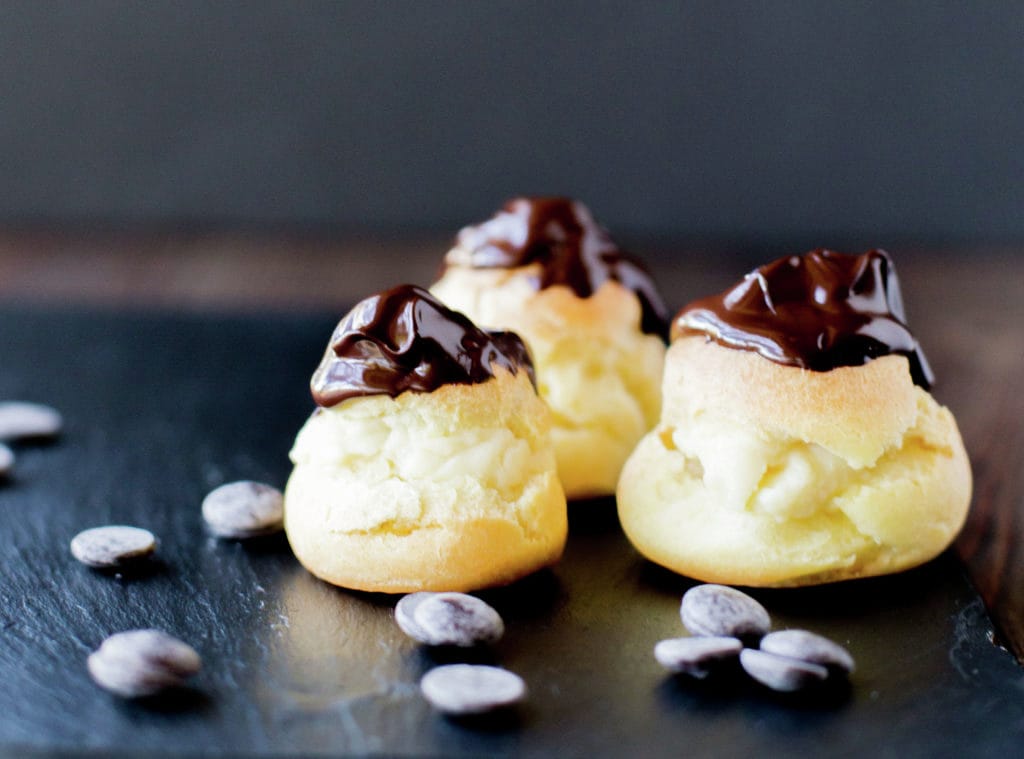 I don't know why baking Profiteroles had always been a bit scary to me. My mom has done it so many times, and they look so good, that I got more frightened. Finally, I decided that I had to try my hand with the profiteroles, this is my mom's recipe, and it is the same recipe for the eclairs only the shape changes.
I filled them with what I had left over from Tres leches pastry cream and covered them with chocolate, they were outstanding. Do not be like me; the truth is that the recipe is simple and they will be delicious, it is essential to eat them the same day if filled or they can be frozen. Fill them with ice cream, whipped cream, pastry cream, coffee pastry cream, Nutella, or the Chilean classic Dulce de Leche, whatever you want.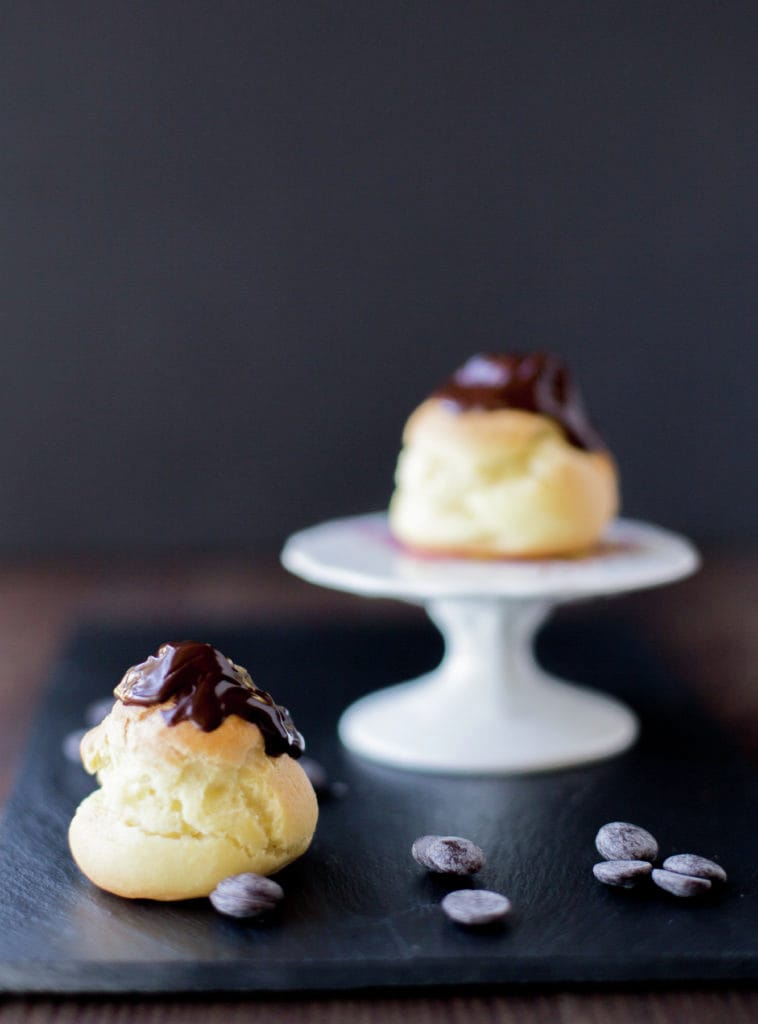 Profiteroles, Chilean Style
20-25 profiteroles
Ingredients:
1 cup of water (240 ml)
115 grams or 8 tablespoons butter, unsalted
½ teaspoon of salt
1 cup of flour
4 eggs (large, 57-60 grams)
2 teaspoons of sugar (optional, do not add if they are to be filled with something salty)
Pastry cream or Dulce de Leche to fill
Preparation:
Preheat the oven to 425F or 220C. Prepare a baking sheet it with Silpat or silicone paper.
In a medium saucepan place the water, butter, salt, and sugar if it is being used. Heat over medium-high heat until it boils, stir from time to time so that the butter dissolves completely. When boiling vigorous, remove from the heat and add the flour suddenly, stir hard with a wooden spoon or spatula until batter forms.
Return to the fire, let cook until a ball of dough forms that separate from the walls of the pot. Remove from heat and allow to cool 4-6 minutes, stirring occasionally.
Add the eggs vigorously, one by one, incorporating them entirely to the dough before adding the next one. This step can be done by hand stirring with the wooden spoon or with the mixer with the dough blades.
Drop spoonfuls in the prepared baking sheet; you can use 2 spoons for this, leave at least 5cm between each because they grow in the oven. Or you can pipe them.
Bake for 25-30 minutes until well browned and cooked. Be patient and let them brown well so that they remain crispy and don't collapse. Turn off the oven and let the profiteroles stand for 5 minutes. Remove them and immediately and carefully

 

with a small knife open a little, because steam will come out. Allow cooling entirely before filling.
For chocolate, melt 1 cup of chocolate chips with 1 teaspoon of butter in the microwave, heat 20 seconds at maximum power, stir 1 minute, repeat until the chocolate is melted. Drizzle the profiteroles with the chocolate and refrigerate for 10 minutes. Serve.