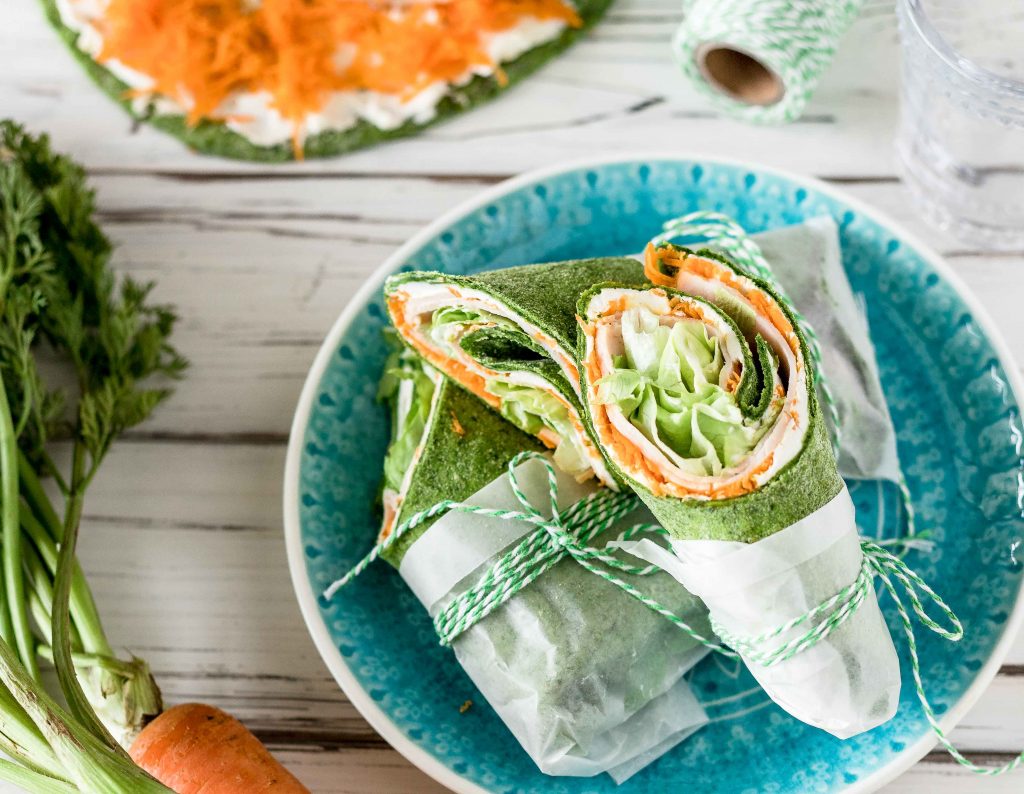 I have been making these Spinach Tortilla Wraps for quick lunches or meetings with friends and children for many years. Homemade tortillas and even more vegetables one like these Spinach Tortilla Wrap have a much richer flavor than purchased tortillas. I recommend doing it. They are also a great project to do with kids.
You can also play with the colors of the fillings to make them very attractive. This recipe originally appeared in BLOGI magazine. Lorena took the beautiful photo; she is behind the Cravings Journal blog. And the tortillas for the picture are prepared by my friend Kane.
Spinach Tortilla Wraps
For the 8 tortillas
Ingredients:
3 cups of whole-wheat or all-purpose flour
2 teaspoons of baking powder
1 teaspoon salt
225 grams of fresh spinach or defrosted well squeezed
¼ cup of olive oil
2/3 cup of warm water
For wraps:
Turkey ham (pork ham, roasted chicken or pastrami)
Cream cheese
Grated carrot (can also be cucumbers, pickles)
Mayonnaise (optional), if not use Cream cheese
Preparation:
Put the flour, baking powder, salt and spinach in the food processor. Process for 30 seconds. With the food processor on,  add oil and water. It will form a soft dough. If necessary add more water one tablespoon at a time.
Put in a bowl, cover with plastic and let stand in the refrigerator for 30 minutes.
Divide the dough into eight portions. On the floured board, knead and roll until you get tortillas 3 mm thick.
Cook the tortillas in a lightly oiled pan over medium heat, 2 to 3 minutes per side.
They should not be toasted, adjust the fire as necessary. Leave to cool.
Spread the tortillas with cream cheese, add grated carrot, turkey ham, and lettuce. Roll and secure with toothpicks or wrap in waxed paper. Keep cold until serving.