Papas rellenas with ground beef were a classic at my grandmother's house. I love them to this day with sugar. I know it may seem strange, but they are spectacular.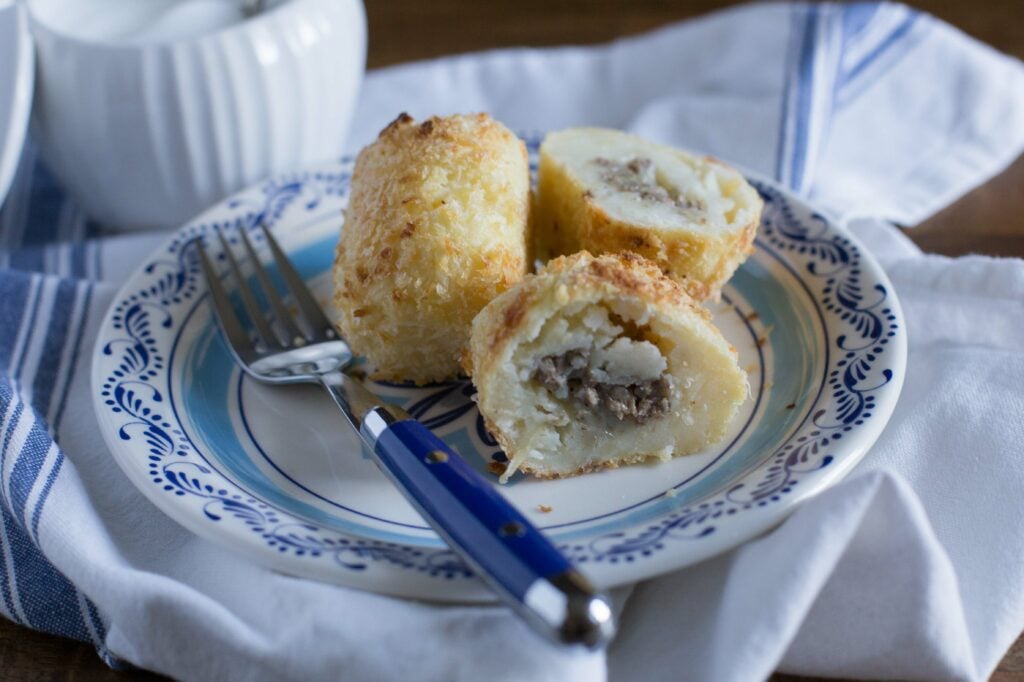 This version is baked to lighten the recipe and avoid the greasy smell, my great enemy in the kitchen. Traditionally, Papas Rellenas are fried.
Achieving the proper potato shape takes some practice, don't be very ambitious and put in a lot of filler. Just a little goes a long way.
Where did Papa Rellenas come from?
Papas or potatoes are native to South America. Chile's and Peru's indigenous populations had cultivated them for centuries. The Spaniards introduced ground beef filling. It's believed that Papas Rellenas are a colonial dish that became popular in Chile, Perú, Bolivia, Cuba, Colombia, and Puerto Rico.
What are different traditional fillings?
In Cuba are filled with Picadillo, a mix of ground beef and pork. Puerto Rico is filled with cheese and ground beef, the same as Colombia.
In Perú, Chile and Bolivia are filled with ground beef cooked with onions and other seasonings.
How to reheat Papas Rellenas?
Pre-heated oven to 350F for 12 minutes is the best option for crispiness and texture.
What to serve with Papas Rellenas?
Ensalada Chilena (tomato and onion) is a popular side dish in Chile.
In Perú, papas rellenas are served with white rice for the main dish or ají Amarillo or other chili sauces for the first course.
Print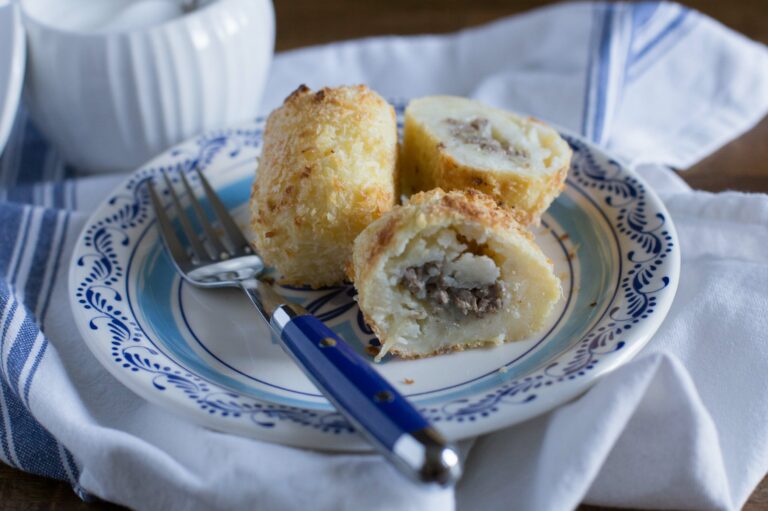 Papas rellenas with ground beef
Total Time:

1 hour and 40 minutes

Yield:

12

potatoes

1

x
1

pound

of ground beef 85%

1/2

cup

beef broth

2

medium onions, chopped into small cubes

1 tablespoon

flour

1 tablespoon

paprika

1/4 teaspoon

cumin
salt and pepper

2 tablespoons

oil
2

pounds

of potatoes (Yukon gold or red)

2

eggs

4 tablespoons

all-purpose flour

1

cup

Panko or breadcrumbs
salt, pepper, oil
Instructions
Start the day before cooking the meat. Heat the oil in a large pot or pan, fry the meat until lightly browned, about 8 minutes, add the paprika, salt, pepper, and cumin, and saute a little more.
Add the onions, incorporate well, saute for 5 minutes, add the broth and cook for 30 minutes over low heat.
Turn off the heat, add the flour, and stir well. Adjust the seasoning if necessary. Cool and refrigerate.

Peel the potatoes and cut them into slices about 1/4″—place in a pot with cold water and salt. Cook covered over high heat until it boils, lower the heat a bit, but it should continue to simmer. Cook for 18-20 minutes until you can easily pierce the potatoes with a fork. Drain and let cool slightly.
Mash the potatoes very well should be smooth, no lumps left.

Working with floured hands, make a ball with about 1/2 cup of mashed potatoes, form a disc in your hand, fill with one generous tablespoon of meat mixture, and close, forming a stuffed potato. Roll in flour.
Repeat with remaining puree and meat.
Beat eggs with salt for 30 seconds.
Pass the potatoes through the egg, then through the Panko or breadcrumbs.
Preheat the broil.
Place potatoes in a greased oven tray.
Bake for 3-4 minutes until golden.
Turn and repeat until browned all around, about 20 minutes.

Notes
They can also be fried in hot oil (350F) with care because they are fragile.
Author:

Prep Time:

1 hour

Cook Time:

40 minutes

Category:

Main Dish

Method:

Stove

Cuisine:

Chilean