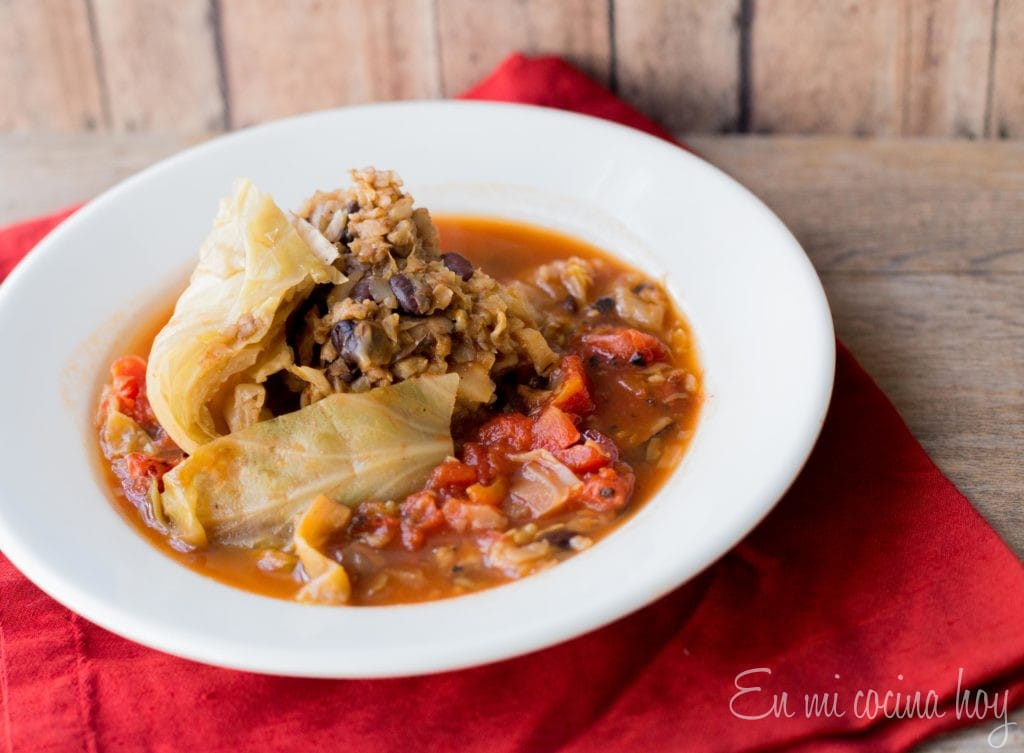 Since I saw this stuffed cabbage on Pamela's blog I knew I had to do it. I love stuffed cabbage but the whole show of softening the leaves to make little packets is a little too involved for me…here is solved and you get to enjoy the traditional taste of stuffed cabbage with much less work.
And instead of using meat, I replace it with black beans and mushrooms.

Vegetarian stuffed cabbage
4 people
Ingredients:
1 large cabbage
1 large onion, diced
1 can black beans or 2 cups cooked black beans
1 cup chopped mushrooms
2 cups cooked rice
2 cans of tomato sauce
2 tomatoes, diced
oil, salt, paprika, pepper, garlic
Preparation:
Remove ugly outer leaves of the cabbage head, save 2 beautiful outer leaves of cabbage. With a small knife cut a lid in the cabbage and then using the same knife cut layers into the cabbage to hollow it. Chop all pieces you have taken from the cabbage into thin strips.
In a large pot, the same you will use to cook the cabbage heat a tablespoon of vegetable oil over medium-high heat. Add the onion and fry for 5-8 minutes, stirring occasionally, add the minced garlic and cook 1 minute. Add the mushrooms and cook 3 minutes. Add the chopped cabbage into strips, rice, beans (if canned, rinse and drain first), 2 teaspoons Hungarian paprika, salt, and pepper. Cook for 5 minutes.
Fill the cabbage with rice and beans mixture, cover with the 2 leaves saved and tie, reserved. If you have rice and beans mixture left, leave it on the pot and add the tomato sauce. Stir and season with salt and pepper. Place the stuffed cabbage and cook covered for 1 hour over medium-low heat, is ready when you can go across easily with a knife. Watch and add hot water so the pot does not dry out.
Let stand 10 minutes, cut into 4 and serve.