This is a sponsored post written by me on behalf of Mission®. All opinions are entirely my own.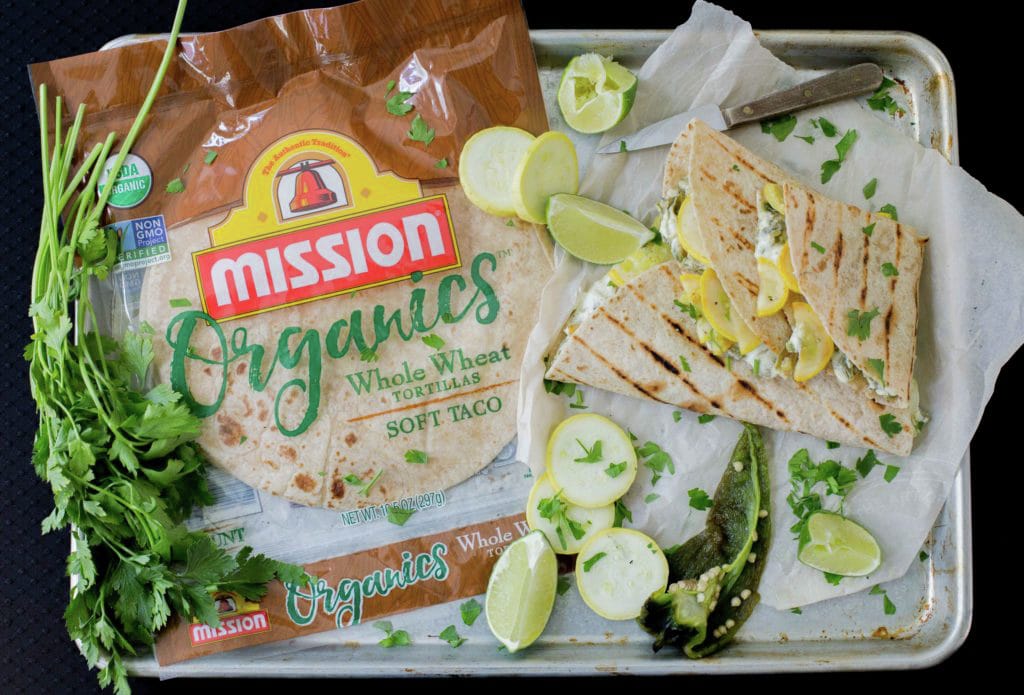 This recipe is dedicated to all urban farmers who have planted zucchini. When Mission Foods, Inc. asked me to make a recipe using their Mission Organics® Whole Wheat Tortillas and be inspired by my garden and Harvest month, I immediately knew I wanted to share with you these Summer Squash Goat Cheese Quesadilla; they are quick to make, just four ingredients and amazingly tasty. I love when my gardens inspire our lunches or dinners.
Here in Houston, zucchinis are not so prolific, since they do not take well to humidity and are affected by some local pests, but there are weeks when I find myself with an overdose of zucchini. Since the typical zucchini here does not grow well, I usually plant varieties such as Zephyr (half yellow, half green), patty pan (like a flying saucer) or yellow summer squash (resistant and delicate flavor). I recommend any summer squash varieties, they can be used to replace the traditional zucchini in recipes.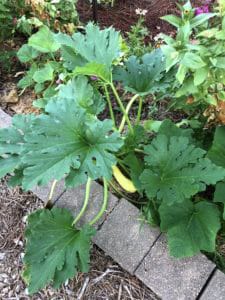 I've been growing vegetables sustainably here in Houston for 10 years, and that concern has naturally shifted to other ingredients that I cook with. Lately, I have been testing organic products, especially flours and flours byproducts, that's how my family came across the great Mission Organics tortillas, USDA certified and non-GMO project verified. Shelf/pantry stable and always ready to use.
At the beginning of the summer, I did my especial supermarket run to be ready for Hurricane season, and I stocked it with more than a couple of packages of Mission Organics tortillas. It gives me peace of mind that they do not have artificial colors or flavors. Plus, they taste so good! Mission Organics tortillas are the perfect combination of quality ingredients and traditional flavor. They are available in flour, whole wheat, and white corn.
Visit the Mission Organics website to see where to buy them. They are available throughout the country, and as you browse the site, you will find many delicious recipes that will inspire you to cook for your family and friends. Enjoy the convenience of having Mission Organics Tortillas always at hand in your pantry. And please remember that tortillas are best consumed warm or hot, cold tortillas make me sad. My favorite way to heat tortillas is in a skillet or Comal. In 10 seconds they are ready to use. I always start my quesadillas by quickly heating one side of the tortilla, turning it, add stuffing and then cook. It makes a BIG difference.
Summer Squash Goat Cheese Quesadilla
for 4 people
Ingredients:
4 Mission Organics® Whole Wheat Tortillas
2 zucchinis or any summer squash, cut into slices
3 huge or 4 medium poblanos
1 tube (220 grams) soft goat cheese
Salt, pepper, oil
Cilantro to serve
Preparation:
In a medium skillet, heat a teaspoon of oil and sauté the zucchini on medium heat for 5 minutes. Season with salt and pepper.
At the same time, burn the poblanos on the open flame until they are black. Rotate them with a pair of tongs. Place in a dish and cover for 10 minutes. Scrape everything burned; the easiest is to do it under the tap. Cut the top of the peppers and remove the seeds.
Dice the roasted poblanos, mix with the goat cheese. Season with salt and pepper and stir.
Heat a skillet or griddle over medium heat. Place two tortillas on top, turn after 10 seconds and fill with a quarter of the goat cheese mixture, place 1/4 of the cooked zucchini and fold the tortilla.
Cook for 1 minute and turn, cook until the cheese melts and the tortillas are toasted and crispy.
Cut into triangles and serve immediately sprinkled with cilantro.