This is a sponsored conversation written by me on behalf of Tyson Foods, Inc. The opinions and text for Veggie Tortilla Cake are all mine.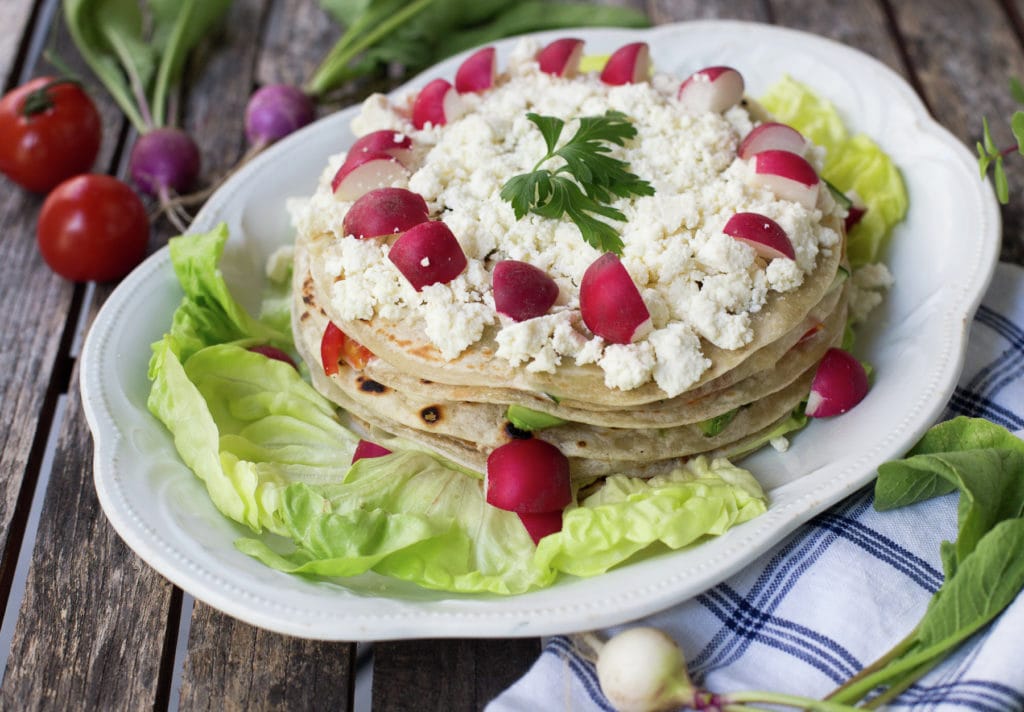 This veggie tortilla cake is very traditional in Chile but made with crepes. Here I have recreated the recipe using flour tortillas and the result is fabulous. I also took me almost no time to assemble. Win-win.
One of the things I REALLY like about Mexican food is their tortillas. At home many Friday dinners are quesadillas, so I'm always trying different brands of tortillas and versions (corn, flour, butter, lard). But several months ago I discovered and bought  TortillaLand®  tortillas. Since that day I have been using it at home, they are fresh and come raw, so I cook them right before using them, resulting in tacos, quesadillas or tortilla cakes, very fresh and delicious. Obviously, they are also great in traditional dishes for the holidays and saves time in preparation without losing taste. They cook in just 1 minute, and the smell is just the classic smell of homemade tortillas.

TortillaLand tortillas are made using traditional recipes, with a minimum of ingredients and no preservatives, no saturated fat, no cholesterol, no trans fats and their corn tortillas are naturally gluten free. I love them. Remember that being fresh and raw, they will be in the refrigerated section, usually near the Mexican cheeses I've seen here in Houston.
I hope you make this veggie tortilla cake, is infinitely adaptable to what you have at home or to the preferences of your family. Instead of tuna salad, you could use chicken stew, Cuban ropa vieja, chicken salad, and any vegetable. If you want to stick to a vegetarian version egg salad is very tasty too. And when decorating the cake you can also be creative with flower radishes or carrots, herbs, anything.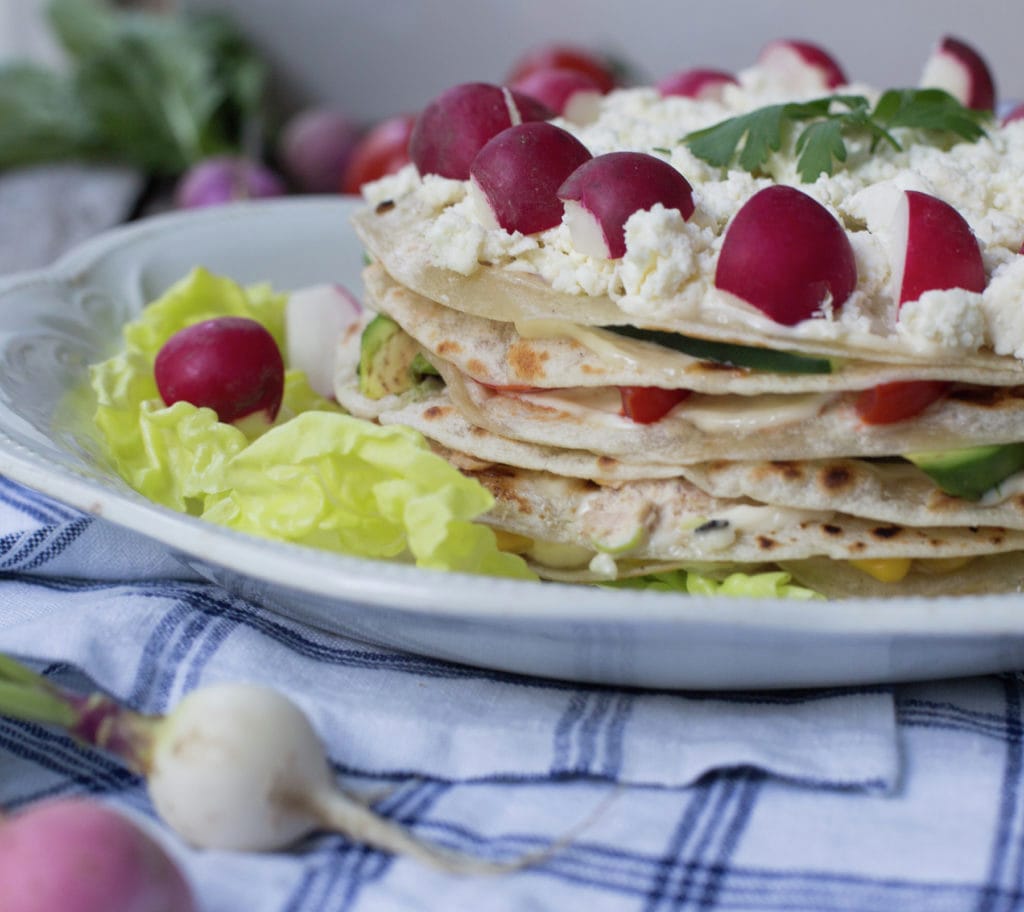 Veggie Tortilla Cake
For 6 people
Ingredients:
7 flour tortillas
1 can of tuna
1 cup mayonnaise
6 green onions, finely chopped
1 tomato sliced
1 Queso Fresco, crumbled
1 cup cooked corn
1 cucumber, sliced
1 big avocado sliced
1 small lettuce washed and stems removed
6 radish to decorate, cut into 4
Preparation:
Heat a skillet or griddle medium heat, and cook the tortillas 30 seconds per side. Place on a plate wrapped in a dishcloth.
Prepare the tuna salad with drained tuna, 2 tablespoons mayonnaise, and green onions. Mix well and taste. Season to taste.
In a large plate or serving dish, place a tortilla, cover with a thin layer of mayonnaise, place a layer of lettuce.
Repeat with the next cooked tortilla, mayonnaise, and the other ingredients: corn, tuna, avocado, tomato, cucumber and crumbled cheese. Alternate with the tortillas.
Garnish with lettuce and radishes. Refrigerate for 2 hours before serving. Keep refrigerated.