I love this traditional Peruvian chicken stew. Ají de gallina is creamy and easy to make, perfect for dinner guests.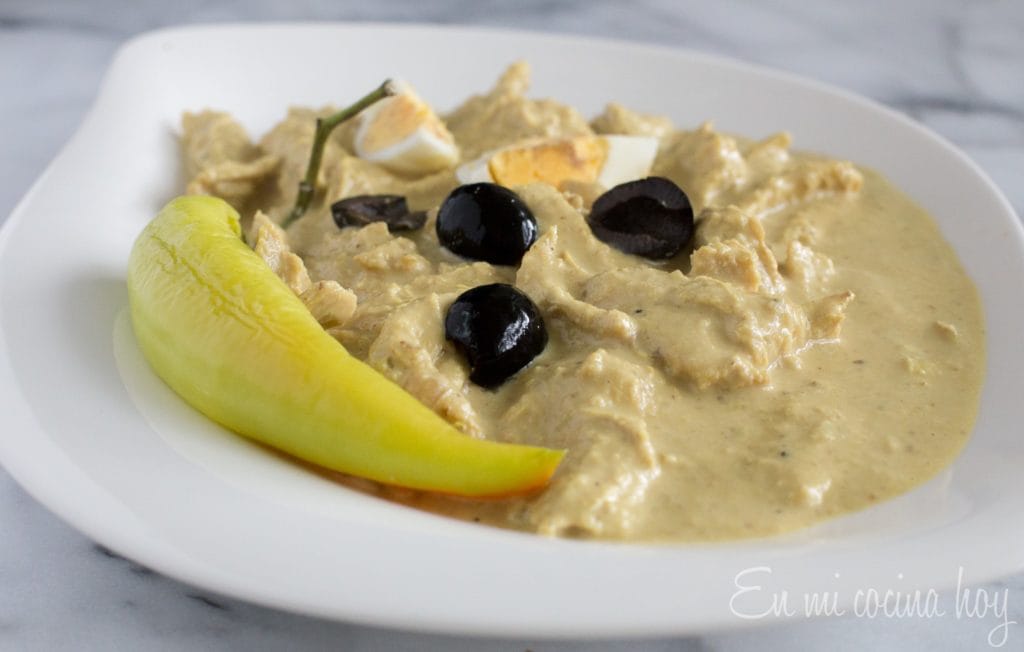 Ají de Gallina translates to "chicken chili" in English. This flavorful and comforting dish is known for its creamy sauce and tender chicken. It's often served with rice and garnished with various toppings for added flavor and texture.
Ingredients:
Chicken:

Ají de Gallina is traditionally made with shredded chicken breast or thigh meat. The chicken is usually boiled until tender and then (when cold) shredded into bite-sized pieces.

Ají Amarillo:

Ajíi de Gallina gets its signature flavor and color from ají Amarillo, a yellow chili pepper native to Peru. These peppers are often pureed into a paste or sauce and used to season the dish. Depending on your heat preference, you can adjust the amount of aji amarillo used.

Bread:

Stale bread, usually French bread or a similar type, is soaked in milk and forms the base for the creamy sauce.

Milk or Evaporated Milk:

Milk is used to create a creamy sauce. Some recipes use evaporated milk for a richer flavor.

Onions and Garlic:

These aromatics are sautéed to add depth of flavor to the sauce.

Hard-boiled Eggs:

Sliced hard-boiled eggs are a typical garnish for Ají de Gallina, adding flavor and visual appeal.
Where did Ají de Gallina come from?
This creamy dish is traditional in Perú. It's an old stew with many variations. It was a peasant dish, so many adjustments were allowed depending on the ingredients, but the mainstay was the sauce with Ají Amarillo. Nowadays, shredded chicken breast is accepted in a creamy sauce made with ají Amarillo paste, bread or crackers to thicken, and walnuts. The sauce is always made in a blender. Evaporated milk is preferred for the concentrated flavor and being pantry stable. Parmesan cheese is another more recent ingredient added to the recipe.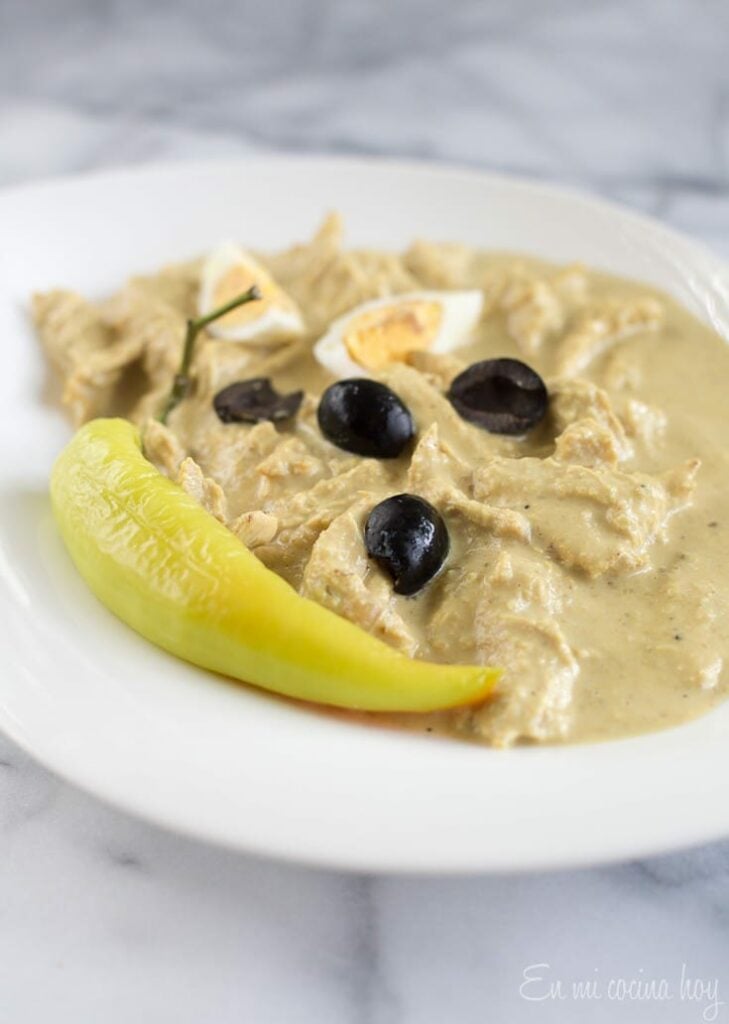 Where in the USA can I get Ají Amarillo?
The easiest is to buy a jar of ají Amarillo paste. It's available in many supermarkets, almost all Latino supermarkets, and on Amazon (affiliate link). Other uses of Ají Amarillo paste are Papas a la huancaína (a delicious appetizer of boiled potatoes with salsa huancaína) and Causa Rellena (appetizer).
Fresh ají Amarillo is available during the summer in Latin groceries sometimes.
Is Ají de Gallina a spicy dish?
No, ají Amarillo is a flavorful pepper but not spicy. It's a medium-long, slender, dark yellow pepper. Please do not confuse it with Rocoto, a much spicier Peruvian pepper.
For dinner at home, I serve it with white rice and boiled potatoes; try Lucuma Tres Leches for dessert. Your guests will leave extremely happy!
Print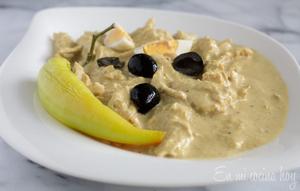 Ají de Gallina Creamy Chicken Stew
A great introduction to Peruvian cuisine.
Total Time:

1 hour

Yield:

6
3

whole chicken breasts

8

slices of white bread without crust

1

cup

chicken broth, reserve from cooking the chicken

2

large onions, chopped into cubes

1

cup

of evaporated milk, more to taste

2/3

cup

of walnuts

1 tablespoon

of ají Amarillo paste (if impossible to find replace with

1/2 teaspoon

of turmeric and 1/2 jalapeño pepper, without seeds)

1/3

cup

of Parmesan cheese, grated
salt and pepper
Hard-boiled egg and black olives to garnish, optional
Instructions
The day before or in the morning, cook the chicken in cold water with salt, pepper, celery, or parsley for 25 minutes. Let cool and store about 2 cups of broth. Shred the cold chicken into small pieces.

Brown the onion in a big skillet or pot with one teaspoon of oil on medium-high heat for 6-8 minutes.
Put the bread, chicken broth, turmeric, cream cheese, Parmesan cheese, evaporated milk, sauteed onions, walnuts, green pepper, salt, and pepper in the blender. Blend until you get a creamy sauce. Adjust the salt.
Heat the chicken in the sauce, and adjust the consistency with the evaporated milk or chicken broth.

Serve hot. Garnish with hard-boiled egg slices and black olives.
Notes
Recipe adapted from the Peruvian cookbook by Emilio Peschiera.
Author:

Pilar Hernandez

Prep Time:

30 minutes

Cook Time:

30 minutes

Category:

Savory

Method:

Stewed

Cuisine:

Peruvian
Nutrition
Serving Size:
Calories:

510

Sugar:

9 g

Sodium:

1054.1 mg

Fat:

23.6 g

Saturated Fat:

6.2 g

Carbohydrates:

44.5 g

Fiber:

3 g

Protein:

25.8 g
Keywords: Chicken recipe, Ají de Gallina, Peruvian Creamy Chicken Stew