This recipe can be prepared in advance and is perfect for sharing with friends and family—one of my favorites is Pork Tacos or Tacos de Puerco.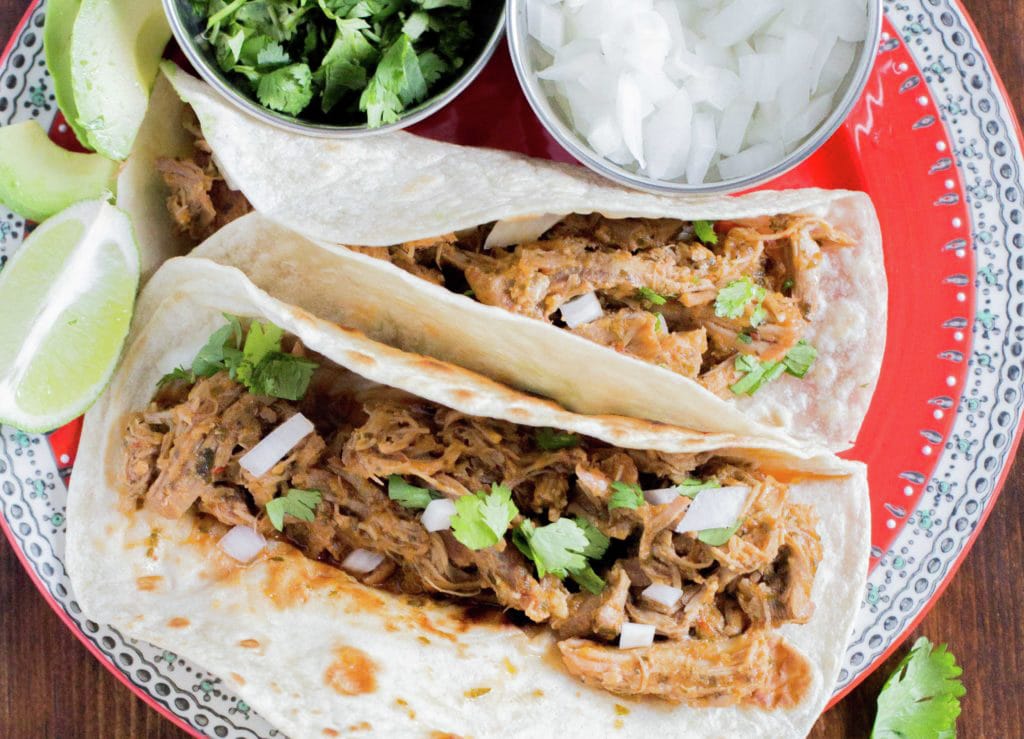 Traditional Tacos de Puerco, which translates to "pork tacos" in English, is a popular and delicious Mexican street food. These tacos are typically made with seasoned and slow-cooked pork, resulting in tender and flavorful meat served in soft tortillas and garnished with various toppings.
The authentic Mexican taco generally consists of one meat and, at the most, diced onion, cilantro (and salsa if in the mood). Depending on the meat, a squeeze of lime is also appreciated, but placing guacamole or cheese in a taco is not commonplace. Of course, everyone is free to eat their tacos as they wish, but I invite you to try them this way, almost naked, to appreciate the delicious cooking of the meat.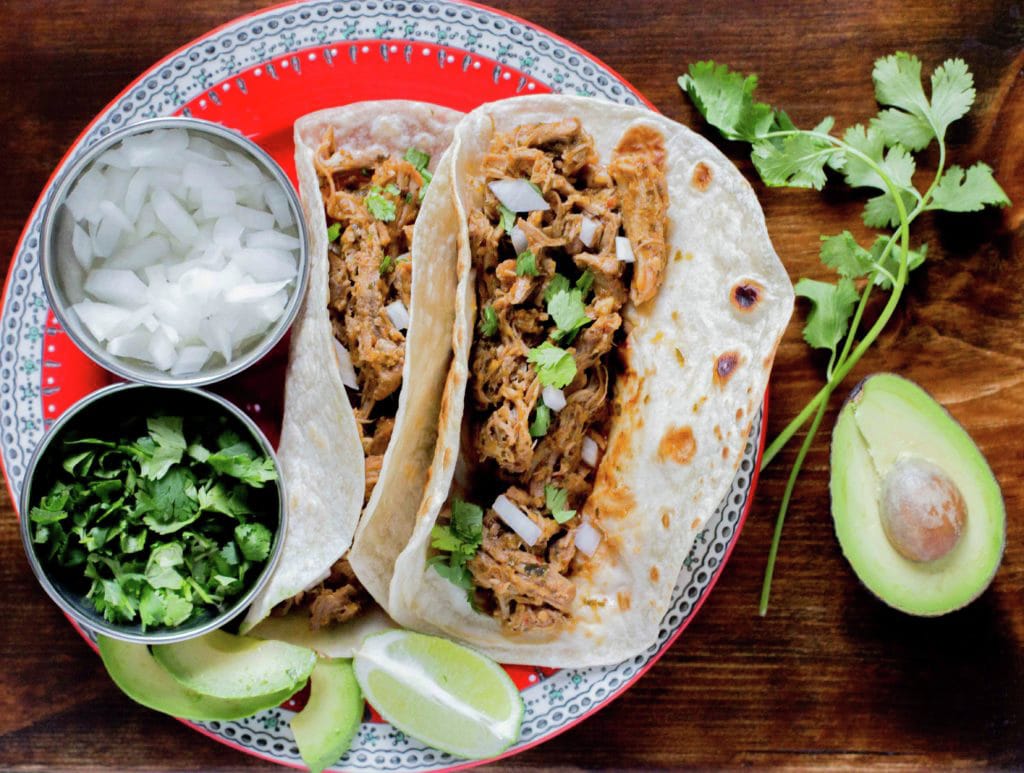 You can make this pork stew to celebrate "Cinco de Mayo" with a party or host a Taquiza; other friends or relatives can bring other classic dishes such as picadillo, shredded beef meat, Chilorio, and potato stew for vegetarians. Do not forget to have beans: refried or not—corn and flour tortillas. And there you have it, a completely authentic Mexican buffet served. The line will move fast, and everyone will enjoy these taco wonders.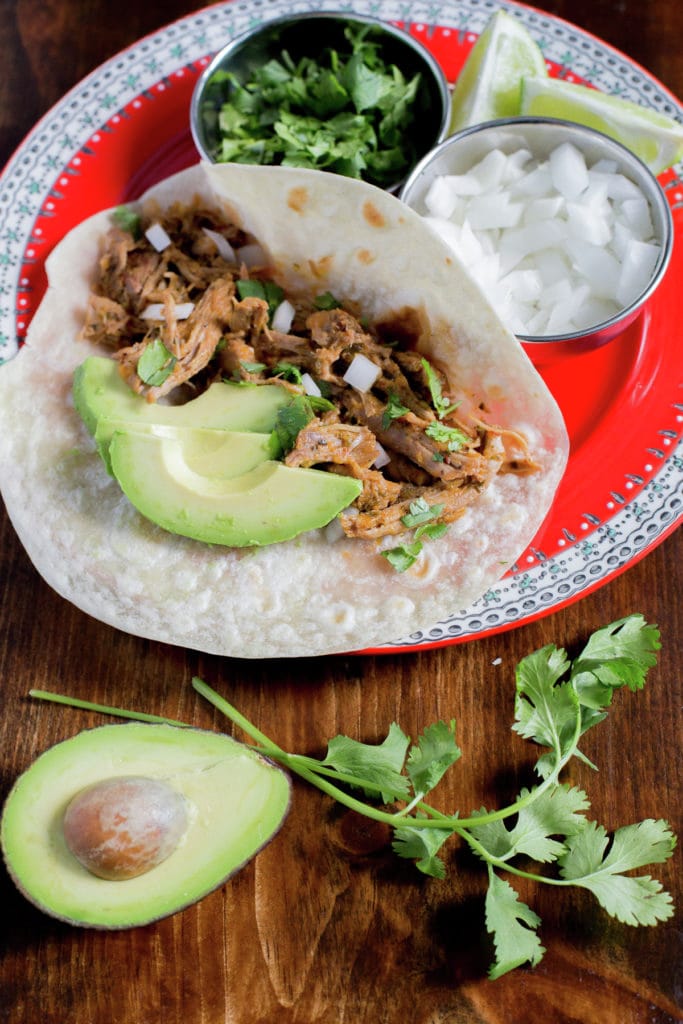 Ingredients for Tacos de Puerco:
Pork:

The critical ingredient is pork, and various cuts can be used. Common choices include pork shoulder (pork butt or Boston butt), pork loin, or pork belly. The pork is seasoned with a blend of spices.

Tortillas:

Traditional Tacos de Puerco are typically served in soft corn tortillas. The tortillas are heated or lightly toasted before serving to make them pliable and enhance their flavor.

Toppings:

Tacos de Puerco are often garnished with a combination of the following toppings:
Salsa:

Salsa can range from mild to spicy and may include varieties such as salsa verde (green salsa), salsa roja (red salsa), or pico de gallo.

Chopped Onion:

Freshly chopped white or red onion adds a sharp, crisp contrast to the richness of the pork.

Cilantro:

Fresh cilantro leaves provide a vibrant and herbaceous flavor.

Lime Wedges:

Lime wedges are typically served on the side for squeezing over the tacos to add a burst of acidity.
Print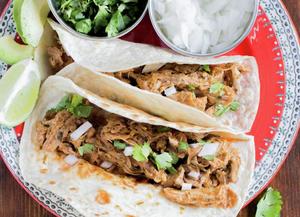 Authentic Pork Tacos or Tacos de Puerco
Step by step, delicious recipe.
Total Time:

2 hours and 30 minutes

Yield:

16 tacos
3

pounds

of boneless pork shoulder or butt
the juice of 3 oranges

1 1/4

cup

water

1 teaspoon

salt
2

chipotle in adobo, plus 1 tablespoon adobo sauce

1/2

onion

4

cloves garlic

1/2

cup

chopped parsley

1 teaspoon

dried Mexican oregano

1/4 teaspoon

cumin

1/4 teaspoon

pepper

2/3

cup

apple cider vinegar

1/2

cup

water
oil
16

flour or corn tortillas to serve
chopped onion
chopped cilantro
avocado
Instructions
Chop the pork into large pieces, and place in a large pot. Add the orange juice, water, and salt.

Cook over high heat until it boils. Reduce heat to medium so it keeps boiling, leave semi-covered. Cook for 1 hour and 45 minutes or until the liquid is reduced almost entirely.

Remove the meat with its juice to a baking pan and let cool.
While the pork is cooking, prepare the sauce. Place the chipotle peppers, onion, parsley, garlic, cumin, oregano, pepper, vinegar,  and water in a blender or food processor. Blend until smooth.

Separate the meat into strands with two forks or, by hand, discard the fat.

In the same pot where the pork was cooked, heat over high heat two tablespoons of oil and add the sauce, Cook for 10 minutes after the boil, to reduce. Add the shredded pork meat with their juices and cook for 30 minutes over medium heat. It should boil and continue to thicken. Stir occasionally.

Heat the tortillas on a griddle or skillet, leaving the tortilla lightly browned. Keep them warm and wrapped in a cloth so they do not get tough.

Serve the pork on a warm tortilla, and sprinkle with onion and cilantro. Eat.

Add avocado if desired.

Notes
Recipe Authentic Pork Tacos or Tacos de Puerco was sponsored by  Azuñia Tequila in 2016.
Author:

Pilar Hernandez

Prep Time:

30 minutes

Cook Time:

2 hours

Category:

Meat dishes

Method:

Stove-cooked

Cuisine:

Mexican
Keywords: Pork tacos, tacos de puerco