One of the things I miss most about Chile is our family Sunday lunches, where the whole family gets together: cousins, uncles, grandparents, and grandaunts. These weekly family reunions are the ones I remember most fondly, the feeling of belonging and the fantastic food my grandmother used to make, including this Chimichurri Sauce, Chilean style, if you must.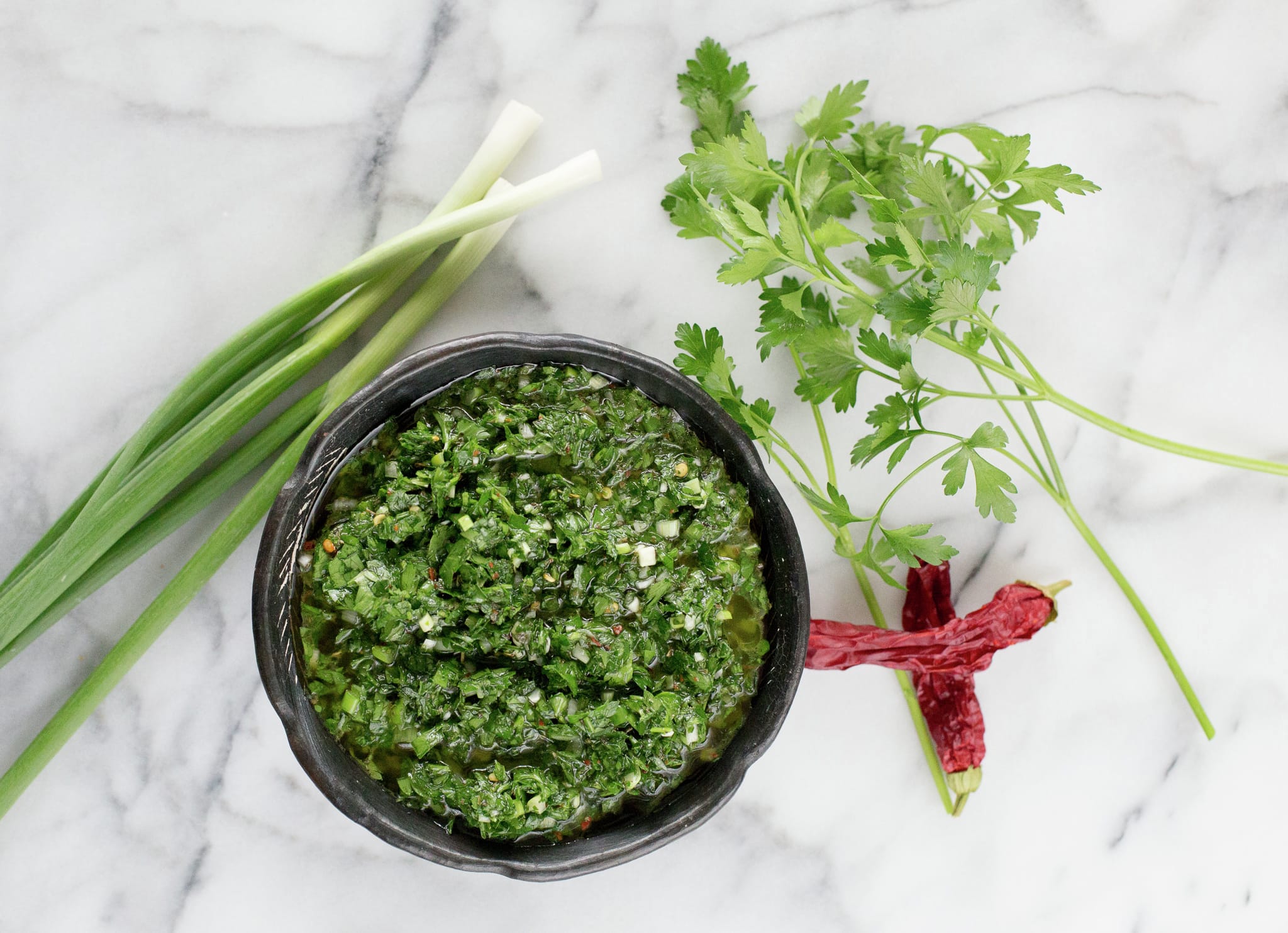 Chimichurri and Chilean pebre are popular South American condiments known for their vibrant flavors and versatility in complementing a variety of dishes. While they share some similarities, they have distinct characteristics that set them apart; the fundamental difference between Pebre (Chilean) and Chimichurri (Argentinian) is that Pebre is traditionally made with cilantro. Instead, chimichurri is made with parsley.

Chimichurri:

Chimichurri is a traditional Argentine and Uruguayan sauce typically used as a marinade or an accompaniment to grilled meats, such as steak or chorizo. It is made with a base of finely chopped parsley, garlic, oregano, and vinegar, along with olive oil and sometimes chili flakes or fresh chilies for a kick. Chimichurri is known for its bold, herbaceous flavors and is often used to add a tangy and aromatic element to grilled meats.

Chilean Pebre:

Chilean pebre, on the other hand, is a fresh salsa-like condiment that originates from Chile. It is commonly served alongside various dishes, including grilled meats, empanadas, and bread. Pebre typically consists of a base of finely chopped ingredients such as onions, tomatoes, and cilantro mixed with garlic, vegetable oil, vinegar, and sometimes chili pepper Ají Verde for heat. It is known for its refreshing and zesty flavors, often incorporating fresh and raw ingredients that provide flavor and texture.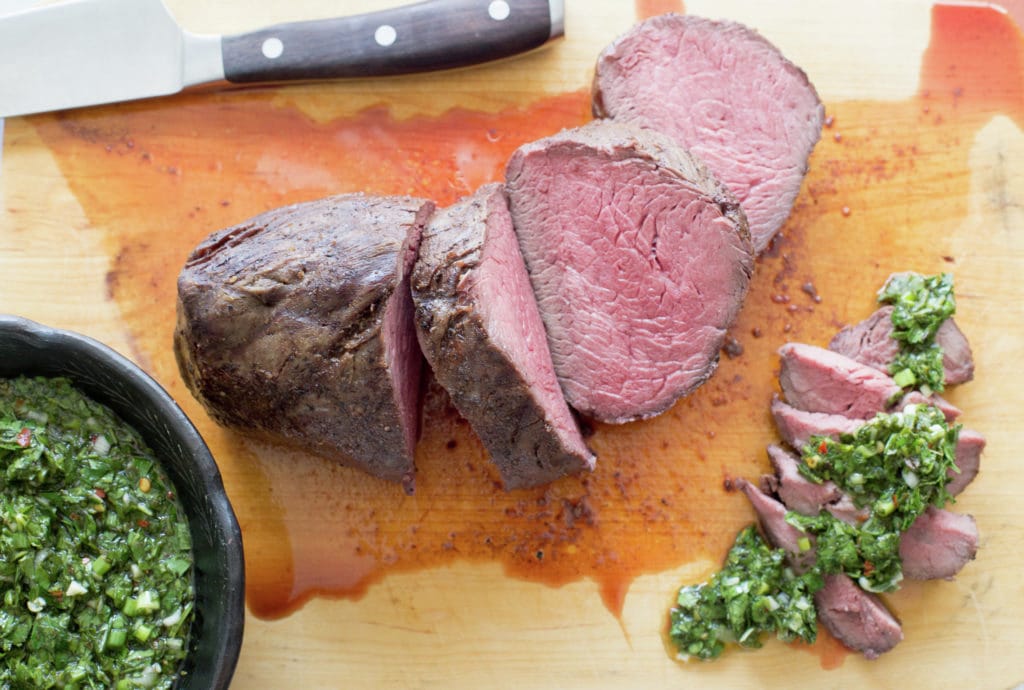 Chimichurri tends to focus more strongly on herbs and a more pronounced tanginess. At the same time, pebre emphasizes the freshness of raw ingredients and a balance of flavors, often with a milder heat level.
Chilean versions of chimichurri are less tangy to adapt to the local palate, with less vinegar and, often, less oregano. In general, the Chilean versions are more focused on freshness.
Both condiments showcase the diverse culinary traditions of South America and have gained popularity worldwide for their ability to elevate various dishes with their distinct and vibrant flavors.
Print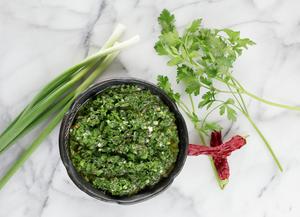 Chimichurri Sauce
A traditional Argentinian sauce.
Total Time:

20 minutes

Yield:

2 cups
2

bunches scallions (green onions)

2

bunches of parsley

2 teaspoons

oregano

1

clove minced garlic

1 teaspoon

chili flakes or more

1 teaspoon

coarse salt

1/2

cup

vegetable or olive oil

1/8

cup

red wine vinegar or white

1/4

cup

water
juice of

1

lemon
Instructions
Wash and chop the white and the beginning of the green part of the scallions.

Wash and pinch off the leaves of the parsley chop finely. Discard the stems.

Chop the garlic.
Put everything in a bowl. Add oregano, chili flakes, salt, oil, vinegar, water, and lemon juice.

Mix well, taste, and let stand for at least 2 hours to allow flavors to blend.
It can be done the day before and kept refrigerated.
Author:

Pilar Hernandez

Prep Time:

20 minutes

Cook Time:

0 minutes

Category:

Sauce

Method:

Raw

Cuisine:

Argentinian
Keywords: chimichurri, chilean chimichurri