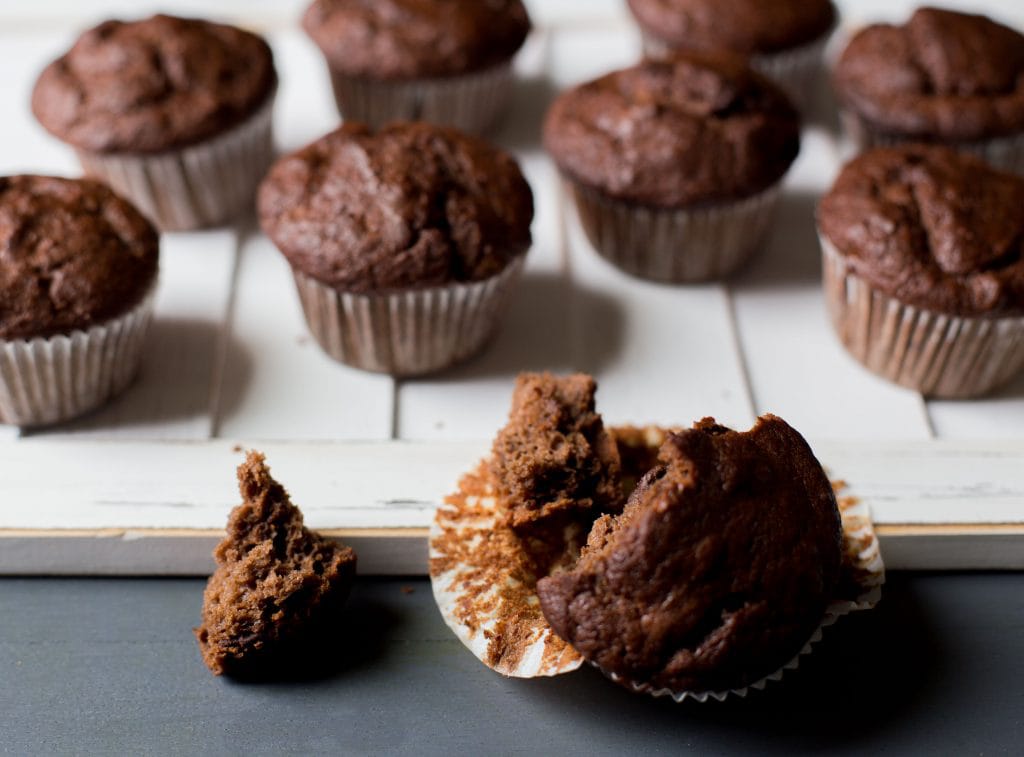 I'm allergic to bananas; I can't eat them, of course, my husband and kids love them. Usually, they eat them by itself or in smoothies, but sometimes I bake something for them. This recipe of Chocolate Banana Muffins came on the catalog of King Arthur Flour, it looked divine, so I made it with my kid. I made some adaptations; the result is a soft spongy cake with a mild banana flavor, delicious.
I love King Arthur Flour (I keep all-purpose, white whole wheat and bread flour in my pantry at all times) and Imperial Sugar for baking. Not affiliate with me, it just that good ingredients make such a difference.
You may also be interested in the recipe: Dulce de Leche pound cake.
Chocolate Banana Muffins
12 muffins
Ingredients:
1 1/3 cup all-purpose flour
1/3 cup of cocoa powder
1 tablespoon baking powder
1/4 teaspoon of salt
1/2 cup of semi-sweet chocolate chips
115 grams of unsalted butter, melted
1/2 cup of granulated sugar
2 eggs
1 teaspoon vanilla extract
3 bananas
Preparation:
Preheat the oven to 350F or 180C.
Prepare the muffin pan, cover with paper cups.
In a medium bowl combine the flour, baking powder, salt, cocoa, and chocolate chips stir with a fork.
In the blender or the food processor place the butter, granulated sugar, eggs, vanilla, and bananas. Process until everything is well mixed.
Add to the flour mixture and stir until incorporated. Do not over stir.
Fill the paper cups and sprinkle with sugar if desired.
Bake for 25-30 minutes or until a bury a stick comes out dry. Wait for 5 minutes, unmold and let cool completely on a rack.