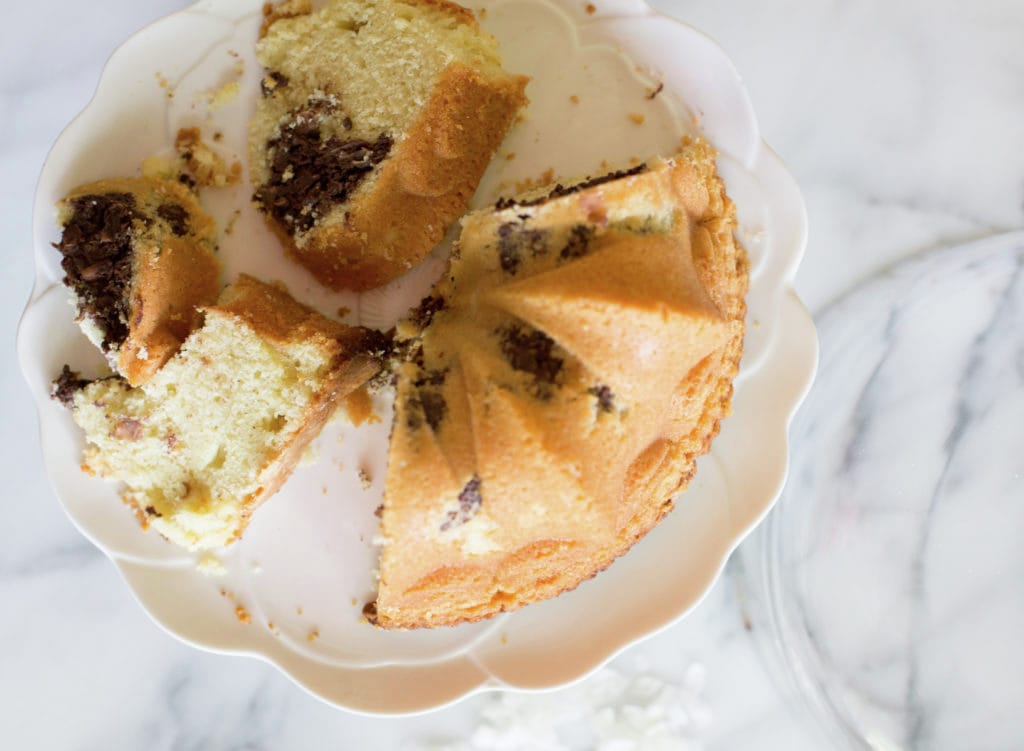 For special occasions always try to make a beautiful cake, but when I have close friends over or just for normal days, for me the star is a nice Bundt cake. This breakfast called for a coconut and chocolate cake.
One of my friends here in the US is a fan of Dolly Parton. Dolly is a really exceptional lady and even has her own resort, Dollywood… when my friend visited it last year and told me about it, I thought she was making it up… but she wasn't. And of course I was just looking for a recipe for our friends' get together and in the excellent book Baked: Occasions I found this cake dedicated to Dolly… It was meant to be.
There are so many ways to find excellent recipes, and I love the little stories of everyday life that come with them. So in honor of Miss Dolly and my friend Addie, I present to you this delicious cake. It tastes like Prestigio, a coconut-chocolate treat from my days in Chile. The chocolate hidden inside is fantastic. The cake is fluffy and moist. So good.
It yields a large cake, use a 12-cup mold, or fill it to 3/4 and bake the rest of the mix in another mold. Mine almost overspills in the oven.
Chocolate coconut cake
Ingredients:
3 cups of flour
1 tablespoon baking powder
1/2 teaspoon salt
225 grams butter
2 cups sugar
3 eggs
2 tablespoons coconut extract
2 teaspoons vanilla extract
1 cup coconut milk (no sugar)
140 grams cream cheese
1/2 cup grated coconut, no sugar
170 grams semi-sweet chocolate, melted and warm
1 egg
3 tablespoons sugar
Preparation:
Preheat the oven at 180C or 350F.
Prepare a large cake mold, 12-cups capacity. Butter very well.
In a bowl, mix flour, baking powder, and salt.
With the hand mixer at  medium speed, mix butter and sugar until creamy. Add the eggs, one by one, and beat until mixed.
Add coconut and vanilla extract. Mix.
Add half of the flour mixture. Mix.
Add the coconut milk, mix. Add the rest of the flour. Beat at medium-low speed until completely mixed.
Prepare the chocolate filling: Beat the cream cheese until frothy, add the coconut, melted chocolate, egg and sugar until completely mixed, 1 minute. Add 1/2 cup of the previous mix and mix well with a spatula.
Pour only half of the mix into the mold.
Using a spoon put the chocolate filling on the mix, trying to keep it from touching the mold.
Cover with the rest of the mix. Smooth out the surface.
Bake for 1 hour , 1 hour 15 or until golden and until a toothpick introduced in the cake comes out clean.
Remove from the oven and allow to cool in the mold.
Loosen with a knife and unmold.
Adapted from Baked Occasions.