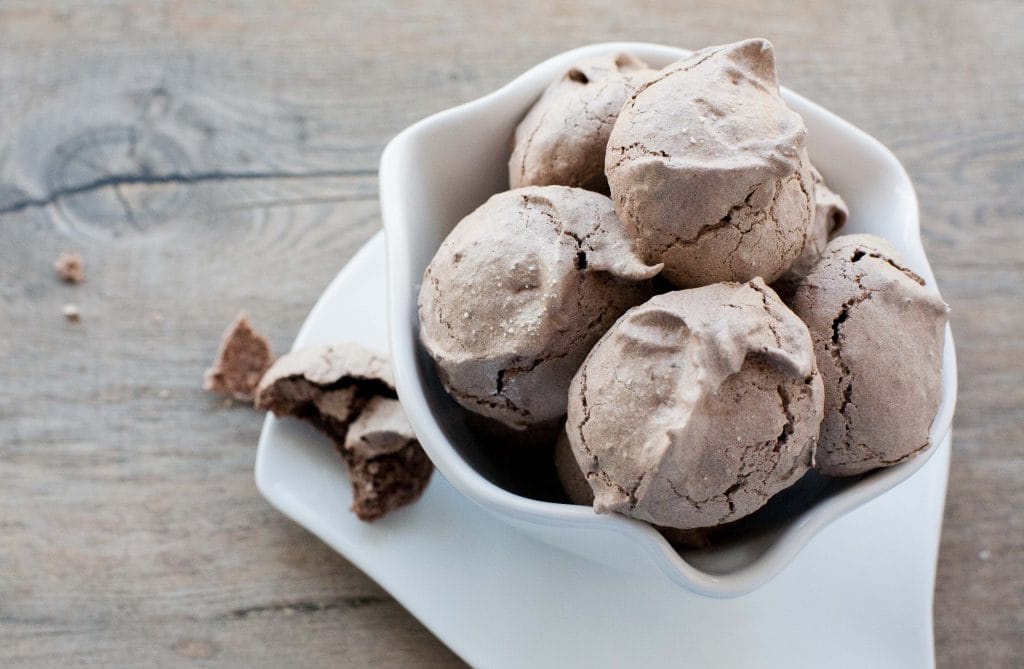 I made this recipe for the winner of the cookie of the month delivery at my daughter's school auction. They were enjoyed so much that for the last month of the delivery they beg me to replace the cookie due for another batch of these ones.
Chocolate and Hazelnuts Meringues
for 35 meringues 4cm in diameter
Ingredients:
1 cup powdered sugar
1/3 cup hazelnuts or almonds finely ground
1/4 cup cocoa powder (unsweetened)
4 egg whites at room temperature
pinch of salt
1/2 cup granulated sugar
1/2 teaspoon vanilla extract
1/3 cup semisweet chocolate, finely chopped, about 100 grams
Preparation:
Preheat oven to 300F or 150C. Prepare 2 baking sheets, cover with parchment paper or Silpats.
Sift together the powdered sugar, cocoa powder and ground hazelnuts.
With a mixer, beat the egg whites with a pinch of salt at medium-high speed until foamy, add in the granulated sugar by the spoonful, when fully incorporated, raise the speed to high and beat until you have a meringue with stiff peaks, the tip should not fall off when you turn the beater. Add vanilla and mix just enough to incorporate.
Pour the sifted cocoa mixture and working with a spatula incorporate into the meringue. Will deflated a bit. Add the chopped chocolate and mix with a gentle hand.
Spoon mounds on the prepared baking sheets, leaving about 2 inches between each. Sprinkle lightly with powdered sugar before baking.
Bake for 10 minutes, without opening the oven, lower the temperature down to 200F or 100C and bake for another hour. Without opening the oven.
Remove from oven and let cool on a rack. Once cooled peel off the paper and serve.
Store in an airtight jar for 2-3 days, they get ruined if they get wet, never refrigerate.
Recipe adapted and translated the book Baking from my home to yours, by Dorie Greenspan.