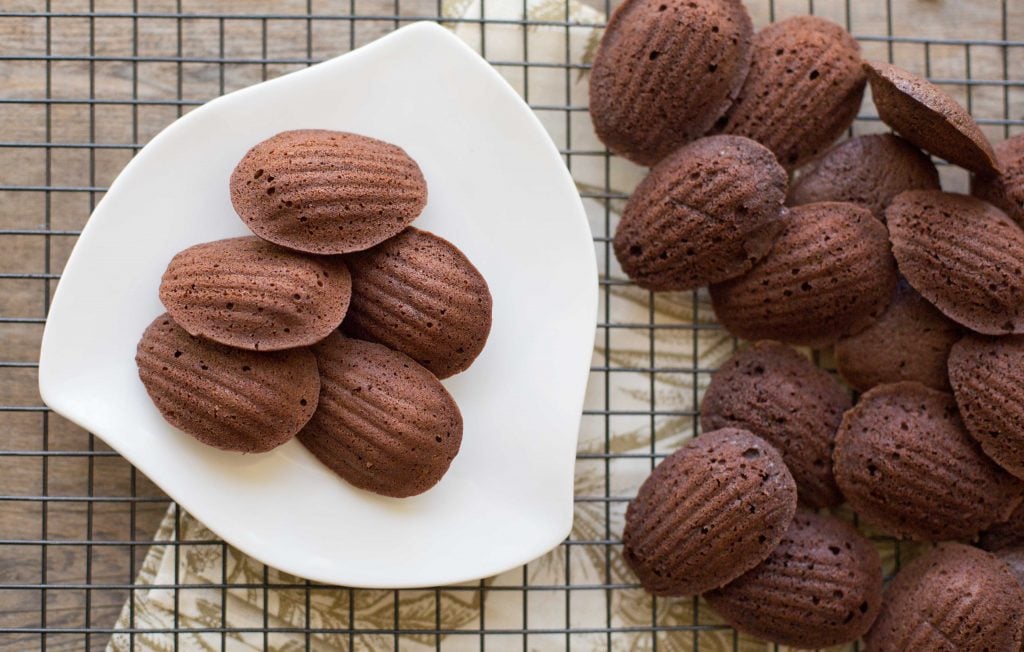 I made these chocolate madeleines for a French class event at my kid's school. Keep in mind that the batter requires at least 3 hours of rest before baking.
Chocolate Madeleines
for 12 large or 30 medium
Ingredients:
2/3 cup all-purpose flour
1/4 cup cocoa powder, unsweetened
1/2 teaspoon baking powder
pinch of salt
2 eggs
1/2 cup sugar
1/2 teaspoon vanilla extract
6 tablespoons or 85 grams unsalted butter
Preparation:
Melt the butter and let cool.
In a bowl sift the flour, cocoa, baking powder, and salt, stir with a fork.
In another large bowl using a mixer, beat the eggs with the sugar for 3-5 minutes on medium-high speed until frothy and pale. Add vanilla and beat until incorporated.
Now using a spatula or wooden spoon add the sifted ingredients to the beaten eggs and mix with soft enveloping movements.
Add the melted butter and incorporate with the same movements.
Place plastic wrap stuck to the batter and refrigerate for at least 3 hours or up to two days.
Pre-heat the oven to 180C or 350F.
Grease and flour the madeleines pan, knocking out excess flour.
Remove the mixture from the refrigerator and stir a few times, spoon the batter into the molds, do not get it too full.
Bake for 13-15 minutes until fluffy and dry to the touch.
Remove and immediately unmold. Let cool on a rack.
Eat soon or freeze.
Recipe adapted and translated by Doris Greenspan.