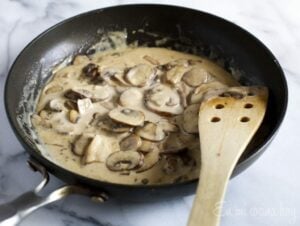 I'll confess something, I'm not too fond of noodles, I eat them, but I never get a craving for pasta… the bad thing is that I married a man who loves pasta in all its forms. He makes fresh pasta, but I can also make him happy with bowties with butter. But I need something else, like this delicious creamy mushroom sauce, to improve it… now we're talking.
This sauce is a white sauce based and multi-use, it goes well on top of cannelloni stuffed with ricotta or beef, or chicken served with mashed potatoes or rice. In Chile, most sauces are white sauce based, and it's one of the first things a kid learns in the kitchen.
When cooking the mushrooms, it is important not to crowd the pan. If necessary, clean the mushrooms with a damp paper towel. Never soak them because they absorb water and get soggy.
Tips for a delicious creamy mushroom sauce:
Utensils Needed to Make Mushroom Sauce
I recommend making the base white sauce in a medium saucepan or skillet, using either a fork or a balloon whisk. Sometimes there is the idea that making white sauce is complicated. The truth is that the only part that must be done carefully is incorporating the milk, so there are no lumps. I recommend taking the pot off the heat and being patient to make your life easier.
Can I use skim or semi-skim milk?
You can use skim or whole milk. I prefer to make it with whole milk, it has a better texture and flavor, but the recipe works with skim milk without problems.
Can oil be used instead of butter?
Yes, it is not a problem. Most of the white sauce's flavor comes from the flour's browning and the seasoning at the end. The butter adds more flavor, but it is not essential.
How do I make mushrooms brown when cooking?
It is important not to pile the mushrooms in the pan and take the necessary time to have a good consistency.
If necessary, clean the mushrooms with a damp paper towel. Never soak or immerse them in water as they absorb water.
My favorite uses for this delicious Creamy Mushroom Sauce:
Print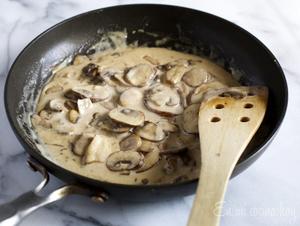 Creamy Mushroom Sauce
A creamy, white sauce-bechamel based mushroom sauce.
Total Time:

30 minutes

Yield:

4
2 tablespoons

butter

2 tablespoons

flour

2

cups

whole milk
salt and pepper

1 tablespoon

oil

2

cups

sliced mushrooms ( I used Cremini)
Instructions
In a medium saucepan over medium heat, melt the butter and add the flour. Stir well with a round whisk until you don't see dry flour. It will form a dough.

Remove from the heat, add the milk gradually, constantly stirring. At first, go slowly to form a smooth batter, then add the remaining milk and return to the heat and cook stirring, over medium-high heat, until it boils and thickens. Add salt and pepper to taste.

Heat oil over medium heat in a skillet, add the mushrooms and form one layer without overlapping. If required, do in stages. Cook without stirring until browned, 2-3 minutes, turn and brown the other side.

Pour the white sauce on top of the mushrooms. Stir and serve hot.
Keep refrigerated for up to 3 days.

Author:

Pilar Hernandez

Prep Time:

10 minutes

Cook Time:

20 minutes

Category:

Sauce

Method:

Stove cooked

Cuisine:

Chilean
Nutrition
Serving Size:
Calories:

177

Sugar:

6.9 g

Sodium:

645.1 mg

Fat:

13.4 g

Saturated Fat:

6.4 g

Carbohydrates:

10 g

Fiber:

0.5 g

Protein:

5.4 g