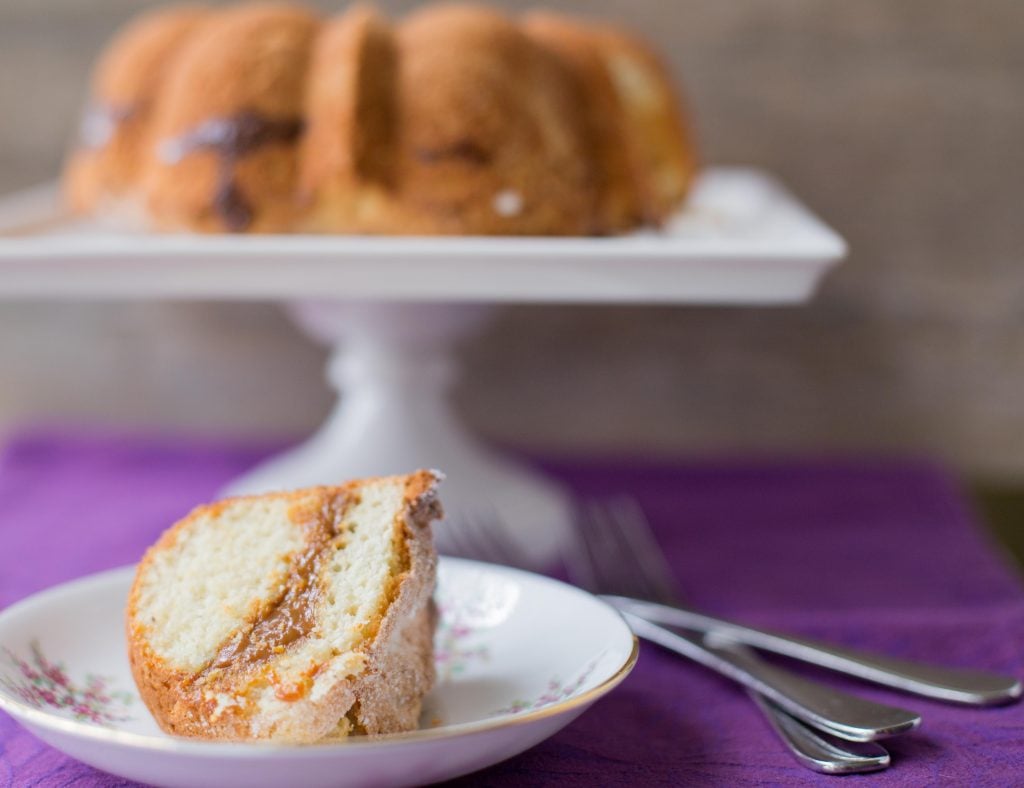 I wanted to try combining the flavors of corn with Dulce de leche, inspired by Mexican sweet tamales, but without all the work associated. The result was a success, I recommend it a lot, this Dulce de Leche Nixtamasa Bundt Cake has a soft texture, but with an unexpected and delicious crisp finish.
Bake this and let's celebrate Dulce de Leche Day this October 11th, and try the new Premium cornmeal from Maseca: Nixtamasa.
Dulce de Leche Nixtamasa Bundt Cake
for 8 people
Ingredients:
4 tablespoons vegetable oil
1 cup granulated sugar
2 eggs at room temperature
pinch of salt
1 teaspoon vanilla
1 cup all-purpose flour
1 cup Nixtamasa
2 teaspoons baking powder
1 cup milk or yogurt
1 cup Dulce de leche
Preparation:
Preheat oven to 350F or 180C.
Butter and flour a bundt cake pan, remove the excess flour.
In a large bowl with a fork beat the oil and sugar until it forms a paste, add an egg, stir in a circular motion until you get cream, add the other egg, repeat.
Add a pinch of salt and vanilla. Stir well.
Add flour and the baking powder, stir gently with circular movements about 5 times.
Add milk or yogurt and keep stirring until creamy.
Add the Nixtamasa and stir gently until incorporated.
Pour a little less than half the batter into the pan, spoon the dulce de leche and cover with the rest of the batter. Bake for 40-45 minutes until golden and a stick bury comes out clean.
Let cool out of the oven for 10 minutes on wire rack. Unmold after 10 minutes.
Store tightly wrapped for up to 3 days. It can also be cut into pieces and freeze for up to 2 months.
This was part of a sponsored campaign by Maseca and Latina Bloggers Connect. However, the recipe and the opinions are 100 % mine.