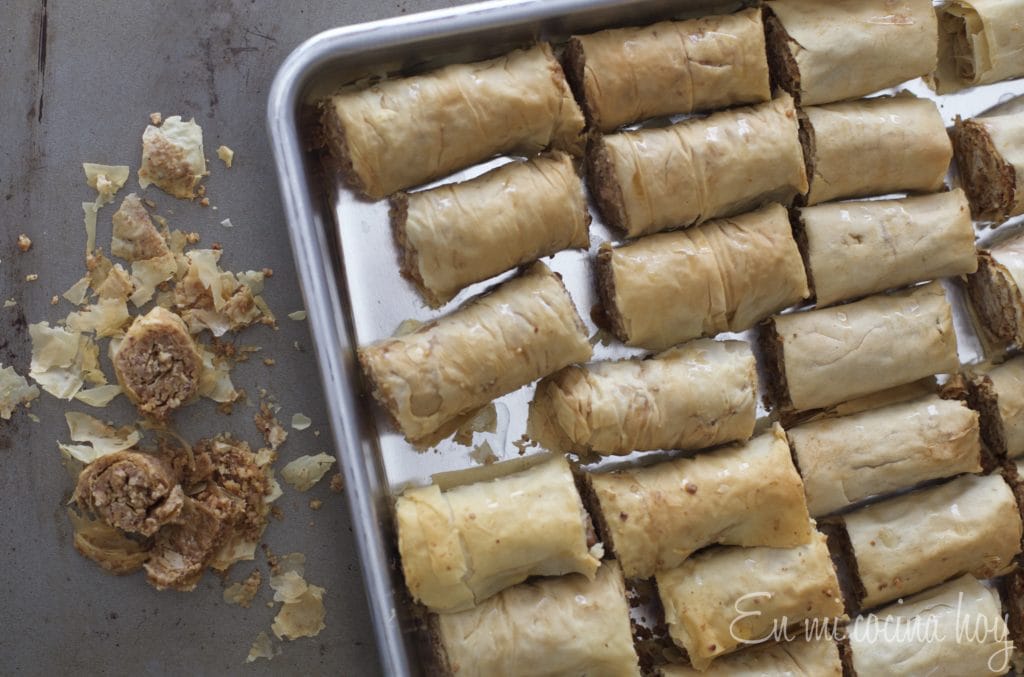 I love sweet crunchy treats, especially if they are easy to put together and taste amazing. In Chile, this kind of pastry is very popular. I grew up eating them. I don't remember doing it at home… but maybe I'm wrong.
I left you a video, but keep in mind that the size of the phyllo dough that I used is different.
Easy Baklava Rolls
12 servings
Ingredients:
1 cup walnuts or almonds or pistachios or a combination
1 tablespoon butter at room temperature
1/2 teaspoon cinnamon
3 tablespoons sugar
3 tablespoons melted butter
1/4 cup honey
12 sheets of phyllo
Preparation:
Preheat oven to 325F or 160C. Grease a baking sheet or cover it with parchment paper or a Silpat.
In the food processor: add the walnuts, cinnamon, butter, and sugar. Process for 3 minutes until grounded. Place in a bowl.
Lay a sheet of phyllo on the counter, brush with melted butter and cover with another sheet of phyllo, brush with butter. Cover with 1/3 of the mixture of nuts and sugar evenly distribute in an even layer.
Cover with another sheet of phyllo, brush with butter and cover with another sheet and brush again.
Roll up starting from the longer side. Cut into pieces and place on the baking sheet. Brush with butter.
Repeat this 2 more times with the remaining phyllo and nuts.
Bake for 35-40 minutes until golden brown.
Remove from oven and immediately drizzle with honey and let cool before storing or serving.