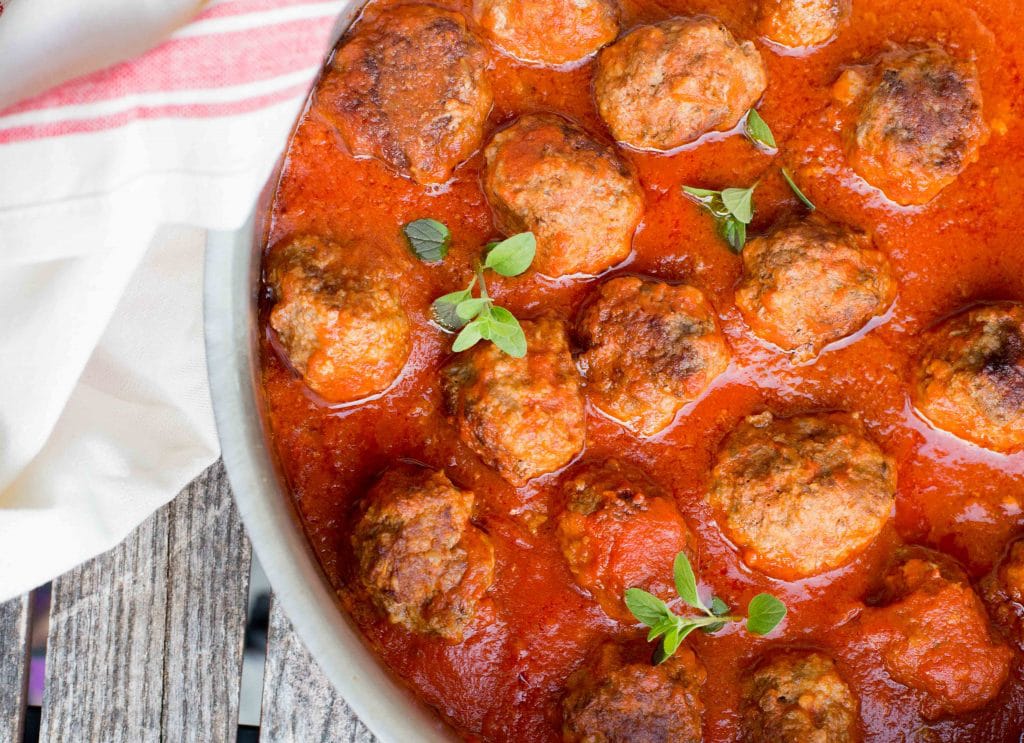 Meatballs are a fast and simple meal to prepare. And that lends itself very well to "hide" vegetables in the sauce (zucchini and carrots are perfect if you then puree the sauce).
In my family, they always served meatballs with white rice or puree, as none of the women in my family is a lover of pasta and they only appeared on desperate, for time,  occasions. In my house in Houston, we alternate rice or noodles. My husband has Italian blood and pasta is the best for him.
If you want or have available you can add to the meat mixture before shaping the meatballs: grated cheese, garlic or finely chopped onion. You can use ground chicken, turkey or pork. Or mixtures.
Easy Meatballs with Tomato Sauce
for 4 people
Ingredients:
1 pound of ground beef
1 egg
3 tablespoons fresh parsley or cilantro or 1 teaspoon dried oregano
1/4 cup breadcrumbs
1/2 teaspoon salt
Pepper
1 tablespoon of oil
2 cups of tomato sauce
Preparation:
In a bowl mix the ground meat, egg, breadcrumbs, herbs, salt, and pepper very well. I use gloves and I do it with my hands, you can also use the blender with the kneading or mixing blades.
Make meatballs the size of ping-pong balls. They will be approximately 20.
In a large pan, heat over medium-high heat. Heat a tablespoon of oil. Place the meatballs and let brown for 3 minutes, turn and brown on all sides, about 3-5 minutes more.
Add the tomato sauce over the meatballs. Stir and when it begins to boil, lower the heat and let cook covered for 15 minutes.
Add chopped basil if desired and serve with rice or noodles. And sprinkle with grated cheese.