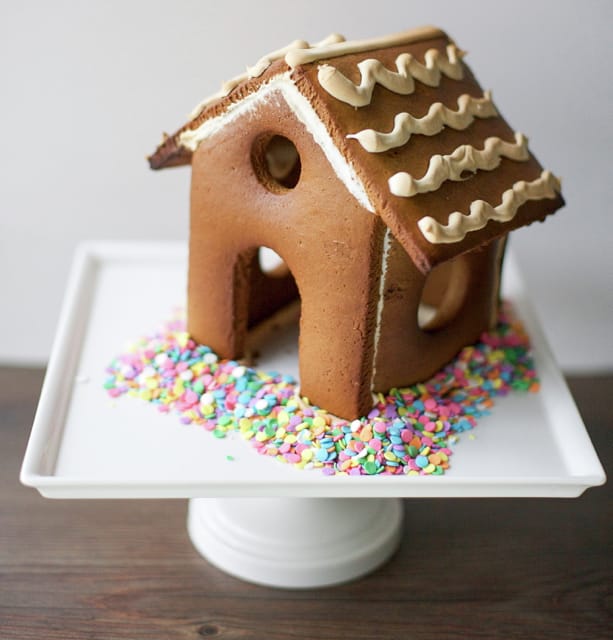 For many years we bought the set with the gingerbread house ready to assemble and decorate, but I always found the cookie inedible and the candy unattractive so this year I decided to make my own. I had some design issues but is not difficult and my daughter could design her own gingerbread house for her fairy Silvermist.
As I could not decorate it immediately, I store it in the oven … and a few days after I turned on the oven to pre-heated it and soon starts to smell a lot like gingerbread cookies …. what a disaster, so here I present the tanned gingerbread house.
I hope to do a better job next year.
Gingerbread house
for a house of 20 cm x 10 cm and decorations
Ingredients:
3/4 cup plain yogurt
85 grams of butter
1 cup brown sugar
1/2 cup molasses
1 egg
5 cups all-purpose flour
1 teaspoon baking soda
1 teaspoon ground ginger
1 teaspoon ground cinnamon
1/2 teaspoon salt
Preparation:
In a small saucepan melt butter and molasses, let it cool slight it. Add the yogurt and stir well.
Add brown sugar, stir to incorporate. Add the egg and stir to incorporate.
In a medium bowl mix 1 cup flour with the cinnamon, ginger, salt, and baking soda.
Add this mixture to the above mixture. and stir until incorporated.
Keep adding the remaining flour until a dough forms, it should be flexible without being sticky.
Divide dough in half and wrap in plastic film and refrigerate for 1 hour at least.
Preheat oven to 350F or 180C
On a floured counter, roll the dough onto parchment paper until it is of a thickness of 8 mm-1 cm.
Cut desired parts: walls, roof, trees, etc.
Remove the excess dough and transfer with the paper to the baking sheet and bake for 15-18 minutes or until cooked to touch, should not sink and look lightly browned on the edges.
Let cool completely before assembling the house.
Royal icing glue the house,
3 egg whites
4 cups powdered sugar (no need to sift)
colorants, optional
With a mixer on high speed, beat the egg whites until frothy (like a bubble bath). Lower the mixer speed to low and add the powdered sugar slowly. Once mix in continue beating on medium speed, the more you beat they thicken the royal icing.
Once is very thick and form waves that do not move, move to a pastry bag and build the house, keep in mind the icing dries quickly on contact with air.
It's good to put icing inside and outside of all joints.
Decorate to your heart's content.
Recipe adapted from King Arthur Flour.