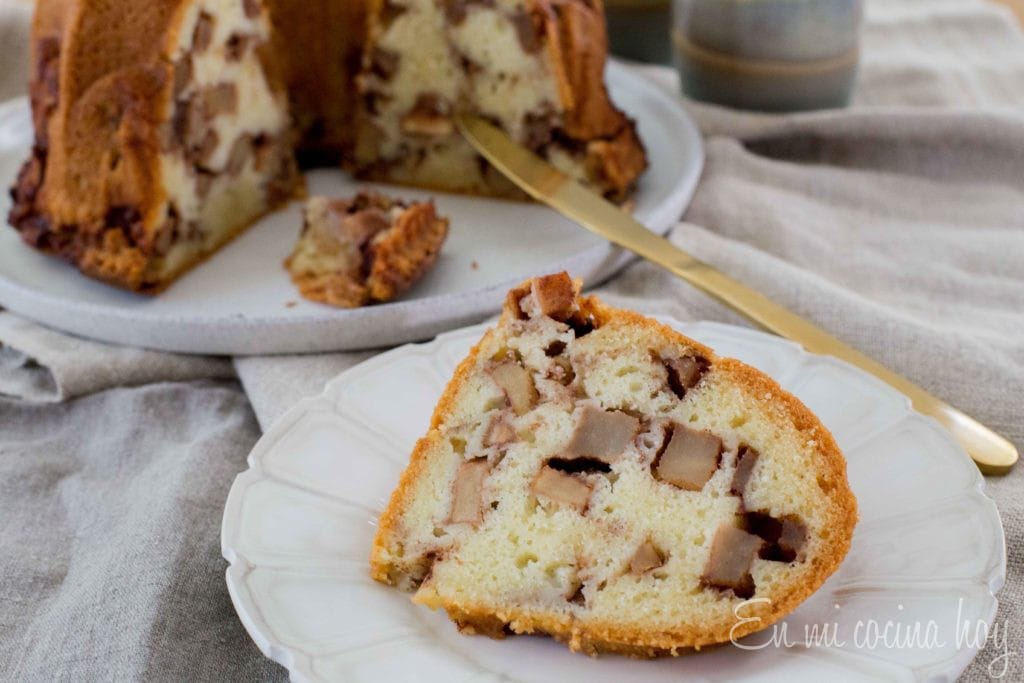 For a long time, I wanted to bake an apple cake with apple bits inside; I grew up eating a delicious apple cake made with shredded apple and oatmeal. But I was curious about this traditional Jewish Apple Cake.
This cake is fabulous, the apple pieces add a pleasant texture change, and the crumb is delicious. I recommend it. The way in which the cake is put together and how the batter is mixed is a little different from the usual, but it works.
This is a recipe that here in the USA is attributed to Jewish grandmothers, probably brought from Europe.
Jewish Apple Cake
for 12 people
Ingredients:
for the apples,
5 medium apples, use 2-3 different varieties if you can
5 tablespoons of sugar
1 tablespoon of cinnamon
for the batter,
2 3/4 cup all-purpose flour
1 tablespoon baking powder
1 teaspoon salt
1 1/2 cup of granulated sugar
1 cup of vegetable oil
1/4 cup of milk
2 teaspoons of vanilla extract
4 eggs
Preparation:
Preheat the oven to 350F or 180C. Prepare a large (12 cups) bundt cake mold, greased and floured.
Peel and cut the apples into cubes of 1 cm. approximately. Place in a bowl with sugar and cinnamon and stir well.
In a large bowl, mix the sugar, oil, milk and vanilla extract. Add flour, baking powder, and salt. Stir well with a wooden spoon or spatula; it will form a heavy batter.
Add the eggs, one by one, stirring until well incorporated.
Place a thin layer of batter in the prepared mold (about 1/4 of the mixture), a layer of apples (about 1/3 of the apples), repeat alternating until you have three layers of apple and finish with a batter layer. It is not necessary to cover all the apples.
Bake for 1 hour and 30 minutes or until golden, firm to the touch and a stick buried in the center comes out clean. Let stand at least 20 minutes before unmolding. Serve cold. Keep covered for up to 5 days.