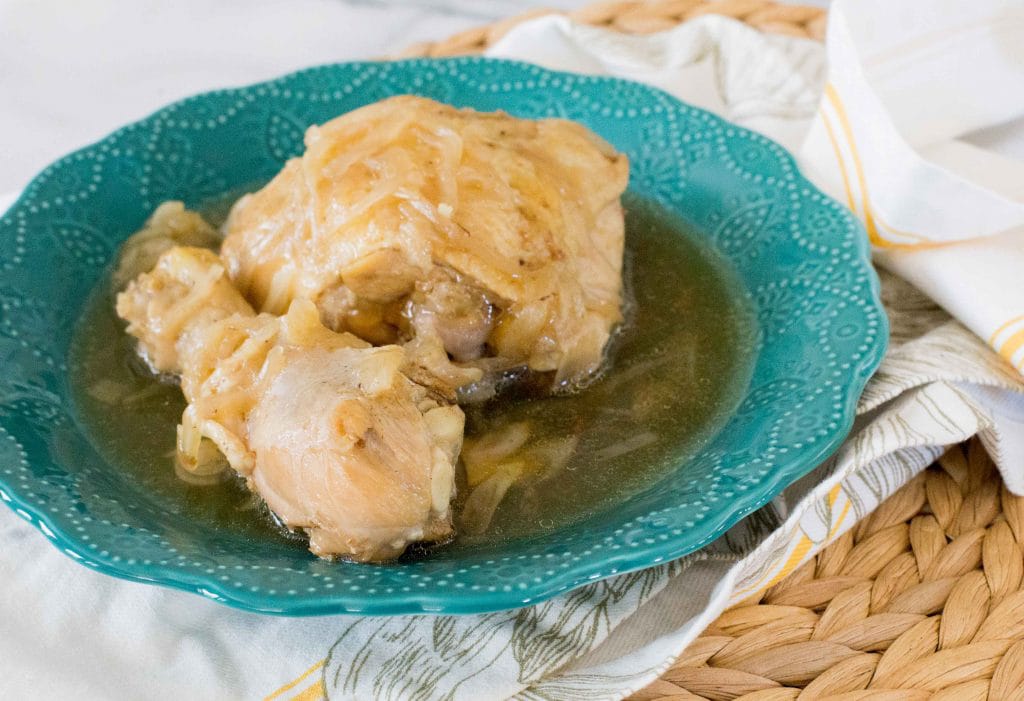 Last week we had Chilean friends over for dinner, and I wanted to do something fast because I had only a couple of hours to do everything, including setting the table and cleaning the bathroom! With traditional Chilean flavors, these Juicy Stove Top Chilean Chicken Thighs fill the bill perfectly.
I served them with mashed potatoes, a salad, and a Chilean wine. For dessert this Apple Galette, and I was ready. We had a good time. What is your favorite dish to make for mid-week guests?
Juicy Stove Top Chilean Chicken Thighs
for 4-6 people
Ingredients:
8 chicken pieces (I used 4 legs and 4 thighs)
1 onion in half moons
2 cloves of finely chopped garlic
2 bay leaves
1/2 teaspoon cumin
2 cups of vegetable or chicken broth, wine or water (or a combination)
salt and pepper
Preparation:
In a large skillet, heat one tablespoon of oil over medium-high heat. Dry the chicken with a paper towel and season with salt and pepper. Brown chicken pieces 4 minutes per side. Take out to a plate.
In the same skillet, add the onion and cook for 5 minutes. Add the garlic and cumin, cook stirring for 1 minute.
Add the broth and lower the heat to medium. Scrape and release everything stuck in the pan. Return the chicken to the pan, add the bay leaves. Let boil. Lower the heat to low and cook covered for 20 minutes.
Remove the bay leaves before serving. Serve hot with mashed potatoes or rice.