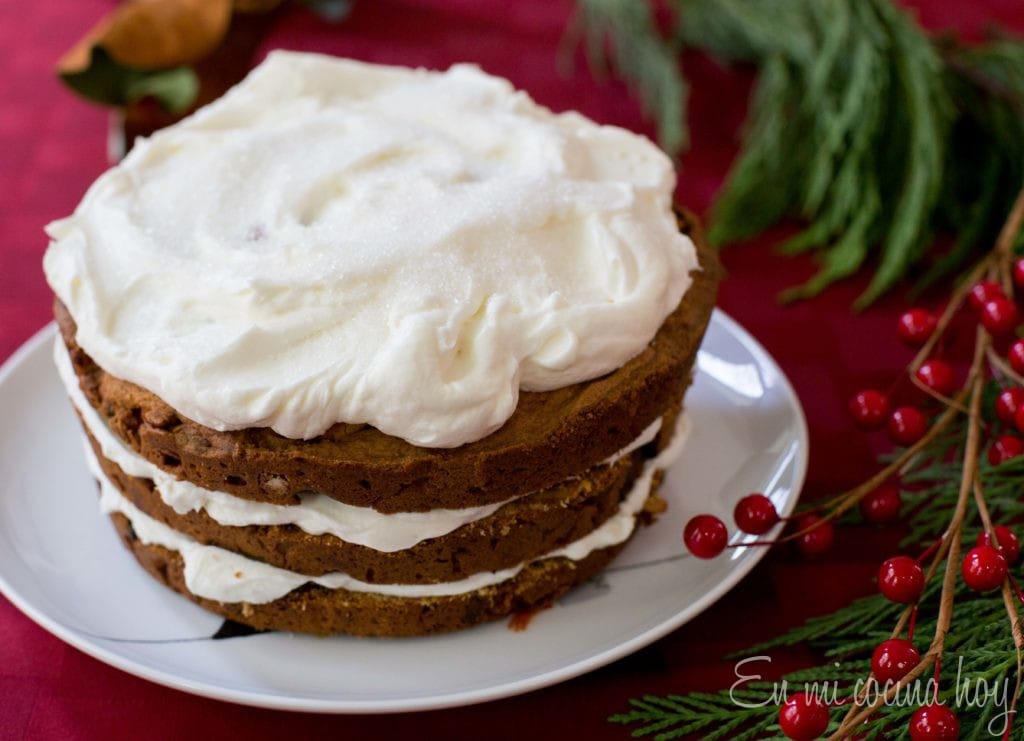 A stunning Layered Fruit Cake with Cream Cheese Frosting to serve at your Holiday parties. (I gave it flavor with bourbon or whiskey, but could make it cinnamon for example).
You can use the traditional recipe for Chilean fruitcake from this blog, or a store-bought one or a Panetonne. If you want a moist cake, soak it with sugar syrup (1 cup of sugar and 1 cup of water, cook until dissolved, it should not boil) or bourbon or the liquor you prefer. I like the fruitcake dense, so I didn't do it.
Thank you for letting me share with you 2017. The blog is about to turn ten years old — happy 2018 for everyone.
Layered Fruit Cake with Cream Cheese Frosting
for 8 people
Ingredients:
1 pack of 226 grams of cream cheese at room temperature
1/2 cup of granulated sugar
1 cup of heavy whipping cream
1-2 tablespoon of bourbon (optional)
Preparation:
Beat the cream cheese with the sugar until creamy, about 5 minutes. Add the cream and continue beating until it forms peaks. Add the bourbon and beat until incorporated.
Cut the fruitcake into 3 or 4 slices.
Fill in between layers and decorate. Keep refrigerated.