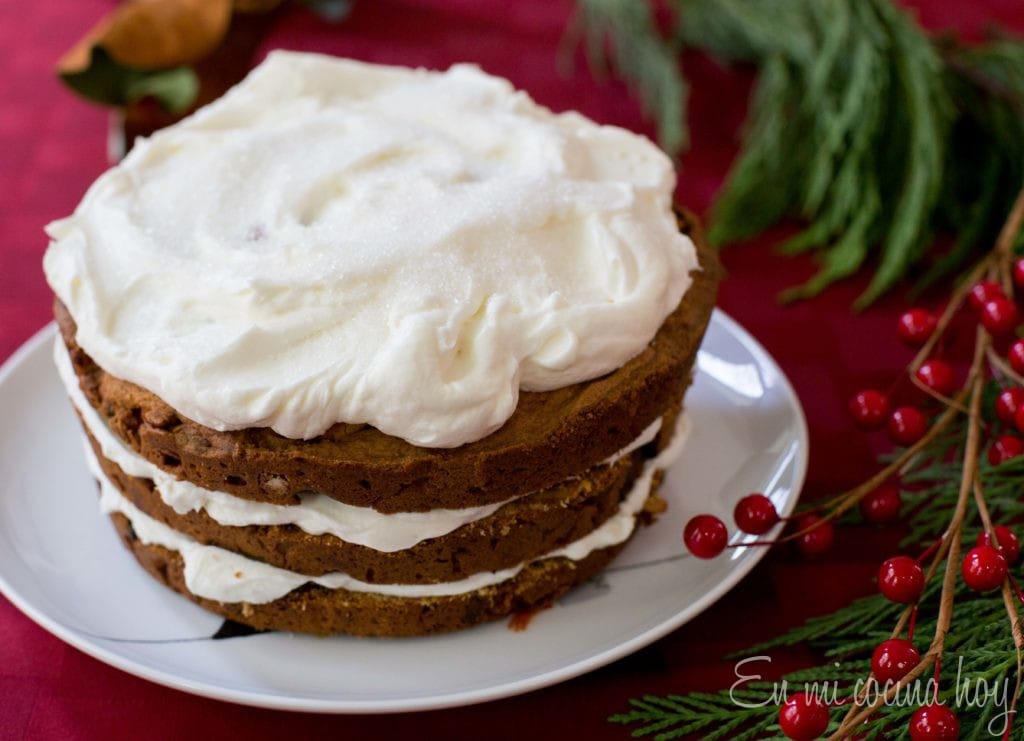 A stunning Layered Fruit Cake with Cream Cheese Frosting to serve at your Holiday parties. (I gave it flavor with bourbon or whiskey, but could make it cinnamon for example).
You can use the traditional recipe for Chilean fruitcake from this blog, or a store-bought one or a Panetonne. If you want a moist cake, soak it with sugar syrup (1 cup of sugar and 1 cup of water, cook until dissolved, it should not boil) or bourbon or the liquor you prefer. I like the fruitcake dense, so I didn't do it.
In past years, the last week of the year, I have compiled the most popular recipes of the year or my favorites. Or I have told you how the blog works in the technology behind the scenes part. This year, I want to tell you what I do daily to maintain the blog. It's a full-time job, which I love, and add to being a mom, like many of you. My days from Monday to Friday.
7:05 The alarm sounds. I'm not a morning person, and in general, until I've had breakfast, I'm not in the best mood. I always tell everyone never ask me something early in the morning because my first impulse will be to answer NO. My kids and my husband leave the house at 7:10, so I do not see them. Probably getting up in peace is my favorite part of working from home.
7: 30-8: 30 I sit down to breakfast and read the weather forecast (as the urban farmer that I am). I answer the questions that have accumulated on the blog from the previous day (I do this seven days a week) and schedule the post on Facebook for the day. I read emails, but usually, I do not answer early.
9-11: 30
Monday I go to the supermarket and do errands outside the house. Buy gifts or stop at the dry cleaners. Banking gymnastics as my grandfather used to call it.
Tuesday I go to the donation garden since I am the one in charge I can not miss, there I decide what to plant, harvest, organize, and teach the volunteers.
Wednesday and Thursday I go to the garden at my kid's school, or meetings of the other activities that I do like the garden club, or do the washing and ironing.
Friday ideally is the day that I cook a new recipe for the blog, and I take the pictures. I clean the house. Sometimes I get together with people living in Houston to organize activities related to blogging.
11: 30-1 pm I prepare something quick and have lunch. I do some reading: cooking blogs or articles on blogging.
1-3 pm Working editing recipes or photos, writing posts, answering emails from brands, agencies, clients, colleagues, and readers. I improve already published articles.
3-4: 30 pm. Pick up my kids from school, and we go back to the house.
4: 30-6: 30 pm Homework and preparing dinner, take one of my kid to classes.
6: 30-8 pm Dinner and clean the kitchen.
8-9: 30 pm Work or if I'm too tired I read decoration blogs (I love them)
9: 30-11 pm I read in bed the news of the day
11 pm-7 am Sleep, since age 12 I have migraines, and if I sleep a little or a lot, I have many more, so I am very religious in my sleep.
One Saturday a month, I volunteer to the Farmers Market 7: 30-12pm.
Every Sunday, I write and send the weekly menu, and I program the pins of the week for Pinterest.
There you have it; I'm lucky I can do housework during the day, it's admirable to get from work to do homework and house cleaning. I have a lady who comes every two weeks to clean deeper, change sheets and towels — the rest of the time I maintain.
Thank you for letting me share with you 2017. The blog is about to turn ten years old — happy 2018 for everyone.
Layered Fruit Cake with Cream Cheese Frosting
for 8 people
Ingredients:
1 pack of 226 grams of cream cheese at room temperature
1/2 cup of granulated sugar
1 cup of heavy whipping cream
1-2 tablespoon of bourbon (optional)
Preparation:
Beat the cream cheese with the sugar until creamy, about 5 minutes. Add the cream and continue beating until it forms peaks. Add the bourbon and beat until incorporated.
Cut the fruitcake into 3 or 4 slices.
Fill in between layers and decorate. Keep refrigerated.