You'll love this Lemon Pisco Sour Cake. It's delicious, simple, and fresh, perfect for summer celebrations. But you must use natural lemons or limes juices, no concentrate please, to get the best taste of the cake.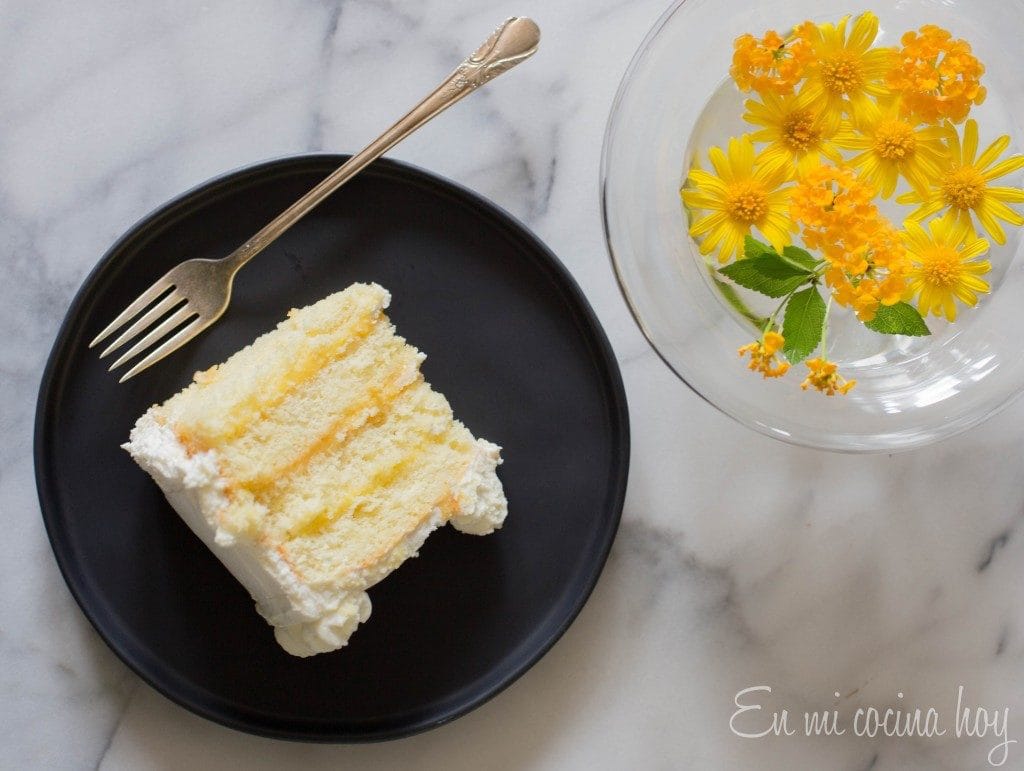 You can make the lemon curd two weeks before and refrigerate or freeze it. For the genoise cakes, I recommend you bake them one or two days before and always assemble them the day before serving so that the flavors have time to mingle and the cake is moist and delicious. You should keep it refrigerated.
I have been practicing making videos of recipes, I still have a lot to learn, but I encourage you to watch it as it will inform you of the most important steps.

I hope you have a lovely day with your mother, and if you are a mother yourself, Happy Mother's Day!!!. Hugs and kisses to all!
Print
Lemon Curd Cake
A Latin cake full of flavor.
Total Time:

2 hours 30 minutes

Yield:

20
For the lemon curd,
3/4

cup

lemon juice from 3 large lemons
zest of

2

lemons

1/2

cup

granulated sugar

2

egg yolks

2

eggs

2 teaspoons

cornstarch

6 tablespoons

butter
For the genoise cake,
225

grams

of sifted cake flour or 200 grams of all-purpose flour and 25 grams of cornstarch

6

eggs

225

grams

of sugar

1/4 teaspoon

salt

1 teaspoon

vanilla extract

1 tablespoon

lemon zest

50

grams

of melted butter
To assemble and decorate the cake
3/4

cup

lemon juice

1/4

cup

sugar

2 tablespoons

of pisco (you could use vodka too)

2

cups

fresh cold whipping cream

4 tablespoons

sugar

1 teaspoon

lemon zest
Instructions
Make the lemon curd: In a small saucepan, mix the lemon juice, zest, sugar, and butter (cut into cubes). Heat over medium heat until the butter melts.
Meanwhile, beat the eggs, yolks, and cornstarch until blended. Blend for 30 seconds by hand.
Add half the juice mixture to temper the eggs, beating them all the time. Pour the egg mixture into the pan and cook over medium heat, stirring until it thickens and is about to bubble.
Pour into a jar, cool, and refrigerate. Lasts two weeks refrigerated. You can also freeze it for up to 2 months.
For the genoise cake: Preheat oven to 365F or 185C. Prepare two8″ round cake pans. Cover the bottom with parchment paper. Grease.
In a bowl, mix eggs, sugar, salt, and vanilla. While whisking, heat in a double boiler until it reaches a temperature of 115F or 46C while stirring.
As the mixture reaches 46C, remove it from the water bath and beat it with an electric mixer on high speed until the mixture rises and then collapses, leaving a ring on the edge of the bowl (see pictures), for about 8 minutes.

With a spatula, incorporate the sifted flour in 3 steps, using soft folding movements as seen in the video. Add the second addition of flour and the lemon zest.
Add the melted butter and incorporate it with folding motions.
Empty the batter into the prepared pans and bake for 25-30 minutes until lightly browned.
Cool on a wire rack and then wrap and refrigerate.
Do not remove it from the pan until you are ready to cut and assemble the cake.

To assemble: Mix the lemon juice with the sugar in a small saucepan. Cook over medium heat, stirring until sugar is dissolved, don't let it boil. Remove from heat and add the pisco. Allow cooling.
Whip the cream with an electric mixer at high speed until soft waves form. Reduce speed to low and add the sugar and lemon zest.
Continue beating until stiff peaks form.
Cut the cakes in half. Place one half on the plate where the cake will be assembled. Moisten with lemon syrup and pisco. Cover with a layer of lemon curd (use 1/3 of the curd).
Repeat with the remaining cakes, as seen in the video.
Cover and decorate with lemon whipped cream. In the video, I used the tip Ateco #846 for the decoration details.

Keep refrigerated until serving.

Author:

Pilar Hernandez

Prep Time:

2 hour

Cook Time:

30 minutes

Category:

Cake

Method:

Baked

Cuisine:

Chilean
Keywords: Lemon Curd Cake, Lemon Pisco Sour Cake, Lemon Cake