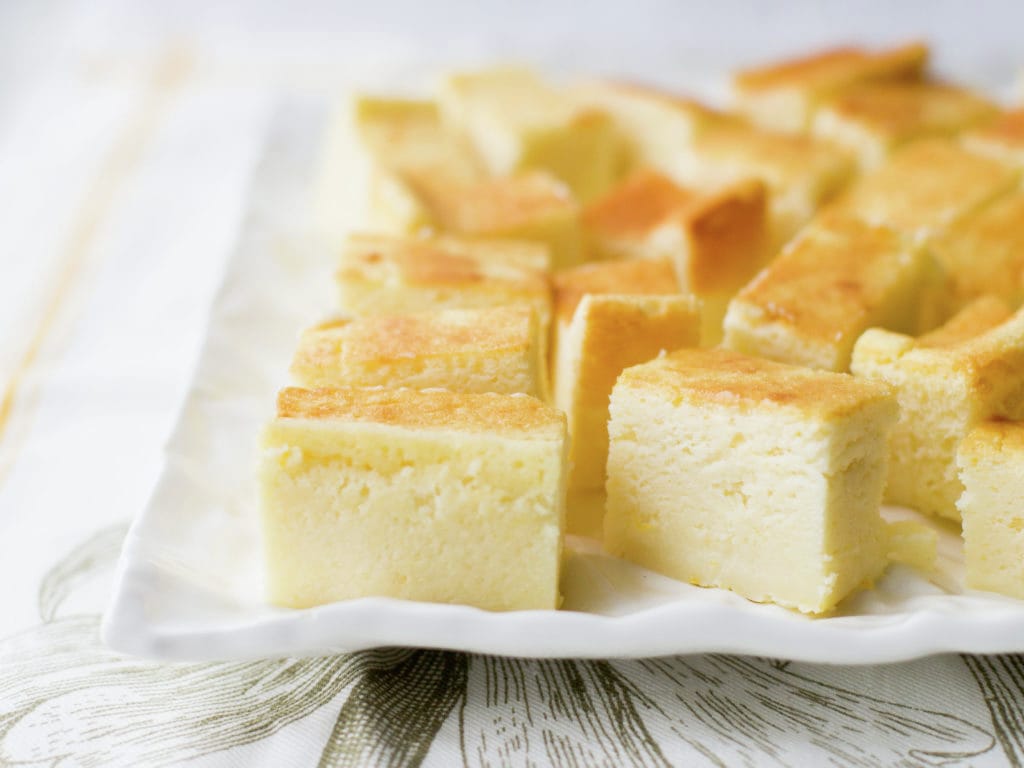 This Magic Lemon Cake is very famous on the Internet, what it is fun about it is a single batter, but during baking, it separated into 2 parts: a pudding one on top and down a very soft sponge. I recommend it. Be aware that the temperature of the ingredients is very important for the final result. And do not overcook it.
Magic Lemon Cake
16 servings
Ingredients:
1/2 cup ?(115 grams of butter)
2 cups milk
4 eggs, separated into whites and yolks
3/4 cup sugar
zest of 2 lemons
1 tablespoon water
1 1/4 cup flour
1/4 cup lemon juice
Preparation:
Preheat oven to 325F or 160C.
Greased square baking pan 20×20 cm.
Melt the butter and let cool slightly.
Heat the milk until it is lukewarm.
Beat egg whites until stiff peaks form.
In another bowl mix the egg yolks with the sugar and lemon zest. Beat for 2 minutes until they are well mixed, add the butter and water. Stir until well blended.
Add the flour, stir until incorporated.
Finally, add the milk and lemon juice.
Now using the same balloon whisk, add 1/3 of the egg whites first then the rest, gently stir after each addition.
Pour into the pan and bake for 40-50 minutes, until golden.
Leave to cool completely before removing from pan and cut into 16 squares.
Sprinkle with powdered sugar to serve.
Recipe adapted from White on Rice Couple