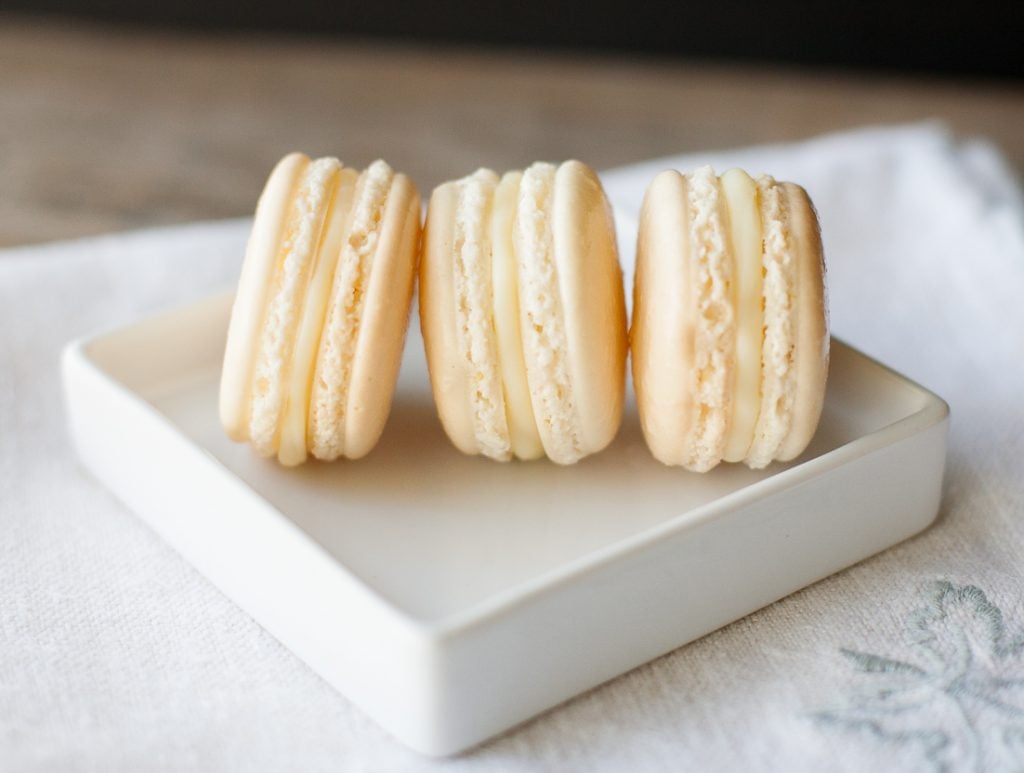 Is citric season in Texas and one of my best friends has a Meyer Lemon tree and gave me at least 10 pounds to play around. I made this for my daughter's school. Once a year they host an International night with food, dances, and a parade from countries all over the world. 25 countries are represented on the student body. These were for the French table.
Meyer Lemon Macarons
for 30 macarons size 3 cm in diameter
Ingredients:
200 grams of powdered sugar
110 grams of skinless almonds
90 grams of egg whites (3-4 eggs)
50 grams of granulated sugar
the zest of 1 Meyer lemon
Prepare two baking sheets, cover with parchment paper. Prepare a pastry bag with a large round tip, Ateco # 807, 808 or 809.
In the food processor place the sugar and almonds, process until very fine. Another alternative is to buy ground almonds and in which case, just mix the almonds and sugar in a bowl, stirring with a whisk or fork.
If you want the macarons with the very smooth surface, you must sift almonds and sugar 2 times and discard what does not pass through the sieve (remember to reweigh).
Make a meringue: with mixer on high speed beat egg whites at room temperature until foamy (like a bubble bath) add granulated sugar, beating on medium-low speed, then continue beating on high speed until meringue forms a hard peak, lifting the mixer should not move. Do not overbeat.
Add a third of the almond mixture to the meringue stir about 5 times, to mix a bit. Add remaining almonds, and carefully incorporate into the meringue with as few turns as possible.
Take a teaspoon and place a small dollop on a plate if it flows and the peak disappear is ready, if too thick, mix 5 times and try again.
Spoon mixture into the pastry bag and pipe the macarons so that they are the same size. This requires practice, so do not despair. Bang the sheet a couple of time on the counter to break any bubbles.
Let stand for 30 minutes.
Preheat oven to 280F or 140C.
Bake the macarons 1 tray at a time for 15-18 minutes. They should not brown. To make sure they are cooked with a table knife lift one and see which is cooked all the way.
Remove to a wire rack and let cool for 10 minutes. If they glue to the paper, place a few drops of water between the paper and the sheet, should come off almost immediately.
Let cool completely before filling.
For the filling,
50 ml of heavy cream
100 grams of white chocolate chopped
1 tablespoon of lemon juice
In a small pan or on the microwave heat the cream until star bubbling, pour onto the chopped white chocolate and let it stand for a minute.
Gently mix both together until smooth, add the lemon juice
Let it cool and get harder, do not refrigerate
Pair your macarons shells according to size and shape.
Fill the macarons placing the white chocolate ganache in between. Let stand refrigerated overnight.
Serve at room temperature. Keep refrigerated for up to 5 days.
Macarons recipe adapted from blog Tartelette
Lemon white chocolate ganache recipe adapted from blog Food, Travel and Wine