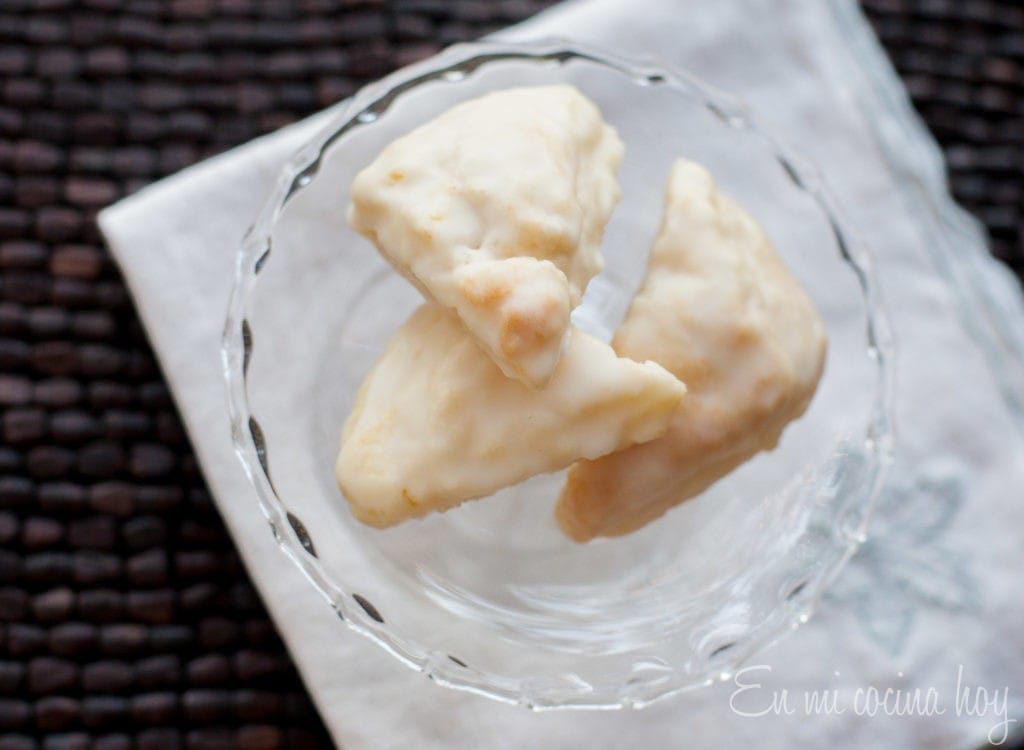 This is my favorite snack/breakfast at Starbucks, I change the flavor from vanilla to lemon and they turn up even more delicious. I really encourage you to try it.
You can freeze them for up to 2 months. Defrost on the counter, just allow enough time for the glaze to set again.
Meyer Lemon Scones
for 50 mini scones
Ingredients:
3 cup all-purpose flour sifted
1 tablespoon baking powder
1/4 teaspoon salt
2/3 cup sugar
zest of 1 lemon, I used Meyer
175 grams cold unsalted butter
1 egg
3/4 cup heavy cream cold
Preparation:
Mix the sugar with the lemon zest, stir well.
In a large bowl mix the sifted flour, baking powder, salt and sugar with the lemon zest. Mix well.
Add the diced butter and work with a fork until it looks like fine sand. Do not use your hands, or the butter will melt.
In a small bowl mix the egg and cream, whisk until blended.
Add the cream mixture to the flour mixture and work with a wooden spoon until it forms a soft dough.
Spread over the floured counter, pat or roll until a thickness of 1 inch.
Cut into squares and then into triangles. Freeze for 30 minutes (do not skip)
Preheat oven to 350F or 180C.
Place leaving 1″ in between on baking sheet (you may use Silpat or parchment paper or aluminum if desired).
Bake for 13-15 minutes until lightly browned.
Let cool for 5 minutes on the baking sheet, then move to a wire rack and let cool completely before applying the glaze.
For glaze,
4 cups sifted powdered sugar
1/2 cup lemon juice
In a medium bowl sift the powdered sugar, start adding the lemon juice stirring well with a whisk.
Dip each scone in the glaze. Let drip back into the bowl and then let dry for 2-3 hours on a grid (placed on a tray because it will leak).