Marraqueta, also known as pan batido, pan francés, or pan corriente, is a type of bread that is very popular in Chile. It is a traditional Chilean bread with a unique texture and flavor and is a staple in the Chilean diet.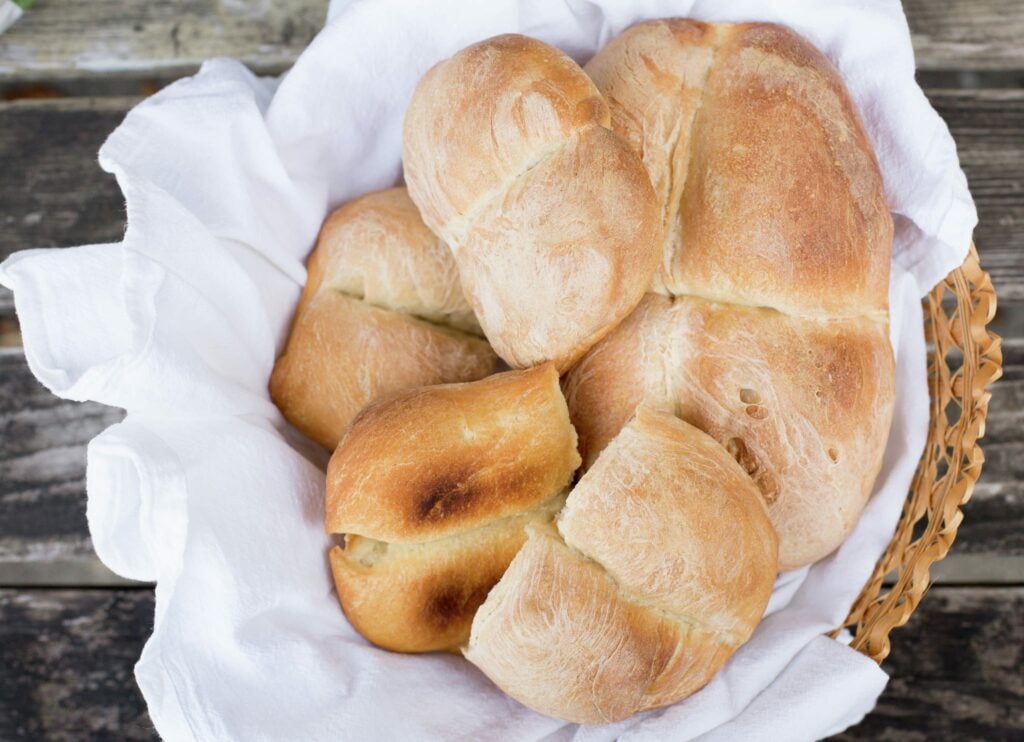 Marraqueta's outer layer is usually golden brown and crispy, providing a satisfying crunch when you bite into it. The inside is soft, fluffy, and slightly chewy (la miga), making it perfect for various uses, such as making sandwiches or enjoying with butter and jam. They are typically elongated and have a characteristic split down the middle, allowing easy separation into two halves. This split is made with a unique technique that helps the bread rise while baking correctly.
Marraquetas are commonly enjoyed for breakfast or as a part of traditional Chilean meals. Pan Batido is often used to make a homey Completo, a popular Chilean hot dog with avocado, mayonnaise, sauerkraut, tomatoes, or Choripán (Longaniza chorizo and Pebre).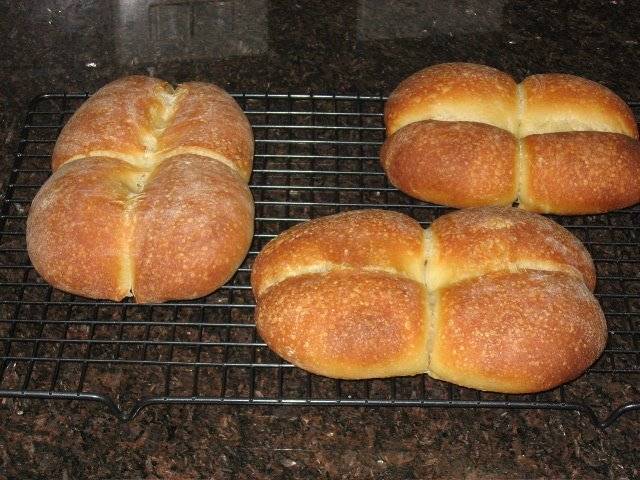 In Chile, bakeries and supermarkets typically sell Marraquetas freshly made daily or frozen par-bake to finish baking at home and enjoy fresh from the oven. Chilean Marraquetas are an essential part of the culinary culture in the country, and their unique taste and texture make them mandatory at Onces with family and friends.
Marraquetas is an everyday bread, not shared with guests but always on the family table for breakfast, lunch, tea, and dinner.
This recipe is adapted from Peter Reinhart: Baguettes, published in his book "Crust and Crumb." You must start the day before, but the result is fantastic and authentic to the Chilean flavors.
Print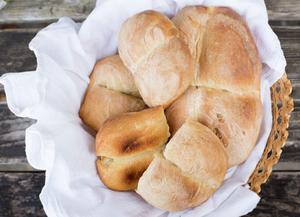 Marraquetas, Chilean Bread
A fantastic yeasted bread.
Total Time:

2 hours

Yield:

6
3 1/2

cup

all-purpose flour

3 1/2

cups

bread flour

1 teaspoon

brown sugar

2 2/3

cup

cold water

1 1/2 teaspoon

instant yeast

2 1/2 teaspoons

salt
vegetable oil spray
Instructions
Combine flour, salt, brown sugar, and yeast in the mixer, bread machine, or mixer bowl. Add water and mix until it forms a ball. Dump onto a floured counter and knead vigorously for 10 minutes. Place in a clean bowl, drizzle with vegetable oil, cover the bowl, and let rise for 30 minutes. Knead gently into a ball and rest 90 minutes or more in the bowl until doubled in size.

Divide the dough into six equal portions and make balls with them. Sprinkle lightly with vegetable oil spray, put them in a large Ziploc bag, and let stand 30 minutes.
Prepare two baking sheets, cover with parchment paper, spray with vegetable oil, and coat with semolina or cornmeal.
To shape the Marraquetas: Make a ball and stretch gently by hand, trying to make an oblong shape. Make a cross with a wooden or metal rod (the handle of wooden spoon works, for example). Then again, sprayed with vegetable oil spray and placed in prepared sheet, put them in the plastic bag and let them grow for 15 minutes. Refrigerate overnight.

The day after taking from the refrigerator must have grown between 50-75% of its original size, let it stand 1 hour at room temperature. Remove from the bag 15 minutes before placing them in the oven.

Preheat oven to 475F or 245C with a pizza stone inside. Put an empty pie pan on the oven floor. Put 1 cup of hot water into the pie pan. Put the Marraquetas in the oven over the stone, leaving the parchment paper. Sprinkle the loaves of bread and the oven walls with water slightly. Repeat 2 minutes later. And then one minute later. Reduce oven temperature to 450F o230C.
Bake for 10 minutes. Rotate the pan. Continue baking for 10 minutes or until well browned. Turn off the oven and leave in for 5-10 minutes, until they look dark and seem to not stand another minute in the oven.
Remove and let stand on a rack for at least 30 minutes. Eat!

Author:

Pilar Hernandez

Prep Time:

1 hour, 30 minutes

Cook Time:

30 minutes

Category:

Bread

Method:

Baked

Cuisine:

Chilean
Keywords: marraquetas, chilean bread