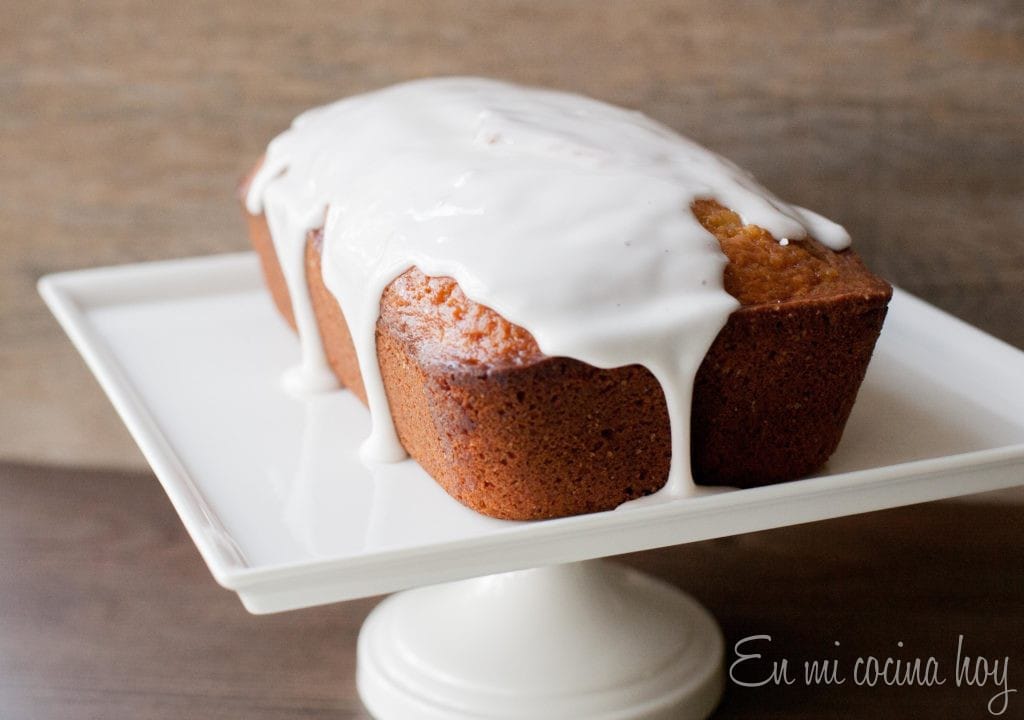 I wanted to try a recipe for a cake with olive oil for a long time. But the recipe who finally made me turn on the oven was the one from Deb, and I'm so glad I did, is great, almost all versions for olive oil cake are with some citrus: lemons, oranges, pink grapefruits. Choose your favorite for this recipe.
I really liked the flavor achieved.
Olive oil pound cake with orange
1 loaf cake for 12 people
Ingredients:
for the cake,
1 1/2 cup flour all-purpose (190 grams)
2 tablespoons orange zest (2 large oranges)
1 cup granulated sugar
1/2 cup olive oil
2 eggs
1 teaspoon baking powder
1/2 teaspoon salt
2 tablespoons orange juice
1/3 cup plain yogurt
Preheat oven to 350F or 180C. Butter the pan 9″x5″ or 12x23cm.
In a large bowl, mix the sugar and orange zest and using your fingers rub the zest with the sugar to release the oils and flavor. Add the oil and stir well with a fork.
Add an egg, stir to incorporate, repeat with the second egg.
In another bowl mix the flour, baking pow, er and salt, stir well.
In a jar mix the yogurt with orange juice.
Add the 1/3 of the flour mixture to the batter with eggs, stir until mixed. Do not overbeat, just enough to blend. Add half the yogurt, stir, continue with another third of the flour, stir. The rest of the yogurt, stir. Finish with the flour, stir to mix.
Place mixture in buttered pan. Spread well.
Bake for 45-50 minutes until golden and a stick inserted into the center comes out clean.
for syrup for dipping the cake,
2 tablespoons sugar
1/3 cup orange juice
While the cake is baking, make the syrup mix the juice and sugar in a small saucepan and heat over medium heat, stirring until sugar dissolves. Turn off and let cool. Do not boil.
When the cake is ready remove from the oven and let it stand 10 minutes in the pan over a wire rack. Then unmold and make holes with a stick and cover with syrup, apply it with a brush. Let cool completely before dripping with glace.
for the glace,
1/2 cup powdered sugar (confectioners)
1 tablespoon orange juice
pinch of salt
Mix the juice with the icing sugar, stir well to mix. Flood the cake with glace.
Allow to set in a bit, cut and serve.
Recipe adapted and translated the book "The Smitten Kitchen Cookbook" by Deb Perelman. Thoroughly recommended.