Recipe Queso Fresco Cilantro Pork Fries was sponsored by La Vaquita Cheese. All the opinions are mine.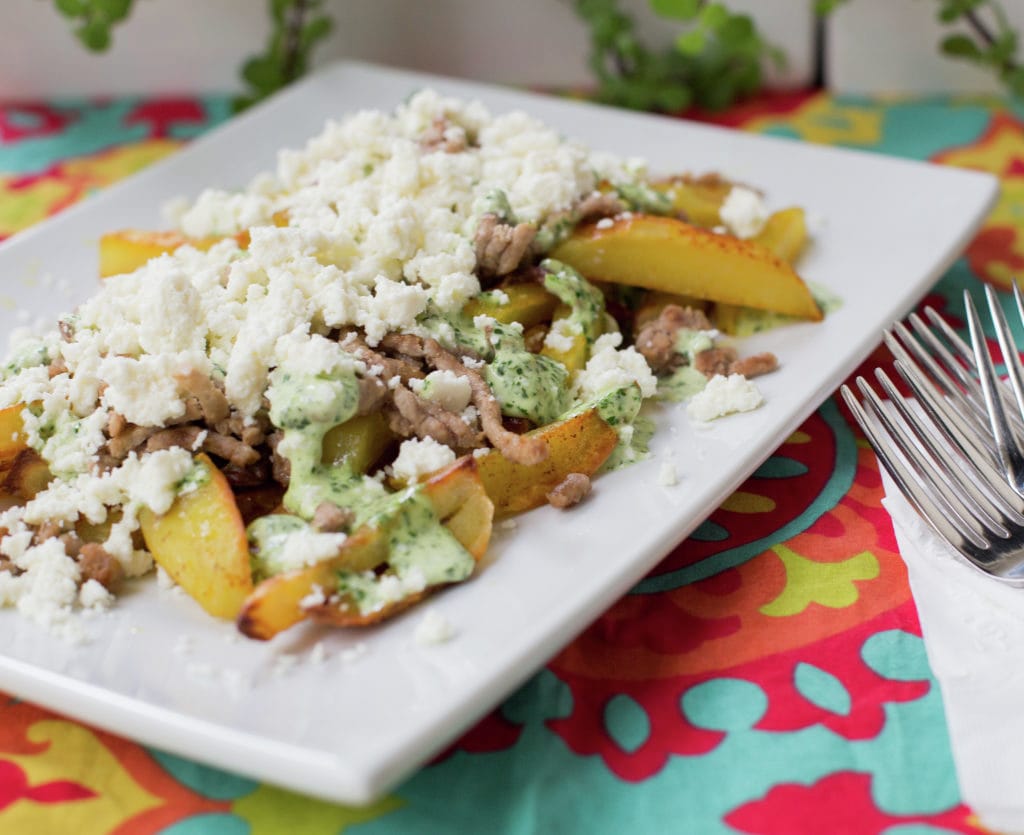 Fries are beautiful and can be infinitely enhanced with a delicious topping like in this Queso Fresco Cilantro Pork Fries.
I encourage you to top your fries with Queso Fresco La Vaquita, a local brand, born in Houston, made in Texas, traditional and delicious. I played around thinking of using chipotle or cilantro mayonnaise, even a pesto goes really well with fries. Mayonnaise with French fries is a memory of my youth, when after school with my friends we would stop and buy them, a classic at the beach as well, at least in Chile. This time I added meat to make it a complete meal. We ate them for lunch and loved them.
La Vaquita (the little cow) was created in 1971 by Maria Castro, a Mexican immigrant. Her artisanal, small-batch process was inspired by a recipe she learned from her grandmother on their family's farm and has since been handed down through generations. La Vaquita is a Texan favorite with their authentic Mexican array of high-quality Quesos (cheeses) and Cremas (creams).
La Vaquita products can be found at H-E-B, Fiesta, Walmart, Kroger, and other local supermarkets throughout Texas. And also at restaurants: La Vaquita is honored to be the preferred Queso Fresco used by native Houstonian and award-winning Executive Chef of Cordua Restaurants, David Cordua.
I baked the french fries because I do not like to fry, but of course, you can fry the potatoes or use a frozen bag ready for the oven. Instead of ground pork, you can use shredded grilled chicken or fajita steak. The important thing is to have a sauce pull all together, so it is easier to eat. More than eating it with your hands, you need to use cutlery and lots of napkins.
The crumbled Queso Fresco is a fresh, bright, milky and mild touch, I love the contrast with the hot potatoes and the meat. A meal to indulge on.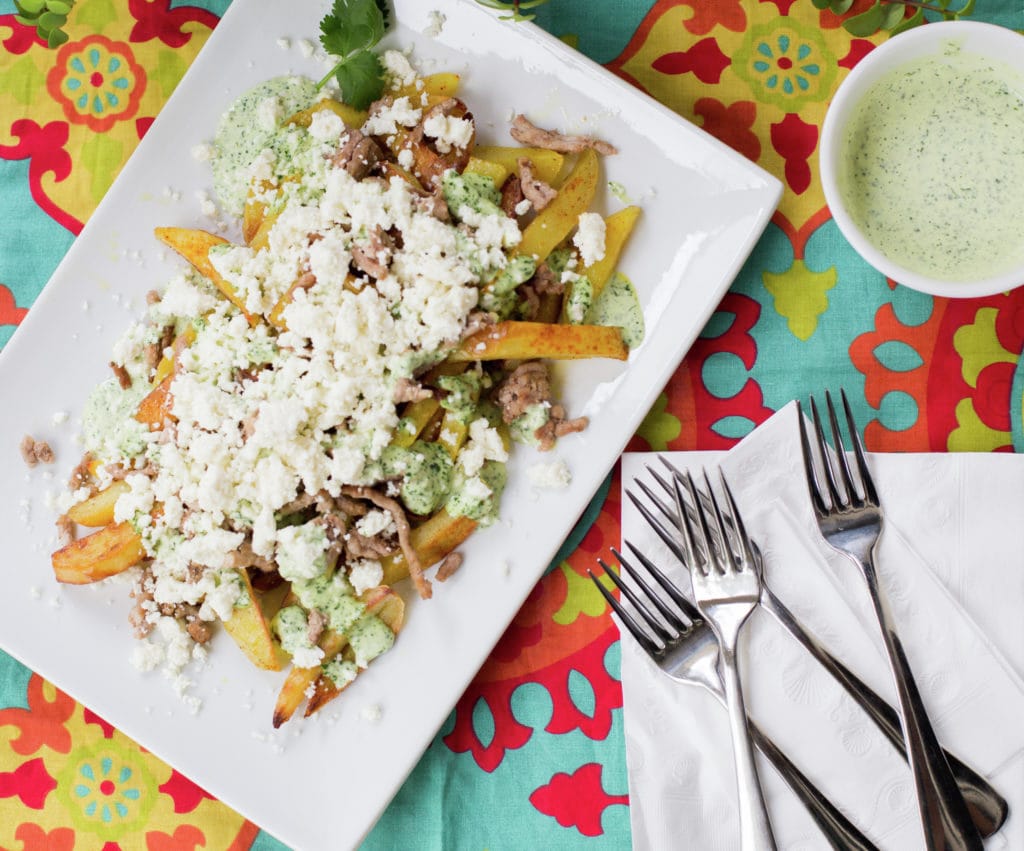 Queso Fresco Cilantro Pork Fries
Serves 4
Ingredients:
2 pounds of potatoes
Oil, salt, sweet or smoked paprika or chili peppers flakes
1 Queso Fresco (Fresh Cheese) La Vaquita
1 pound of ground pork
1 cilantro brunch
1/2 cup mayonnaise or plain cream or yogurt
Salt, pepper, water
Preparation:
Preheat 200C or 400F.
Peel the potatoes and cut into rectangles about 1/4″ thick. Place them in a bowl of ice water. Let them stand for 15 minutes in the ice water.
Drain and dry well with a paper towel.
Place on a large baking sheet and sprinkle 1 tablespoon of oil; mix well with your hands. Season with salt and pepper.
Bake for 45-50 minutes until the potatoes are cooked and golden.
While the potatoes bake, prepare the cilantro mayonnaise mix in the blender: the coriander leaves with mayonnaise and 3 tablespoons cold water. Blend to a sauce. Adjust the seasoning.
Crumble the fresh cheese.
Brown the pork in a frying pan over medium-high heat, 8-10 minutes until cooked.
Remove the potatoes from the oven, move to a dish, place the pork on top, the cilantro mayonnaise and top with the fresh cheese.
Serve immediately.