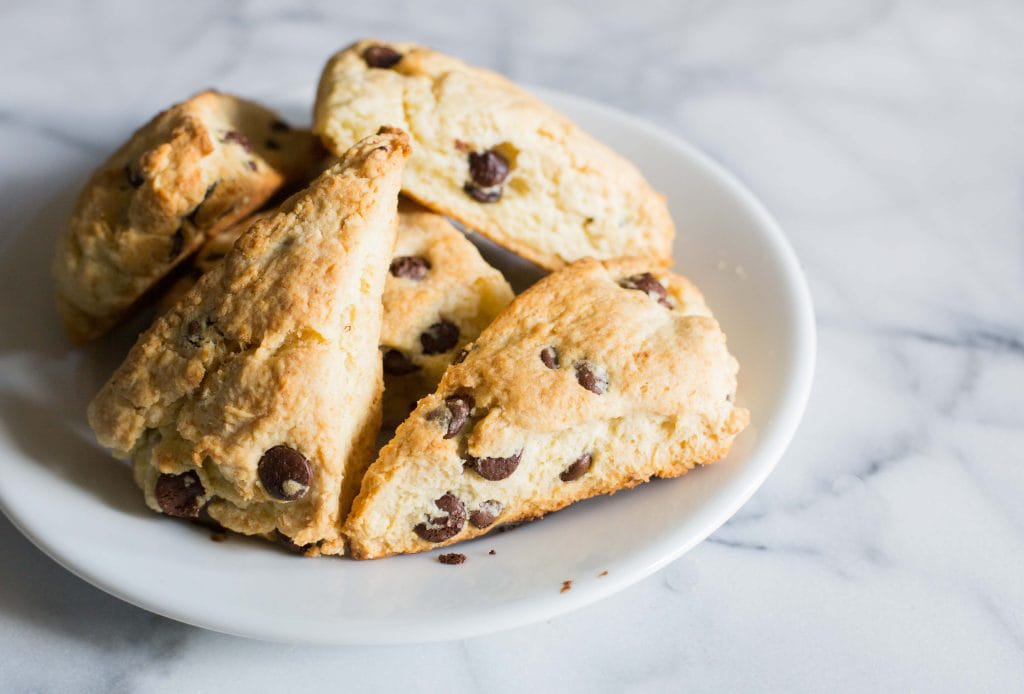 Perfect recipe to bake with kids these Scones with chocolate chips. These were again a great success, in my house, they are so crazy about chocolate that they eat them with Nutella.
Scones with chocolate chips
10-12 scones
Ingredients:
1 egg
2/3 cup cold whipping cream
2 cups flour
2 tablespoons sugar
1 tablespoon of baking powder
1/4 teaspoon fine salt
5 tablespoons cold unsalted butter
1/2 cup chocolate chips
Preparation:
Preheat oven to 400F or 200C. Prepare a baking sheet, cover with parchment paper.
In a bowl mix the cream and egg, beat with a fork until thoroughly mixed, 1 minute.
In another bowl mix the flour, baking powder, salt, and sugar, stir with a fork.
Add the diced butter and working with 2 knives and 1 fork, mix in the butter to form coarse sand, crumbs like with different sizes, do not let them bigger than a pea.
Pour the cream and egg mixture into the center and stir with a fork until moist. Add the chocolate chips. Finish working quickly with your hands, do not knead.
Flour the counter and place the dough and spread with the rolling pin until it is 1-1.5 cm. thick.
Cut with a floured glass or biscuit cutter. If you want to freeze them, place them on a plate and then, once frozen, store in a plastic bag for up to 2 months.
Bake for 18-20 minutes until well browned. Do not thaw before baking. It will take 2-4 minutes longer if frozen.
Let cool 10 minutes before serving with butter and jam
Recipe adapted and translated from Baking from my home to yours by Dorie Greenspan.