Recipe sponsored by BUSH'S. All opinions are mine.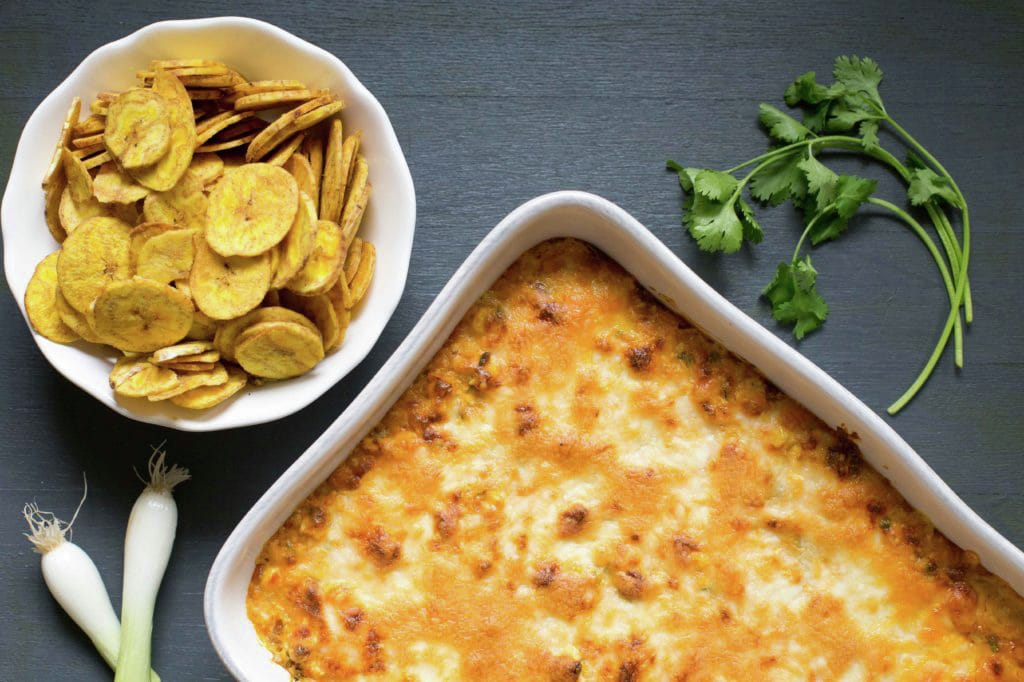 It's time to watch sports on the TV, be it American football or Chilean soccer, we always follow our teams' games. This recipe for a  Sriracha bean hot dip with corn is ideal for any party, I made it for our first block party at our new house, we got to meet all our neighbours. We had a great time.
A simple recipe, delicious and inspired by the new variety of BUSH'S beans with Sriracha, available only for a limited time. So tasty, and not too hot. I really like it.
I really do not know where these hot dips with cream cheese and vegetables originated, but they are very tasty. If you haven't tried them they are highly recommended. In the web page of BUSH'S, you can find other variations and recipes.
You can serve them with nachos, totopos, tostones or potato chips. A more filling option is to serve it with pita bread or similar.
If there are any leftovers, the next day you can use them as a base for a vegetable soup, I cooked some carrots, onions and tomatoes, added the leftovers from the dip and blended everything with the hand blender. It was very tasty.
Sriracha bean hot dip with corn
Serves 12
Ingredients:
1 can (21 oz.) BUSH'S Sriracha Limited Edition beans
2 packages (8 oz.) cream cheese, room temperature
1/2 cup mayonnaise
1 bag 16 oz/450 gram) frozen corn, thawed
8 green onions, chopped
1/4 cup cilantro, chopped
115 grams or 4 oz of grated Monterrey Jack cheese (divided)
Preparation:
Preheat the oven at 400F or 200C.
In a bowl mix well the cream cheese and mayonnaise, add the rest of the ingredients, save half of the grated cheese. combine well and pour into an oven dish 20×30 cm or 8″x12″ or square 8″).
Sprinkle the rest of the cheese. And bake for 20-30 minutes, until it's bubbly and golden.
Serve with nachos, potato or banana chips.