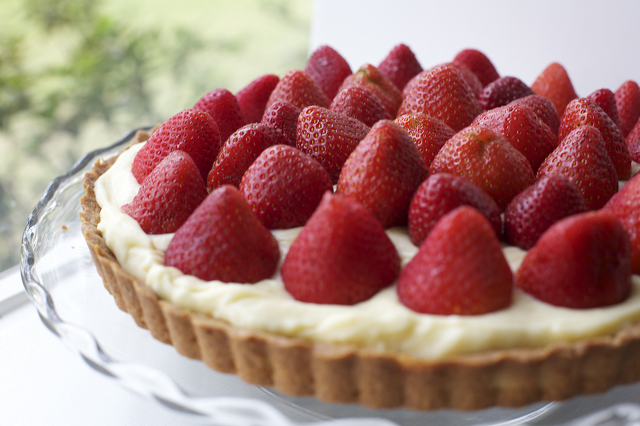 A classic French dessert, very popular in my country Chile especially during the summer, my mother use to make it with white grapes after the strawberry season is over.
Strawberry Tart
For a tart springform pan 25 cm. diameter
For the dough,
1 egg yolk
1 tablespoon whipping cream
1/2 teaspoon vanilla extract
1 1/4 cup all-purpose flour
2/3 cup powdered sugar
1/4 teaspoon salt
8 tablespoons or 125 grams of cold butter cubed into 1-cm
In a small bowl whisk the yolks, cream, and vanilla until incorporated. In another large bowl mix the flour, sugar, and salt, stirring with a fork to mix. Add the cold butter and work with a fork or two knives incorporate it into the flour until you have sand looking mix, add the egg yolk mixture and mix a little with a fork and then form the dough with your hands, just get it together don't knead it, wrap in plastic wrap and refrigerate for 1 hour.
Roll the dough on a floured counter, extended just enough to cover the tart pan, arrange the dough into the pan and cut the excess dough, place in the freezer for 30 minutes.
Preheat oven to 180C or 350F. Cover the dough with foil and put some weight on top(like beans), bake for 30 minutes, remove the foil and the weight and bake for 5-8 minutes more until browned. Let it cool completely.
For the pastry cream,
1 cup whole milk or 2%
1 cup whipping cream
1/2 cup plus 2 tablespoons sugar
pinch of salt
5 egg yolks
3 tablespoons cornstarch
4 tablespoons or 60 grams of butter cut into 4 portions
1/2 teaspoon vanilla extract
Heat in a small saucepan over medium-high the milk, cream, sugar (1/2 cup), and salt until bubbles begin to appear on the edge, stirring occasionally to dissolve sugar. Meanwhile, in a medium bowl mix the egg yolks and sugar (2 tablespoons) and with a wire whisk beat until the sugar begins to dissolve, add the cornstarch and whisk until is pale and creamy.
Add the hot cream slowly, keep stirring constantly, this is done to temper the eggs and you need to prevent them from cooking, continue whisking and adding the hot cream, return everything to the pot and cook over medium heat stirring constantly with a spoon or spatula, as soon as it thickens, remove from heat and keep stirring, do not panic if don't look homogeneous, continue stirring and add the vanilla and butter into cubes, stir until mixed throughout.
Pass through a sieve (if you want) and cover with a plastic wrap touching the surface so that no "crust" forms. Refrigerate until ready to use.
For the fruit,
Unmold the baked tart base and fill with the cold pastry cream and cover with strawberries.
You can assemble the tart with the cream the day before serving and keep it refrigerated, but do not put the strawberries until ready to serve, to prevent sinking.
Adapted from Annie's Eats