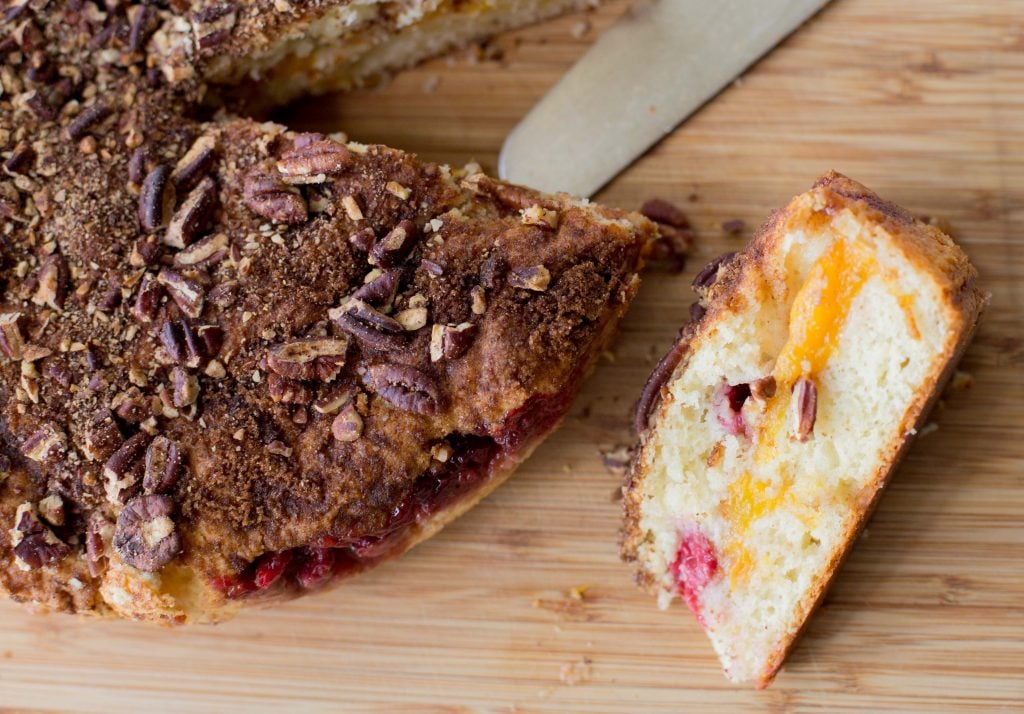 I had no plans to bake, but I wanted to eat something sweet, quick look around … what I can do with 2 ripe peaches and a handful of raspberries? Summer Coffee Cake. This is the summer version of the traditional and very American cinnamon cake or coffee cake, call like that because it is usually served with coffee, it has no coffee in it… I know it's confusing, but who cares? Is delicious in winter and summer.
Summer coffee cake
8 servings
Ingredients:
120 grams unsalted butter, 1 stick
1 cup granulated  sugar
2 eggs
1 plain yogurt (no sugar added, 170 grams)
1 teaspoon vanilla extract
2 cups all-purpose flour
2 teaspoons baking powder
1/2 teaspoon salt, omit if using salted butter
2 peaches
1 handful of raspberries, optional
1/2 cup brown sugar
1 teaspoon ground cinnamon
1/2 cup chopped walnuts, optional
Preparation:
Preheat the oven to 350F or 180C. Cover the bottom of the ring mold with parchment paper, if you want to serve on a plate.
In a bowl mix the flour, baking powder, and salt and stir with a fork.
Peel and cut the peaches into slices.
In another small bowl mix the brown sugar and cinnamon, and stir with a fork.
In a large bowl beat butter with sugar until it is pale and creamy, about 3 minutes with a mixer on medium-high speed. Add the eggs one at a time, beating well in between. Add the yogurt and vanilla, and beat until everything is well blended.
Add the flour mixture using a spatula or wooden spoon, and stir to form a thick batter.
Place little more than half the batter into the prepared pan. Spread in an even layer, and place a layer of peaches, and raspberries if desired. Sprinkle 2/3 of the brown sugar and cinnamon mixture.
Cover with the remaining batter, mix the walnuts with brown sugar and cinnamon, stir and pour over the batter, using a fork to spread well.
Bake for 40-45 minutes or until golden and a stick buried in the middle comes out clean.
Cool on a wire rack. Unmold cold, slide a table knife around the edge and open the hoop.
Serve with ice cream or whipped cream or alone if desired.