As soon as the Spring starts in Chile, you can find little carts selling this traditional drink, Wheat berries with dried peaches or Mote con Huesillos, on the streets. A little like the Aguas Frescas in Mexico. It is very filling and a terrific snack if you are sightseeing.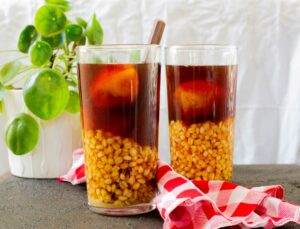 It is essential to serve it well chilled.
How do I get Mote or Huesillos in the US?
The Mote in the US is called wheat berries, but it is not processed in the same way, and the most similar grain is barley. They sell the Quaker brand in all supermarkets in the breakfast section and do not follow the instructions on the package. You have to cook it much less, about 10-15 minutes, so it has a good consistency "al dente."
Huesillos are dried peaches. You can find them in bulk at supermarkets like Whole Foods or Trader's Joe.
Another option is to buy them at stores like ChinChile or TuChileAqui, which ship from Florida with imported Chilean ingredients.
I forgot to soak the Huesillos the night before. What can I do?
This happens to me always or almost always. You can put the Huesillos with cold water in a pot and cook them until they boil. Turn off the heat, let cool and continue with the recipe. Just be careful not to overcook on the second boil.
I have leftover Mote. What other dishes can I make?
The Mote is cooked without salt or sugar, making it effortless to reuse the leftovers in salads or stews.
I don't want to make caramel. Can I use panela or piloncillo or molasses instead?
Yes, and it will give it the characteristic color. You can add it during the cooking of the Huesillos, and once it dissolves and the Huesillos are cooked, add more water until it is the sweetness you want.
Why is sugar added to Mote con Huesillos when serving if it already has caramel?
The caramel gives it more color than sweetness. Although it can be served straight without adding more sugar, many prefer it sweeter.
Print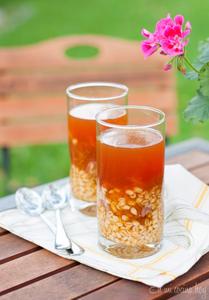 Mote con huesillos Dried Peaches and Wheat
A perfect Chilean drink/dessert.
Total Time:

1 hour

Yield:

6
12

small dried peaches

1

or

2

cinnamon stick

4

cups

of water

3

cup

cooked wheat berry or barley (see introduction)

1

cup

of sugar
Instructions
Soak the dried peaches in the water with the cinnamon and a piece of orange peel, optional, overnight. The next day, cook until soft, about 15-20 minutes after boiling.

Pour over cooked dried peaches and stir to incorporate, giving sweetness and color. You can do the same with molasses in the USA, dissolved in hot water from the cooked peaches.

Cook the wheat berry or barley (see the introduction) according to package directions.

Refrigerate.
To serve, place 1/2 cup wheat berries in a tall glass, and add two peaches and cooking liquid to fill the glass.

Author:

Pilar Hernandez

Prep Time:

20 minutes

Cook Time:

40 minutes

Category:

Dessert

Method:

Stove-cooked

Cuisine:

Chilean
Keywords: mote con huesillos, wheat berries with dried peaches, chilean dessert