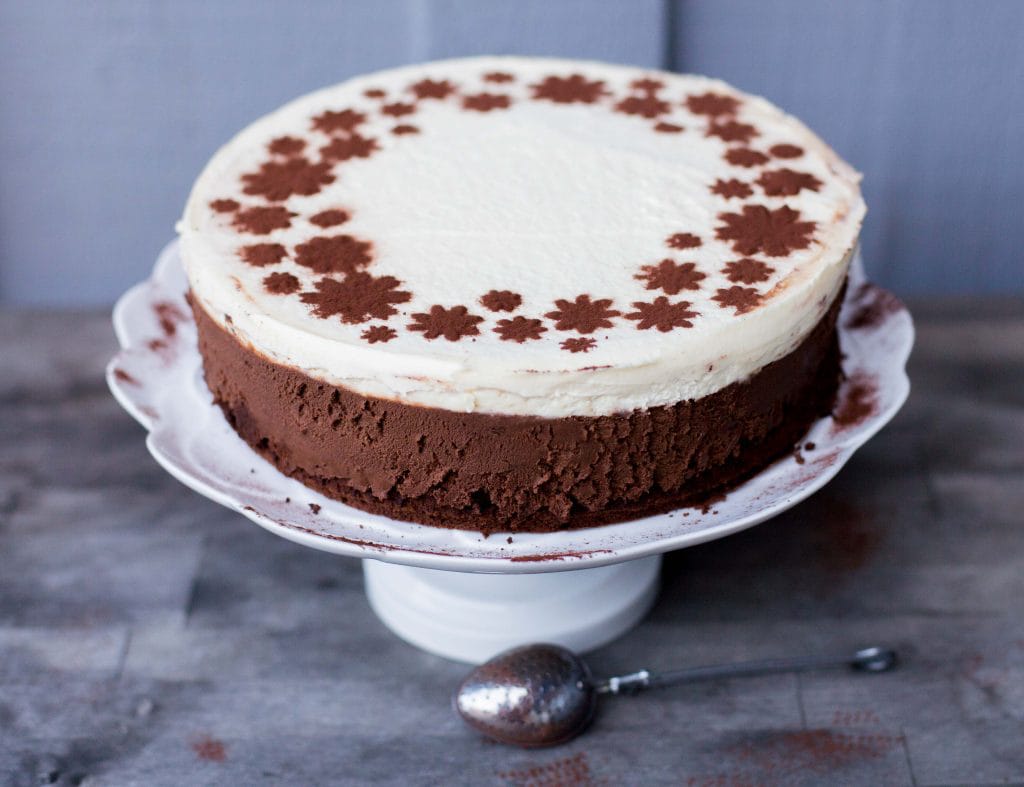 At my house, the love for chocolate is deep, so I decided to suggest this cake for a celebration, and it was approved immediately. This 3 Layer Chocolate Mousse Cake, unlike many others on this blog, can (and I recommend doing it) be baked the same day you will eat it.
In this recipe, you will use a steam bath several times, do not put it away until done with the whole recipe. To get the right texture for all the layers, it is important to incorporate the mixtures with a spatula or large spoon and work in a bowl big enough, so that you have plenty of room to mix with gentle movements and patience.
The flavor will depend on the quality of chocolate you use, use your favorite or the best you can find. I like Belgium Callebaut.
3 Layer Chocolate Mousse Cake
12 generous servings
for the first layer,
6 tablespoons (85 grams) butter unsalted
200 grams of chopped semisweet chocolate
3/4 teaspoon of instant coffee
1 1/2 teaspoon vanilla extract
4 eggs separated
pinch of salt
1/3 cup brown sugar
Prepare a cheesecake pan (9″), place a circle of parchment paper at the bottom. Preheat oven to 325F or 160C.
Assemble a steam bath, place 1″ of water in a pot where you can set a glass or metal bowl above, the water must not touch the bottom of the bowl. Heat the water over medium heat until boiling, reduce down to a minimum. In the bowl: combine butter, chocolate, and coffee. Stir occasionally until all the chocolate is melted and looks glossy. Remove from heat and let cool 5 minutes. Add vanilla and egg yolks, stir until incorporated.
With a mixer: beat the egg whites and salt on medium speed until foamy, 2 minutes. Add the brown sugar while making sure there are no large pieces, continue beating on low speed for 1 minute until all the sugar is incorporated. Then beat at high speed until the meringue forms stiff peaks, about 4 minutes.
With a spatula incorporate 1/3 of the meringue to the chocolate mixture, stir in a circular motion. Add the remaining meringue with light movements, have patience.
Place the batter into the pan and smooth out the surface with a knife. Bake until it has risen and is firm around the edges, 15-18 minutes. Remove to a wire rack and let cool. Run a knife along the side of the pan to prevent cracks. Do not remove from the pan.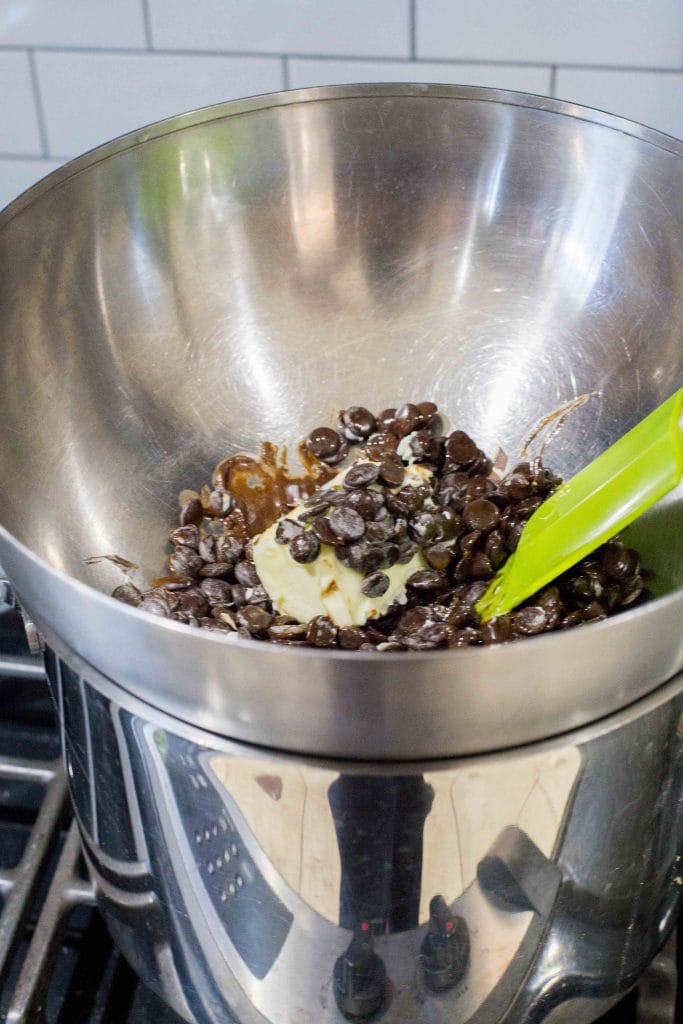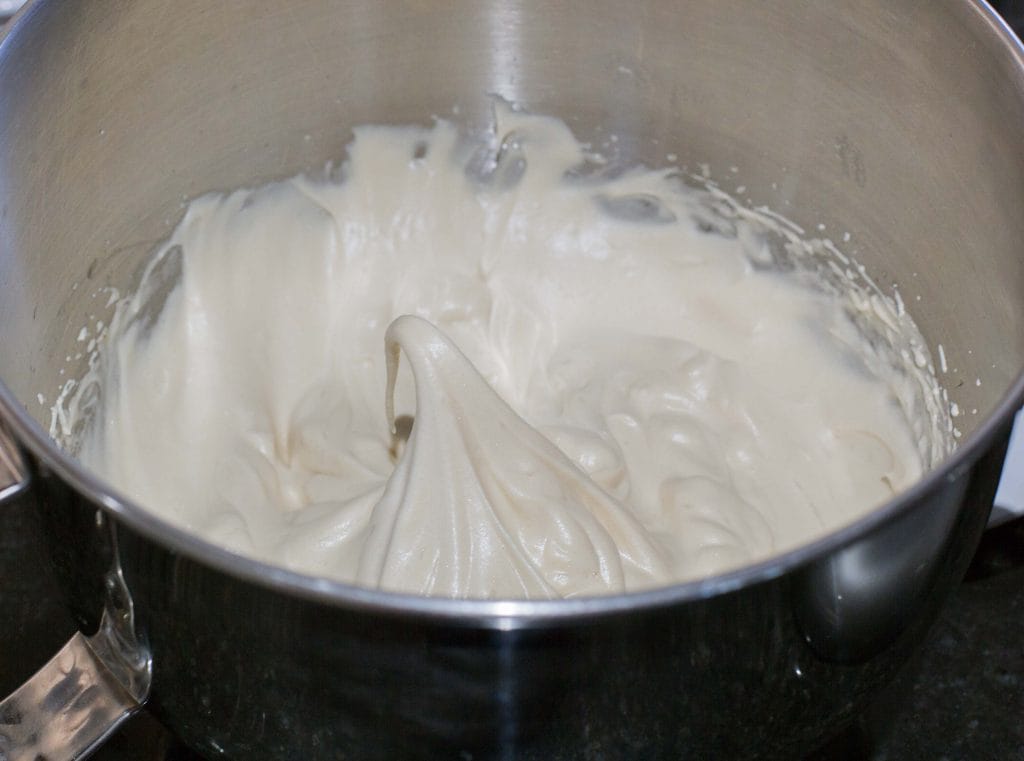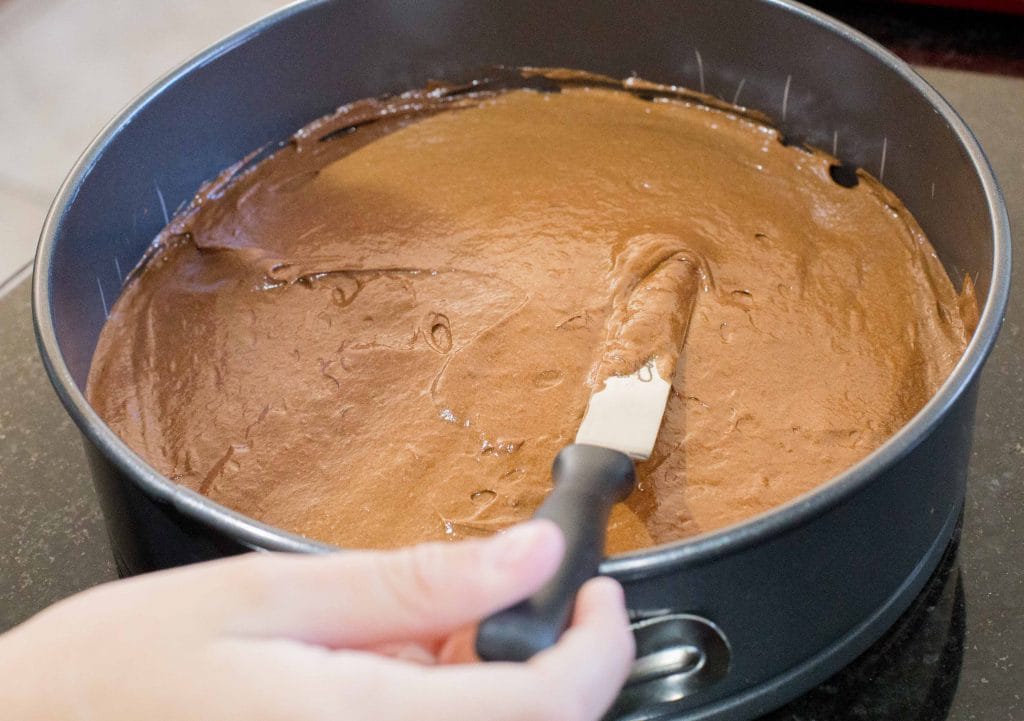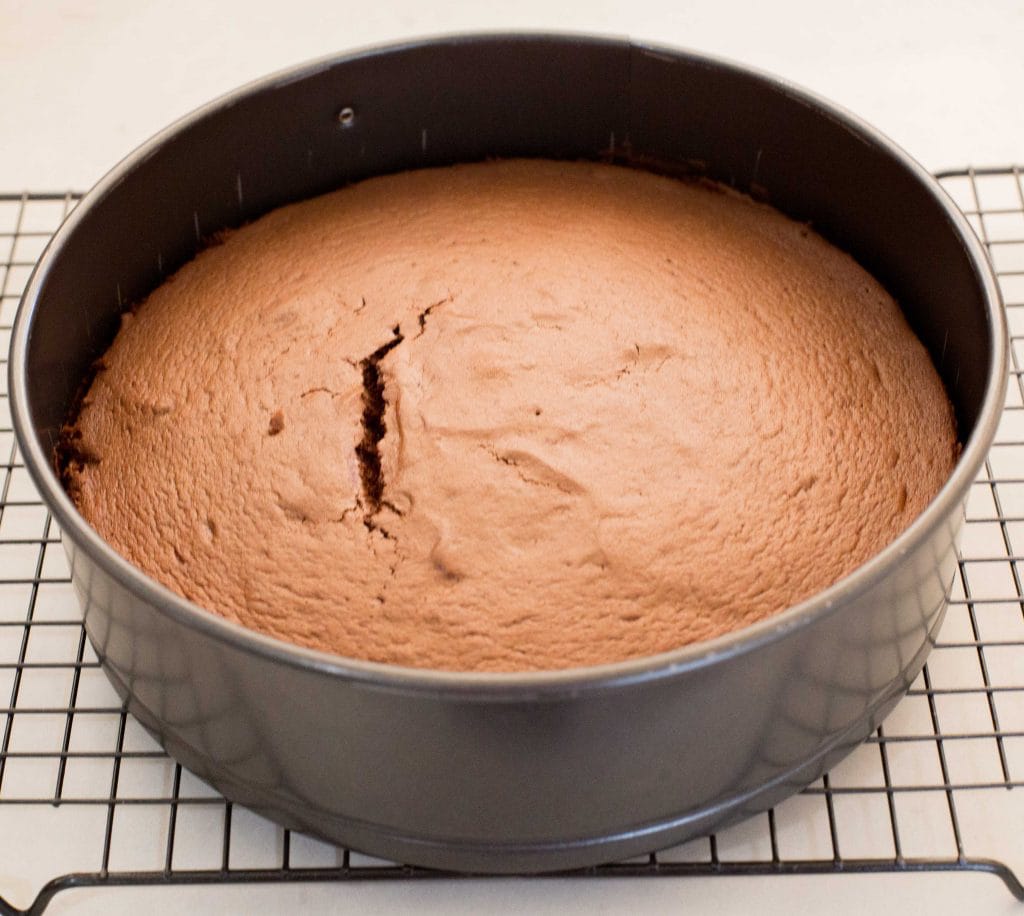 For the middle layer,
2 tablespoons cocoa powder (unsweetened)
5 tablespoons hot water
200 grams of chopped semisweet chocolate
1 1/2 cup fresh whipping cream
1 tablespoon sugar
pinch of salt
Together in a cup mix the chocolate powder and water, stir. Heat the water/steam bath again and melt the chocolate, stirring occasionally. Remove from heat and let cool 5 minutes.
With a mixer on a cold bowl: beat cream, sugar and salt until stiff peaks forms, about 4 minutes. Add the dissolved cocoa mixture and continue beating on medium speed until incorporated. With a spatula combine 1/3 of the whipped cream into the melted chocolate. Then add the rest and mix using soft movements. Place the mousse over the cake and smooth the top. Clean the rim of pan. Refrigerate for at least 15 minutes.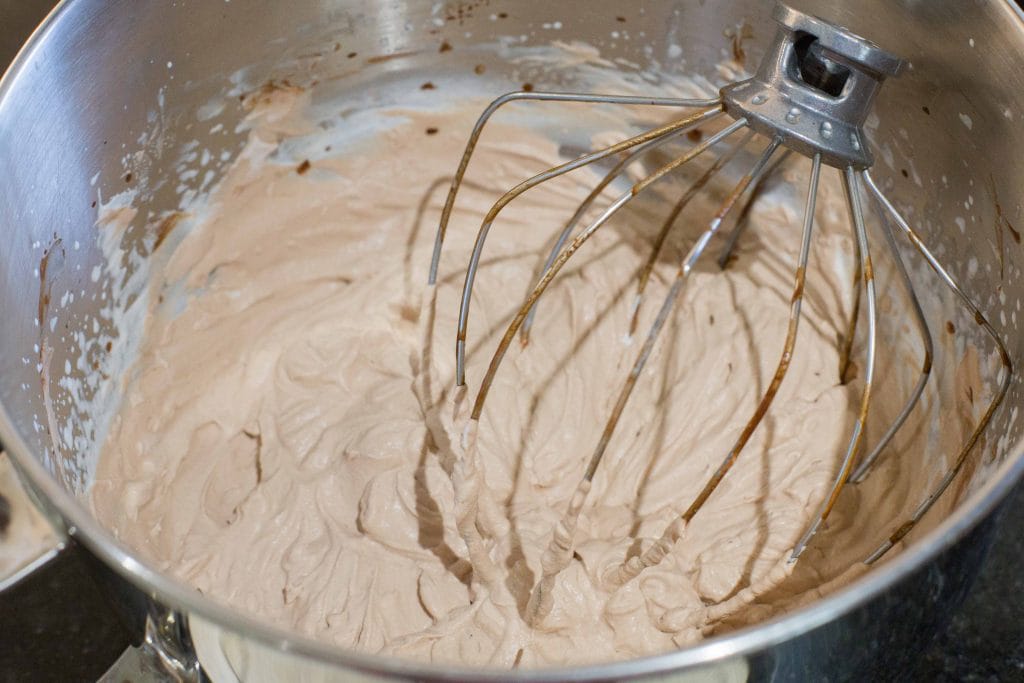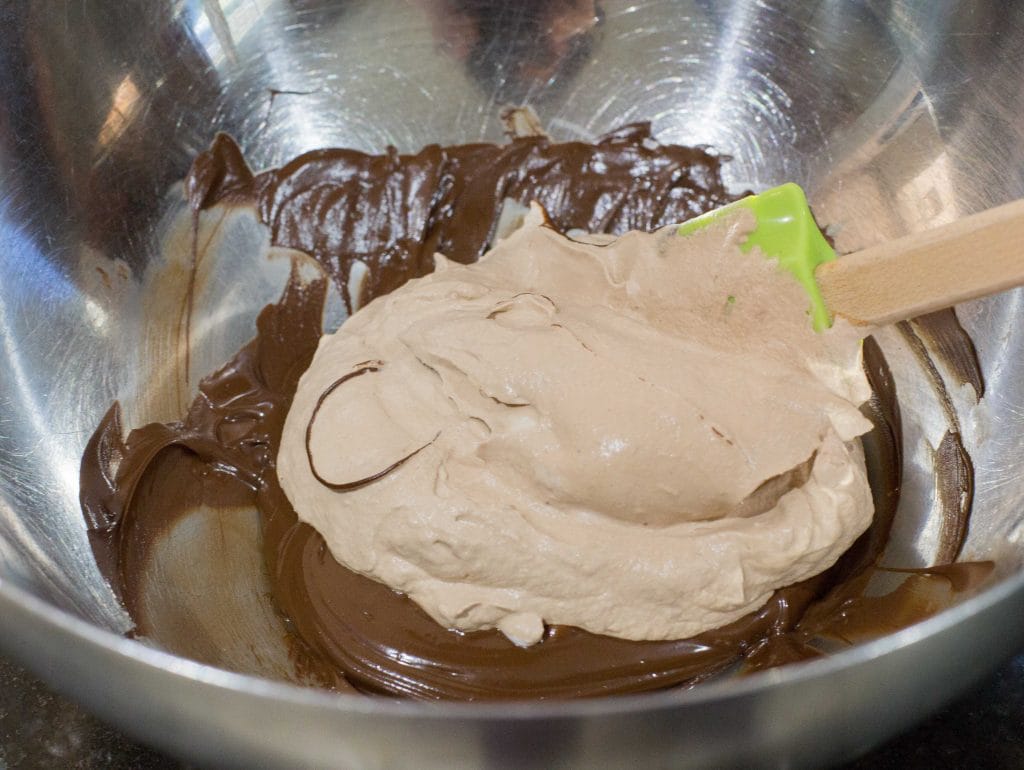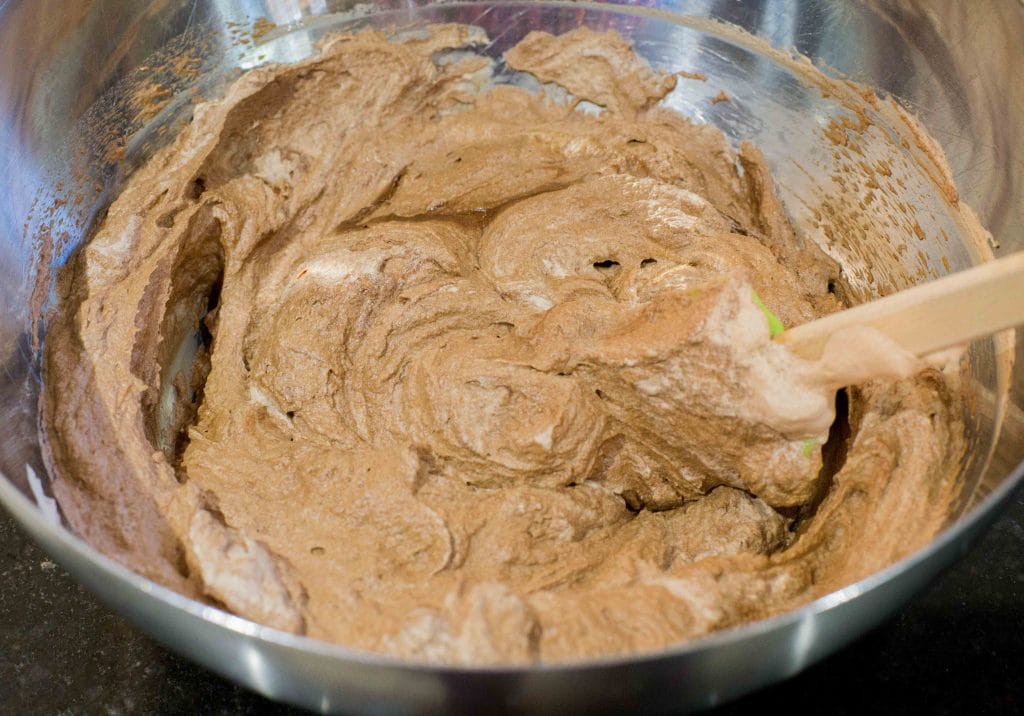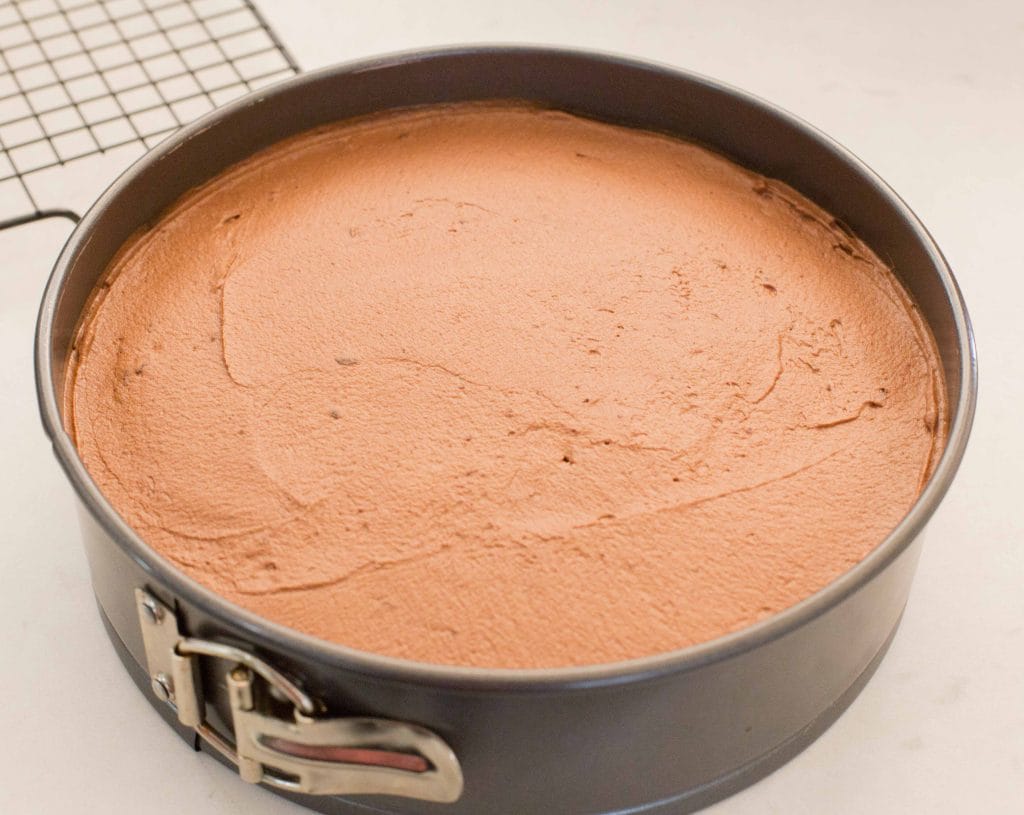 For the layer of white chocolate,
3/4 teaspoon powdered gelatin
1 tablespoon water
170 grams of chopped white chocolate
1 1/2 cup fresh whipping cream
Sprinkle gelatin over water in a small bowl and let stand for 5 minutes to hydrate. Place the chopped white chocolate in a bowl. In a small saucepan heat 1/2 cup cream until it boils. Remove from heat, add the gelatin, stir and pour the mixture over the white chocolate, let stand 1 minute. Then stir until everything is incorporated and the chocolate is fully melted, if chocolate pieces remain, melt over the water bath. Cool 10 minutes.
With a mixer, beat the remaining cup of cream until it holds firm peaks. About 4 minutes. Incorporate 1/3 of the cream into melted white chocolate. Then add the rest with soft movements. Place on top of the previous layer of mousse. Smooth with a spatula or knife. Refrigerate for at least 3 hours before serving.
Garnish with chopped chocolate or cocoa powder.
Recipe adapted from  Annie's Eats.