I still remember the first time I traveled to Buenos Aires, Argentina's capital, and for four days, our breakfast was Argentinian Medialunas and a coffee. They are the perfect snack also for midafternoon. They are widely popular and always available in Argentina and have also been adopted in Chile, my home country.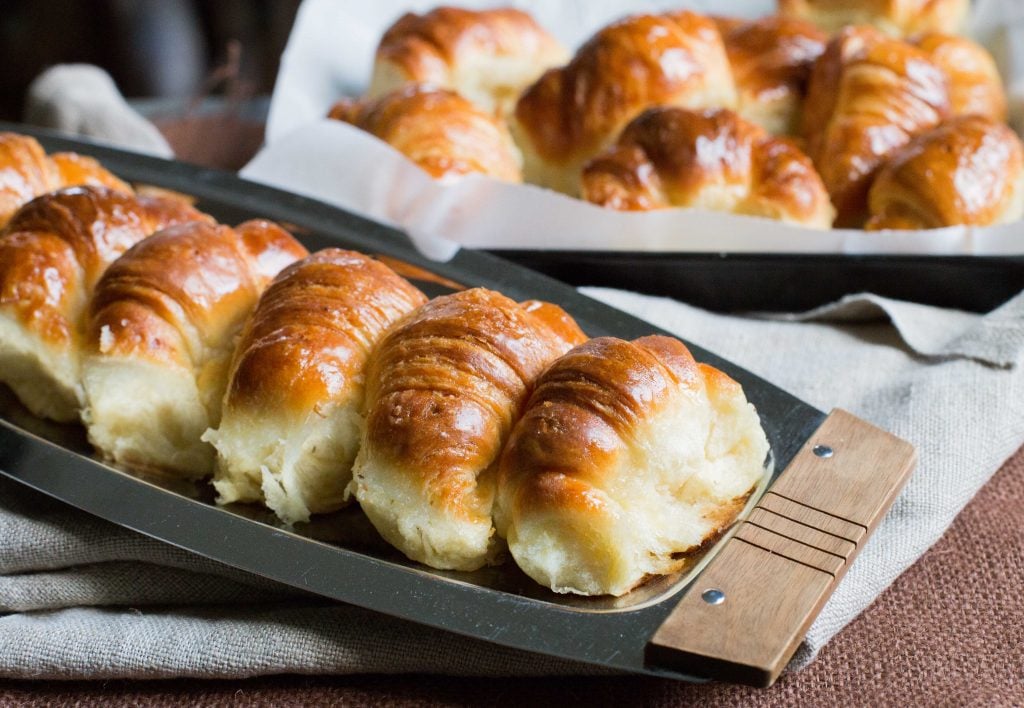 Are croissants and Medialunas the same?
No, Medialunas are between a brioche and a croissant, made with a sweet enriched (eggs and butter) dough with many layers and a subtle hint of lemon and vanilla. The sweetness is restrained.
Medialunas are a little challenging to make but fabulous to eat. They can be frozen and popped in the microwave or toaster for a real treat. Don't forget to try them if you ever go to Argentina.
I recommend using European-style butter in this recipe (higher in fat, 82% or more) for better taste.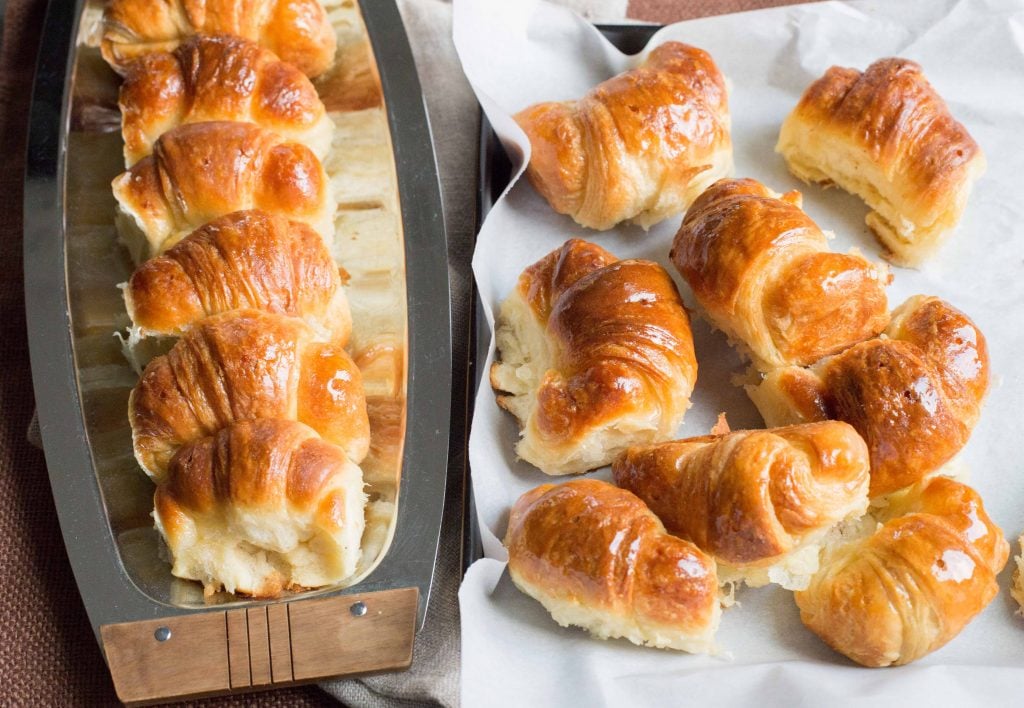 What is Facturas in Argentina?
Facturas is a unique Argentinian way to refer to Pan Dulces. Medialunas are a kind of factura.
Places to get Medialunas:
In Houston: Argentina Cafe
In Seattle: Boca Bakery
Leave a comment if you know of other Argentinian bakeries.
Print
Argentinian Medialunas
A traditional recipe for Argentinian Medialunas or sweet croissants.
Total Time:

2 hours, 30 minutes active (5 hours total)

Yield:

24
PLEASE USE  THE METRIC MEASUREMENTS
for the dough,
300

ml

. of whole milk

14

grams

(2 envelopes) of active yeast

525

grams

of all-purpose flour

40

grams

of sugar

15

grams

of honey

1 teaspoon

of vanilla extract

1 teaspoon

of lemon zest, optional

10

grams

of salt

2

eggs (1 for the dough and 1 for the brush)
for the filling,
40

grams

of all-purpose flour

225

grams

of European-style butter, at room temperature (Plugra works well)
for the syrup,
1/2

cup

of water

1/2

cup

of sugar
Instructions
Warm the milk; it should not be more than 110F or 43C. Add the yeast and stir until dissolved. Let stand 10 minutes; it should form abundant bubbles. If you do not see bubbles, repeat the process and make sure that the yeast is alive.
With a fork, mix the butter with the 40 grams of flour and spread over parchment paper, give it a square shape of about 6″ per side. Refrigerate for at least 15 minutes.

Place the flour, sugar, honey, vanilla extract, lemon, salt, and one egg in a bowl. Using the paddle attachment, mix everything while adding the milk with the yeast. Work to form a sticky dough, about 5 minutes. Change to the kneading hook and knead for 10 minutes at a low speed.

Place the dough on a floured board. Stretch the dough into a square of about 12″ per side, place the square of butter in the center, and fold the dough to cover the square of butter. Pinch to seal the edges of the dough. Roll without exposing the butter into a rectangle. Fold in 3 as a letter, the left side first. Place in a floured tin and refrigerate for 1 hour.

Remove the dough from the floured board and place it with the longest side in front of you. Extend to form a rectangle and fold again in 3, always the left side first. Refrigerate for 30 minutes. Repeat this process two more times. After the four times doing the folding, don't refrigerate. Move to the next step.
Stretch the dough on the floured counter into a rectangle of 45 x 30 cm (18 "x 12″) with a thickness of 5 mm. Cut so that the rectangle has straight edges. Cut three long strips of 4" wide each. Then cut each one in 3, and then diagonally, you will get 18 triangles. Extend each triangle and roll up starting from the base. Guide yourself with the photos.

Butter generously a quarter baking sheet. Place each roll in the sheet and give it a horn shape, pressing the tips into the baking sheet, place the next crescent almost touching the previous one, fill the tray.

In a small bowl, place the remaining egg and a little water or milk. Beat until fully incorporated.
Preheat the oven to 350F or 180C.
Leave the medialunas covered with a dishcloth in a warm place for 30-45 minutes; they should grow but not double in size.
Brush with the egg mixture and bake for 30 minutes, rotating if necessary.

Meanwhile, prepare the syrup. Place the water and sugar in a small pot. Cook over medium heat, stirring until the sugar dissolves. Let boil for 4 minutes to reduce.

Remove the medialunas from the oven; they must be well browned, prick with a toothpick in several parts, and brush with the syrup so that it is absorbed. Keep brushing until you use all the syrup.

Serve warm. They keep three days. They can be frozen and reheated without problems.

Author:

Pilar Hernandez

Prep Time:

2 hours (active time)

Cook Time:

30 minutes

Category:

Sweets

Method:

Baked

Cuisine:

Argentinian
Nutrition
Serving Size:
Calories:

194

Sugar:

7.1 g

Sodium:

175.1 mg

Fat:

8.7 g

Saturated Fat:

5.1 g

Carbohydrates:

25.2 g

Fiber:

0.8 g

Protein:

3.7 g
Keywords: medialunas, argentinian cuisine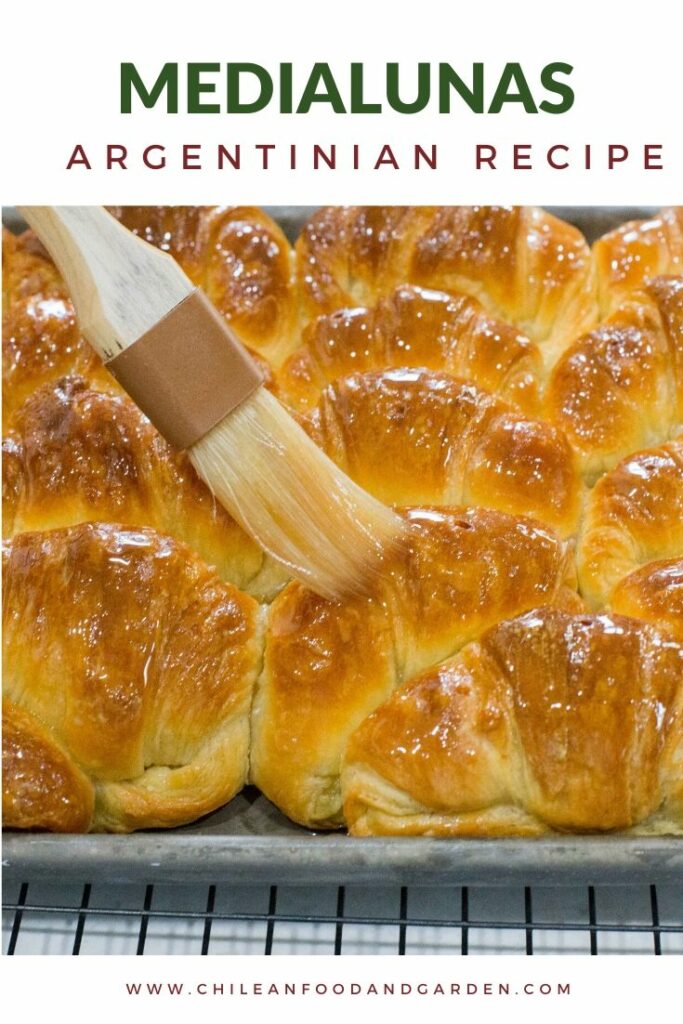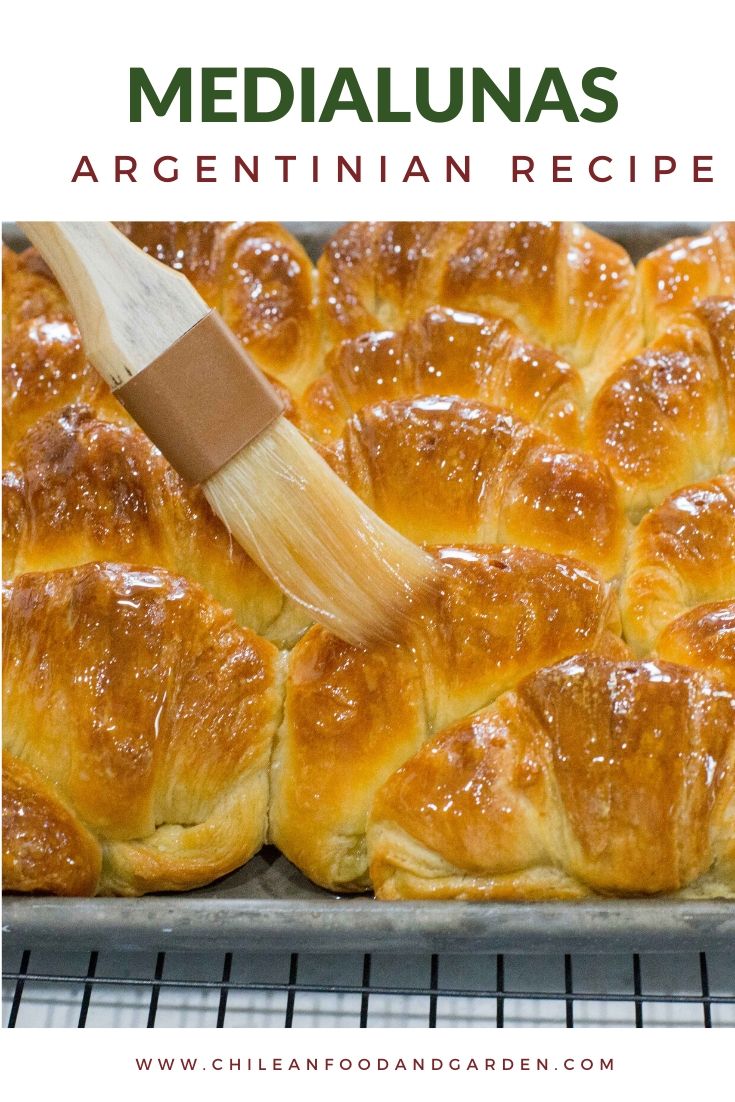 This recipe was sponsored by Plugrá® butter.