Living in Houston has allowed me to make friends from many countries, and recently, we have met several Venezuelans. I love their food, especially the arepas. What a delicious thing to eat, a simple arepa with butter, or if it's lunch or dinner time, these Domino Arepas with black beans and fresh cheese are amazing.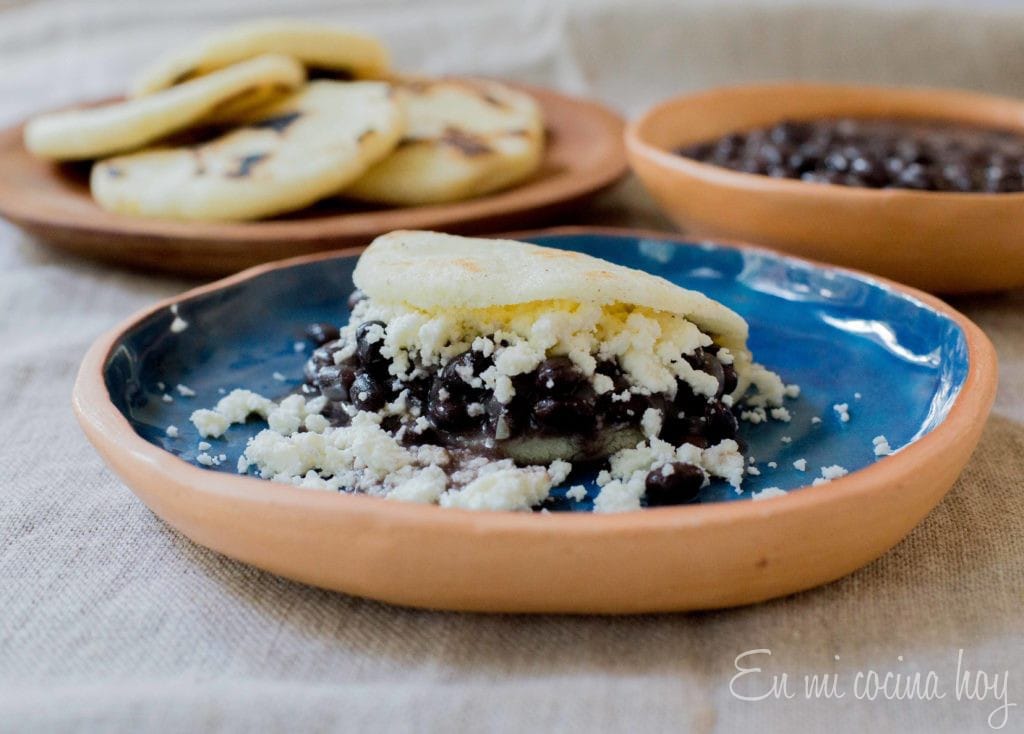 Arepas are a staple food in Venezuela, made from cornmeal or masa harina, water, and salt. They are usually cooked by grilling, baking, or frying and can be served as a side dish or stuffed with various fillings. Domino arepas, in particular, have a distinct filling with black beans and white cheese.
The name "Domino" is derived from the traditional black and white pattern found in the arepa's filling, resembling the domino game pieces.
Something we always do with my Latin friends is to compare the names of things, and we all try to learn the idioms of others to make jokes and understand each other well. Beans in Venezuela have a name I had never heard before Caraotas. It's such a different word. Most of the words we use in Latin America come from the Spanish that the invaders brought. But many other words come from our native peoples. In Chile, we have words derived from the Mapuche and the Inca, and in Mexico, of the Mayas, Aztecs, Toltecs, etc. So, if you travel within Latin America, you cannot assume that words will be the same.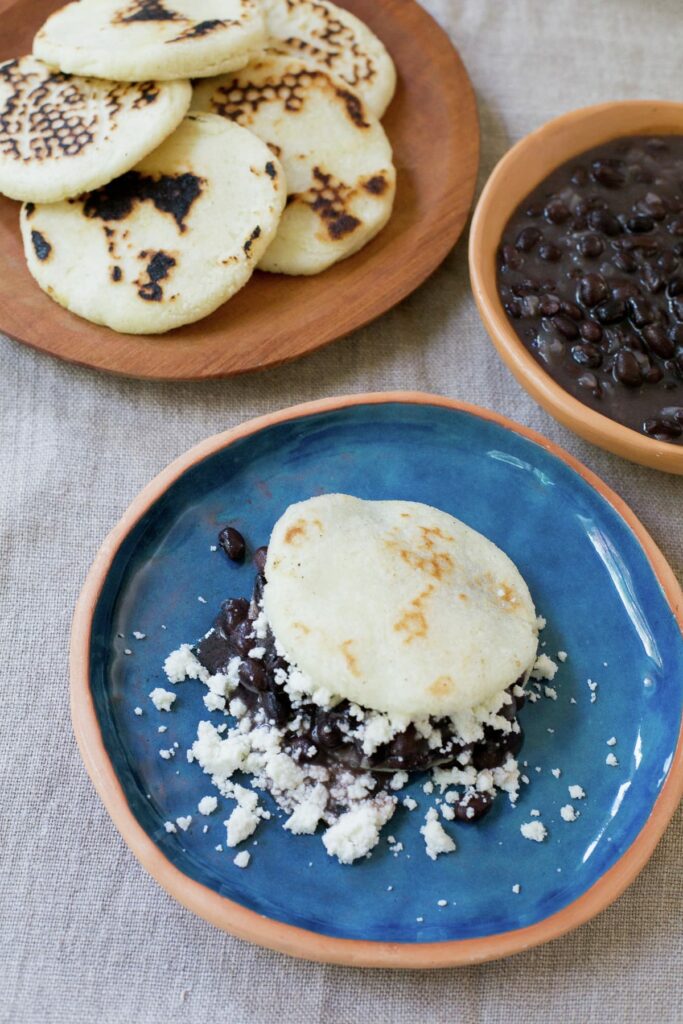 Practice helps with arepas, so do not be disappointed if they are not perfect the first time. To fill them, I made a Venezuelan-style Black bean stew; my friends from Caracas say they enjoy them like this. A unique twist in this stew is adding brown sugar or Panela to the beans, giving them a pleasant sweetness. And with the Queso Fresco, you get the traditional black-and-white domino effect. Last year, at a party at home, we set up an arepa bar with three fillings to choose from. It was an excellent solution, and people loved it.
Arepas are naturally gluten-free and vegetarian. I hope you will try them.
Print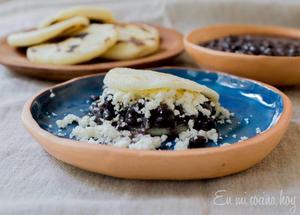 Domino Arepas with Black Beans
Flexible and so delicious
Total Time:

1 hour

Yield:

10
For the Arepas,
2

cups

arepa flour (example P.A.N.)

2 1/4

cups

warm water

1 tablespoon

of sugar

1 1/4 teaspoon

salt

1 tablespoon

oil
For the black bean stew,
1

medium onion, chopped into small cubes

2

cans of BUSH'S Black Beans

1 teaspoon

salt

1/2 teaspoon

cumin

1/4

cup

grated Panela or brown sugar
To serve,
10

arepas
Venezuelan style black beans

1

Queso Fresco shredded
Instructions
For the Arepas,
Preheat the oven to 180C or 350F.
In a jar, place the warm water and dissolve the sugar and salt. In a bowl, place the flour and oil, add the water, stirring with a fork. Let stand 1 minute.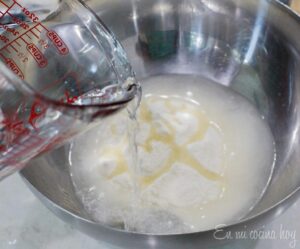 Using your hand or a wooden spoon, stir well. Let stand for 5 minutes. Knead until the dough does not stick to the bowl, add flour or water until the consistency is adequate, and the dough does not stick to the hands. Divide the dough into ten equal portions (85 grams or 3 ounces each). With damp hands, form balls and flatten using the palm of your hand.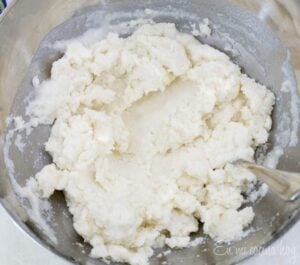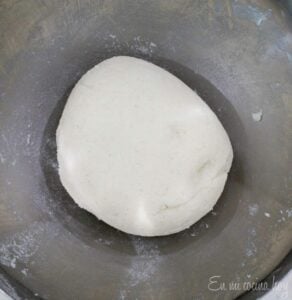 Heat a skillet over medium heat, brush with oil. Cook the arepas for 3 minutes per side and place them on a baking sheet. Finish cooking in the oven for 15 minutes.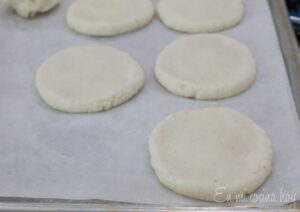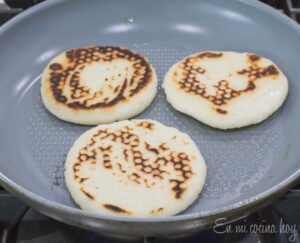 For the black bean stew,
In a medium saucepan, heat one tablespoon of oil over medium-high heat. Add the onion and cook, stirring for 8-10 minutes until golden. Add the canned beans (without draining), stir, add the salt, cumin, and panela. Stir well until all is hot and incorporated. Try and adjust the seasoning.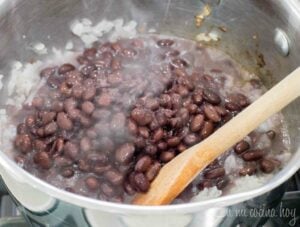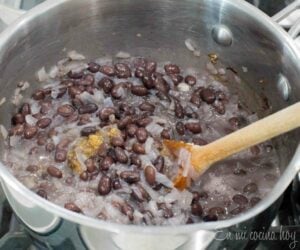 To serve,
Open the arepas and fill with the beans and the fresh cheese. Serve right away.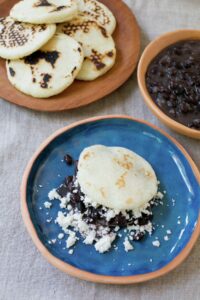 Notes
The recipe Domino Arepas with Black Beans was a sponsored conversation written by me on BUSH'S Beans. The opinions and text are all mine.
Author:

Pilar Hernandez

Prep Time:

45 minutes

Cook Time:

15 minutes

Category:

Sandwiches

Method:

Stove-cooked

Cuisine:

Venezuelan