This Banana thousand layers cake is famous in my hometown, Rancagua. It was everyone's favorite, always present at any celebration.
It's a modification of the traditional Torta Milhojas or One Thousand Layers with whipped cream and a flavor. Most of the time, it was banana, but you could order it with an almond flavor. It's a great cake, and I made it for my birthday!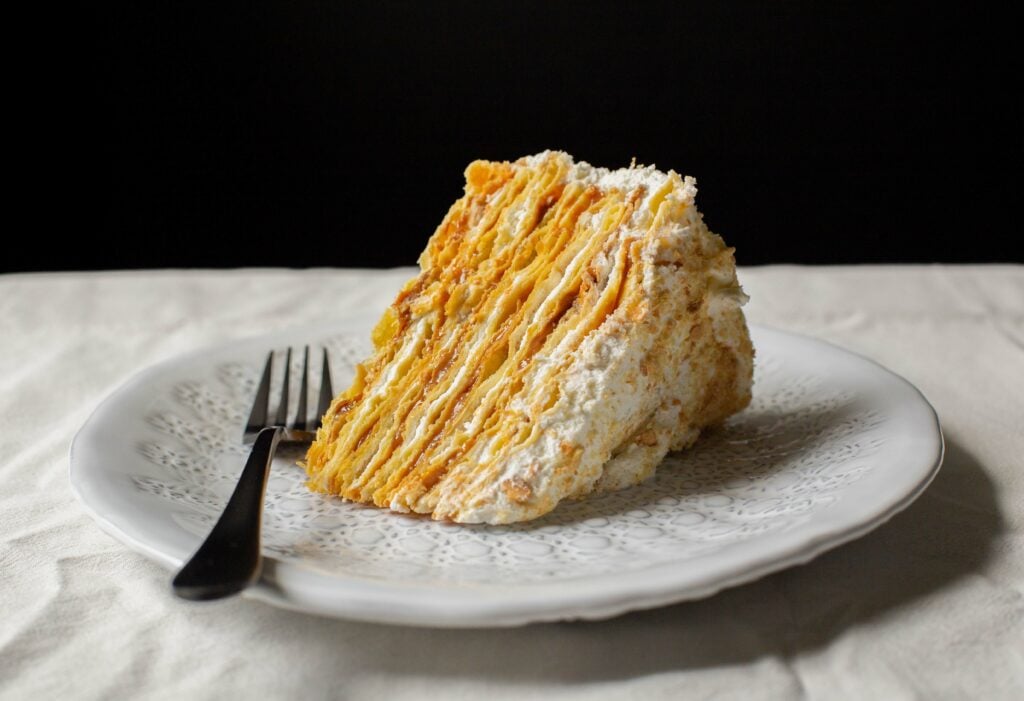 Milhojas cake, also known as Milhojas pastry or Milhojas dessert, is a popular dessert that originated in Spain and has since spread to various parts of the world, especially in Latin American countries. The term "milhojas" translates to "thousand leaves" in English, which refers to the delicate, flaky layers that make up this delectable treat.
The traditional milhojas cake consists of layers of puff pastry, often alternating with layers of dulce de leche, pastry cream, or fruit preserves.
The pastry is typically baked until golden and flaky, creating a delightful, crispy, and airy texture. Sometimes, the top of the cake is dusted with powdered sugar or garnished with fresh fruit to add a decorative touch.
While the basic version of milhojas cake involves these key components, numerous variations incorporate different flavors and ingredients to create unique and delicious variations. This Pompadour version features layers of banana-flavored whipped cream and dulce de leche.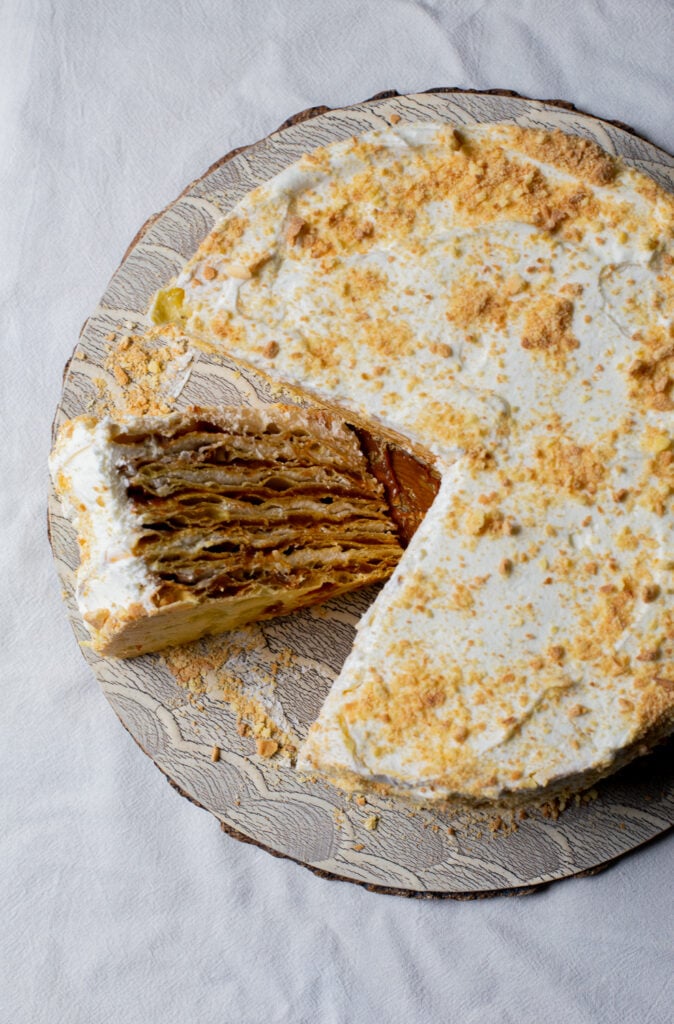 Pompadour cake is a good dessert or cake for special occasions, such as birthdays, due to its elegant appearance and rich taste. They are appreciated for their combination of textures, with the contrast between the crisp layers of pastry and the creamy fillings providing a delightful sensory experience.
Given its popularity, you can find milhojas cakes in many bakeries, pastry shops, and restaurants specializing in Spanish or Latin American cuisine.
Other Chilean layer cakes with Dulce de Leche:
Cake plate by Akira Satake.
Print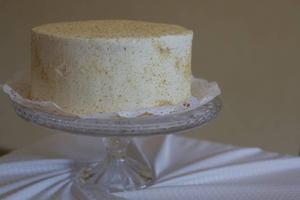 Torta Pompadour Banana Milhojas Cake
A traditional Chilean cake, very popular in my hometown Rancagua.
Total Time:

2 hours, 30 minutes

Yield:

12
For the dough,
8

egg yolks

50

grams

soft unsalted butter (if using salted, not add more salt)

2

cups

all-purpose flour
Pinch of salt

4

–

5

tablespoon of room temperature water
for the filling,
500

grams

of dulce de leche, such as La Lechera canned

2

cups

whipping or heavy cream, cold

2 tablespoons

granulated sugar
banana, almond or vanilla extract
Instructions
Mix flour and salt. Using the paddle attachment, add butter and beat until incorporated into the flour on the KitchenAid mixer.


Add one egg yolk at a time, continuously mixing at a low velocity. Add the water one tablespoon at a time, continue mixing until a dough forms. Switch to the hook and knead for 5 minutes.

Form a ball with the dough, wrap it in plastic film, and stand for at least 1/2 hour in the refrigerator.

Preheat oven to 180C or 350F.
Divide dough into 12 equal pieces, flour your cookie pan, and roll the dough until very thin. Cut using a plate about 20 cm (8′) in diameter. Repeat with the other pieces. Bake and make crumbs with the remaining dough.

Bake on the cookie sheet one by one, 5 – 7 minutes each, until they are just beginning to brown, remove and cool on wire rack.

For the filling, whip the heavy cream until it forms soft waves, add the sugar, beating until sugar dissolves and stiff peaks form.
Add the banana or vanilla extract (I used two teaspoons) and stir to incorporate, test, and adjust the flavor and sweetness to taste.

Top the first layer with dulce de leche, continue alternating thin layers with whipped cream, gently pressing each layer to build a cake.
Top with whipped cream, decorate with crumbs.

Author:

Pilar Hernandez

Prep Time:

2 hours

Cook Time:

30 minutes

Category:

Sweets

Method:

Baked

Cuisine:

Chilean
Nutrition
Serving Size:
Calories:

418

Sugar:

24.1 g

Sodium:

129 mg

Fat:

24 g

Saturated Fat:

14.2 g

Carbohydrates:

42.6 g

Fiber:

0.6 g

Protein:

8 g
Keywords: pompadour cake, chilean cake