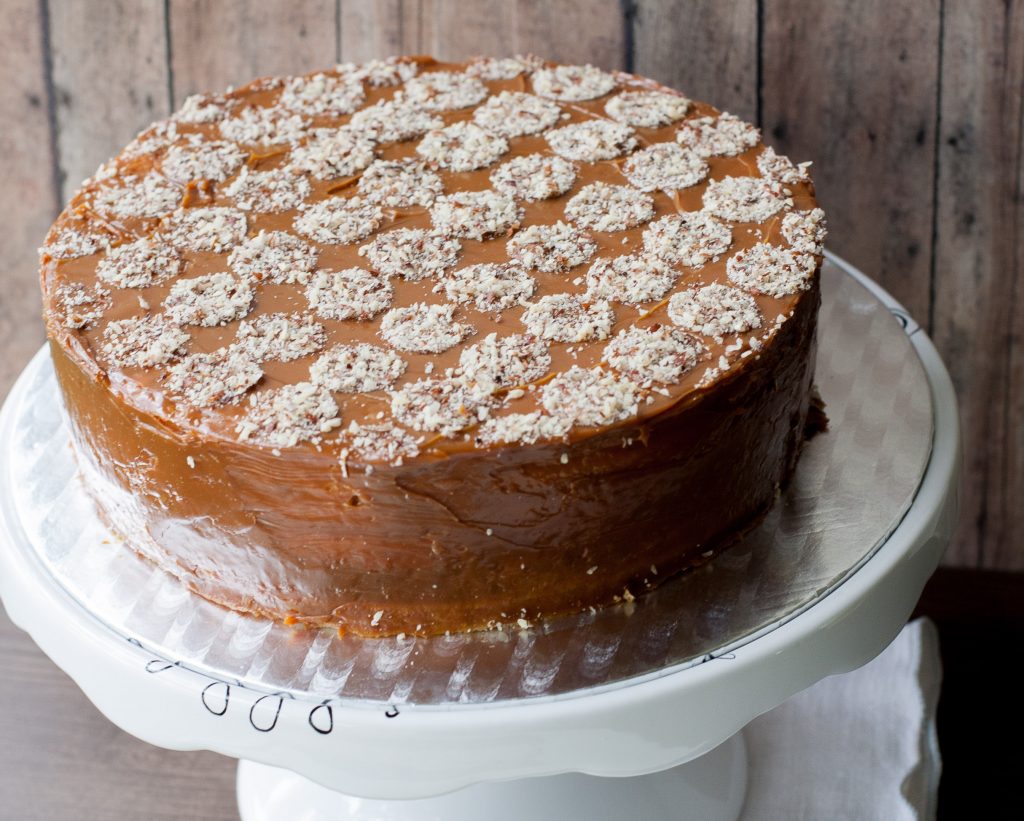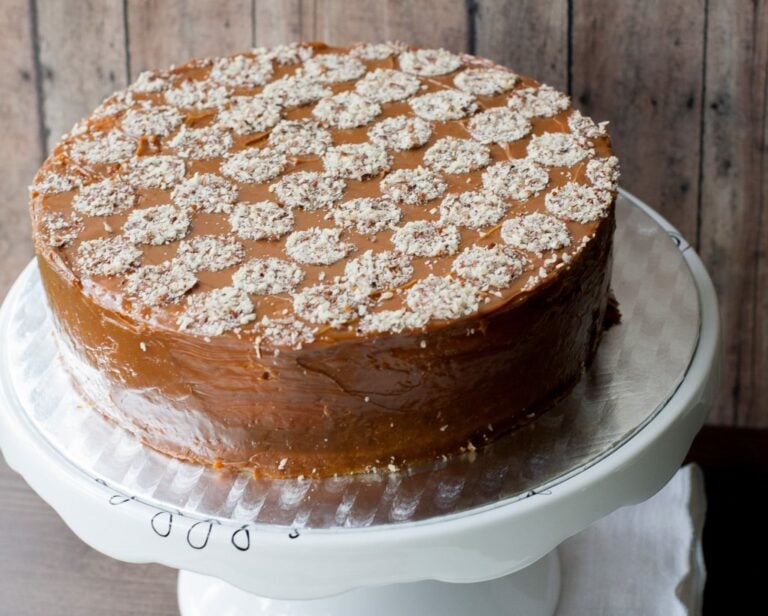 A classic and amazing Chilean cake: Dulce de leche walnut layer cake. Traditionally, this kind of cake with thin layers of soft dough is bought at bakeries. The fillings are endless: lemon curd, ganache, preserves, walnuts, almonds.
Dulce de leche walnut layer cake
for a 20cm diameter cake, 20-25 people
Ingredients:
225 grams of unsalted butter at room temperature
1 cup granulated sugar
pinch of salt
10 eggs separated
1 1/4 cup all-purpose flour
1 cup ground walnuts
2 cans of Dulce de Leche, I used La Lechera
Preparation:
Preheat the broiler, no fan. You will use the broiler to cook the layers. Place the oven rack in the middle position.
Prepare an 8″ x 3″ round cake pan, put a circle of parchment paper or silicone to the bottom.
Mix on medium speed the butter and sugar until creamy, about 5 minutes. Beating on low speed add the egg yolks one at a time, beating until thoroughly incorporated in between.
In another bowl very clean, beat the egg whites with a pinch of salt until stiff, hard peaks. Do not over beat it will dry out.
In a large bowl mix the two batters with light movements, working with a wooden spoon or spatula (do not use a whisk), add the sifted flour and incorporate folding.
Add nuts and continue folding, be patient.
Pour 1/2 cup of batter into the pan and spread with a spoon or spatula across the bottom. Cook for 1 minute and a half to 2 minutes until lightly golden. You can open the oven and watch.
Spread two tablespoons of dulce de leche carefully and cover with 1/2 cup of batter, spread and cook 2 minutes. Repeat.
Continue cooking until you have no more batter.
Cool completely on wire rack.
Un-mold, decorate with more dulce de leche warmed in the microwave (20 seconds for 1 cup) and walnuts.
Refrigerate and serve the next day.