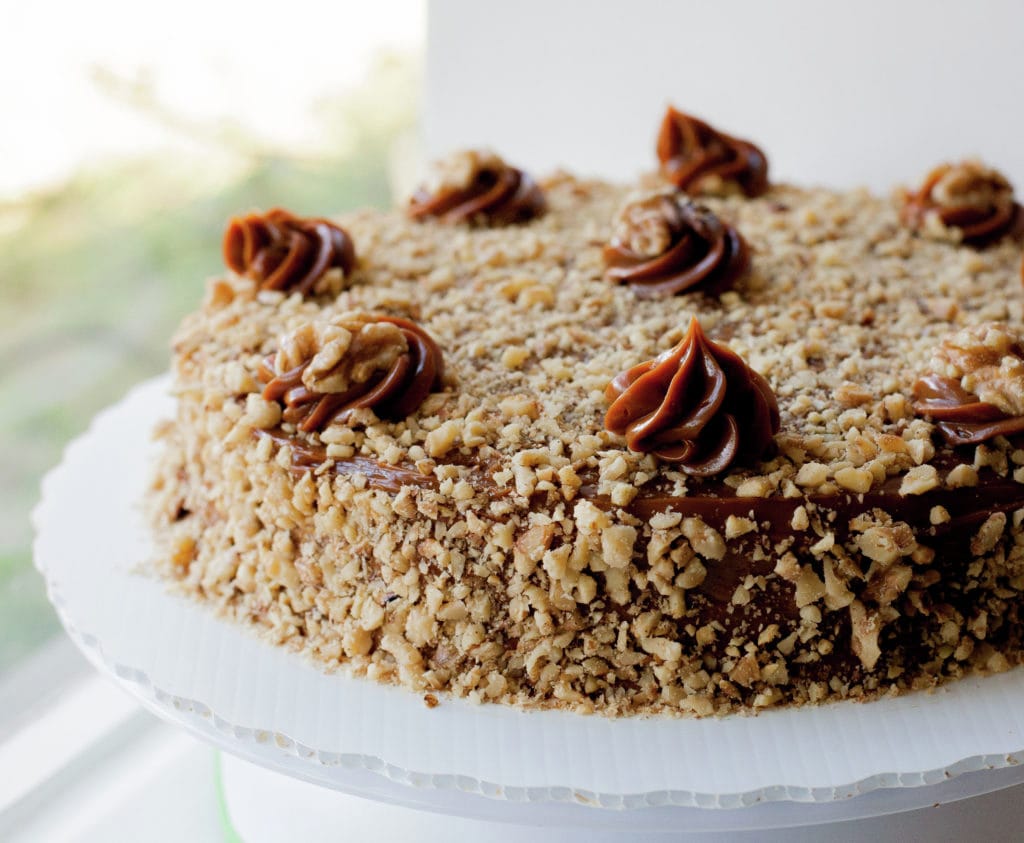 It is a classic cake from Chile, where you can buy it everywhere. Dulce de Leche Walnut Cake is a favorite.
We call the dulce de leche "Manjar," which translates as a delicacy. Pretty much everybody in Chile is a die-hard of the flavor. Many of us grew up eating it as a sandwich, very much like peanut butter and jelly. We ate our Manjar and cheese. And this cake is one of the best sellers at bakeries.
Other Chilean layer cakes with Dulce de Leche:
Print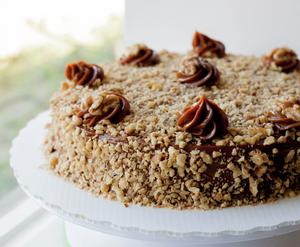 Torta Manjar Nuez Dulce de Leche Walnut Cake
A winning combination of flavors: walnut and Dulce de Leche.
Total Time:

2 hours

Yield:

16
for walnut cake,
180

grams

of roasted nuts in the skillet over medium heat, about 8 minutes

85

grams

of granulated sugar

30

grams

all-purpose flour (if you have bread flour use it)

4

eggs

1

egg yolk

3

egg whites

30

grams

of granulated sugar

1/4 teaspoon

vanilla
pinch of salt

30

grams

butter, melted and hot
For the sweet syrup to moisten the cake,
3/4

cup

water

1/4

cup

granulated sugar
In a small saucepan heat water and sugar over low heat, stirring until the sugar dissolved. Allow cooling.
To assemble the cake,
3

walnut cake
syrup

1 1/2

kilo of dulce de leche (

3

cans of Manjar La Lechera) warmed in the microwave to make it easier to spread, pour each jar in a bowl and heat about 30-45 seconds, stir well

2

cups

chopped walnuts for garnish and sprinkle toasted
Instructions
Preheat oven to 200C or 400F.
Prepare 3 round cake pans 9″ or 23cm in diameter, and cover the bottom with a circle of silicone paper. In the food processor, grind the nuts and the 85 grams of granulated sugar. Mix the flour in a large bowl and stir.
Working with a stand mixer or hand blender, incorporate the flour mixture and the eggs, beating on low speed one at a time. Add the yolks and beat on medium speed once combined until the mixture looks smooth and light.
In another clean bowl, make a meringue: Beat the egg whites on high speed until foamy. Add a pinch of salt and vanilla, beating on low speed. Now, add 30 grams of granulated sugar slowly as a stream. Then beat at high speed until a firm, shiny meringue, about 5 minutes.
Carefully add the meringue to the nuts batter, 1/3 first, and then the rest of the meringue. Add the melted butter, mixing gently.
Divide into 3 cake pans 23 cm in diameter, and weigh them to make sure to put the same amount of batter (about 210 grams each).

Bake for 12-15 minutes or until brown and dry to the touch.

Unmold the cakes, reserving the most beautiful and smooth for the last layer.
Place the first cake layer and sprinkle with 1/3 sweet syrup, cover with a layer of warm dulce de leche, and sprinkle with chopped nuts.

Repeat with the next layer, ending with a layer of cake, moisten with the remaining third of syrup, and cover the entire cake with dulce de leche, sprinkle with nuts if desired. Let stand overnight.
Author:

Pilar Hernandez

Prep Time:

1 hour

Cook Time:

1 hour

Category:

Cakes

Method:

Oven-baked

Cuisine:

Chilean
Keywords: Walnut Dulce de Leche cake