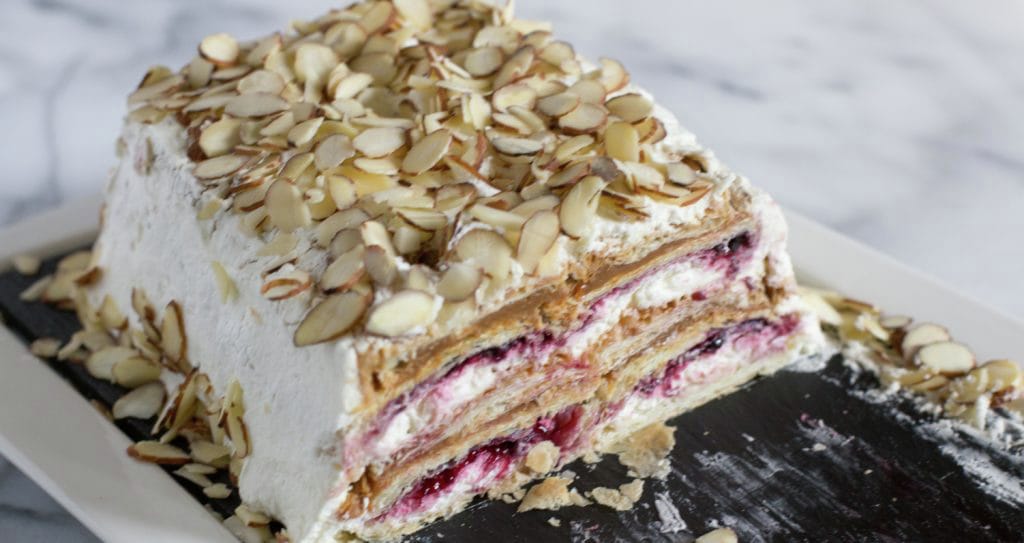 A summer version of my traditional Thousand Layers with banana cream cake.
I bought the puff pastry in the supermarket, and instead of spending a whole afternoon baking a thousand layers, I just assembled this quick and easy cake. This kind of cake is a favorite in Chile where the combination of many doughs, jams, dulce de leche, nuts, meringues and more, all in between thin layers is the mark of an elegant and delicious cake. Before you run away screaming,  let me assure you that we usually have tiny pieces of cake.
Easy Thousand Layers Cake 
8 people
Ingredients:
1 box of puff pastry (refrigerated section)
2 cups whipping heavy cream (chilled)
2 tablespoons sugar
1 can of dulce de leche
1 jar of cherry jam (in the USA, I recommend the Hero brand)
1 cup sliced almonds for garnish
Preparation:
Roll out the puff pastry and cut into five sections long, measuring your cake pan to see the width you need to.
Bake according to manufacturer's instructions. Allow cooling completely.
Meanwhile, in a cold bowl, beat the cream with an electric mixer until it forms soft waves, about 5 minutes. Add sugar, beating at low speed, continue beating until hard peaks forms.
Line the cake pan with cake plastic wrap, let it hang over the sides.
Place a layer of cold baked puff pastry, cover with a layer of dulce de leche, place another pastry, cherry jam, whipped cream, dough, repeat until finished with a layer of pastry.
Wrap the cake well in plastic wrap and refrigerate for at least 2 hours.
Save the leftover cream, store in the refrigerator.
Take out of the cake pan and top with the remaining heavy cream, sprinkle with almonds and serve.