The "Sandwich de Miga" is a popular sandwich originating in Argentina. It is often enjoyed as a light meal or snack. The name "miga" refers to the thin slices of bread used in the sandwich.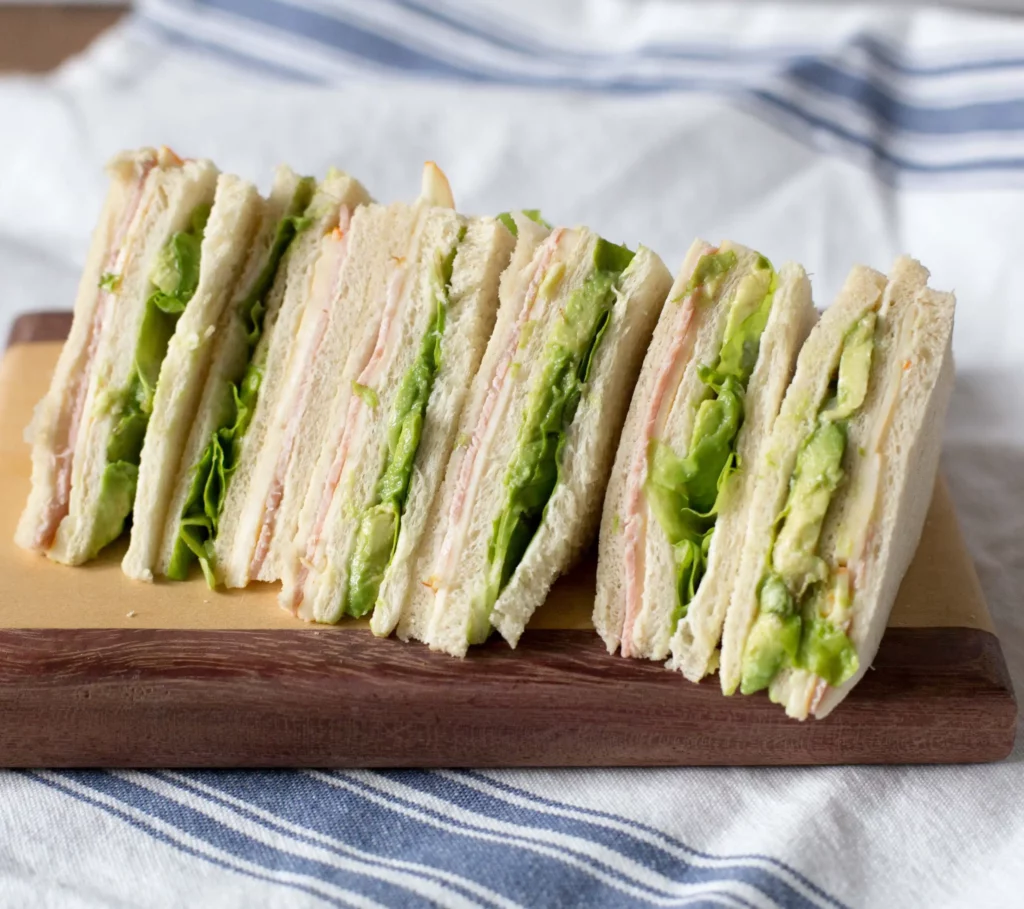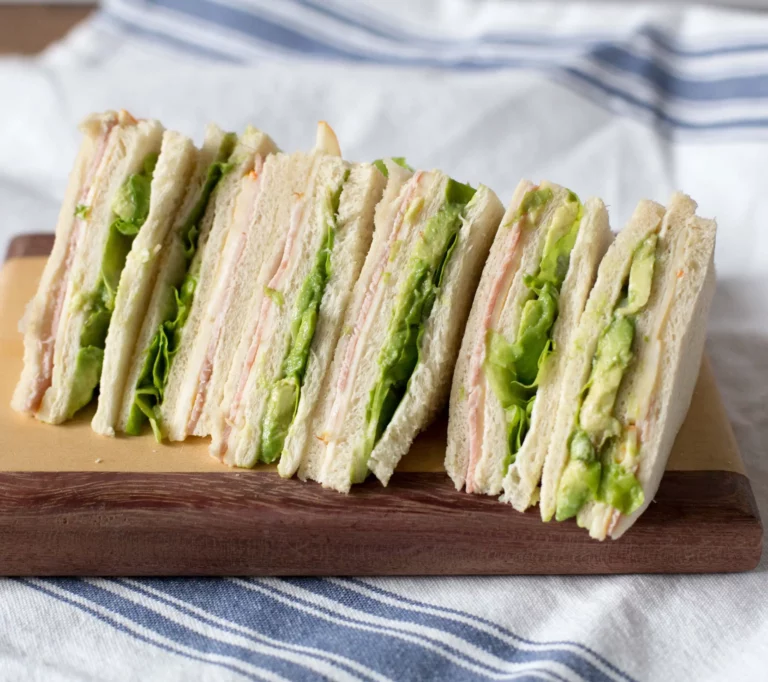 Here are some key features of the Argentine Sandwich de Miga:
Thin Bread Slices: The sandwich is typically made with thinly sliced sandwich bread without the crust (pan de molde). The slices are often rectangular and can be white or whole wheat.
Fillings: The fillings for Sandwich de Miga can vary widely, but common choices include ham, cheese, lettuce, tomato, hard-boiled eggs, hearts of palm, cooked corn, and avocado.
Layered Construction: The sandwich is constructed by layering the various ingredients between the thin slices of bread. Each layer is often carefully arranged to create a visually appealing and delicious sandwich.
Triangular or Rectangular Shape: The sandwich is typically cut into triangular or rectangular shapes after layering the ingredients. The choice of shape may depend on personal preference or regional variations.
Popular Occasions: Sandwich de Miga is commonly served at gatherings, parties, and special occasions in Argentina. It is a popular choice for afternoon tea, and its versatility makes it suitable for different events.
My mother-in-law is from Argentina, and I learned how to make them from her. Sandwich de Miga, or "crumb sandwiches," are delicious and addictive. Great for birthdays and parties, they are made in the afternoon to serve at night.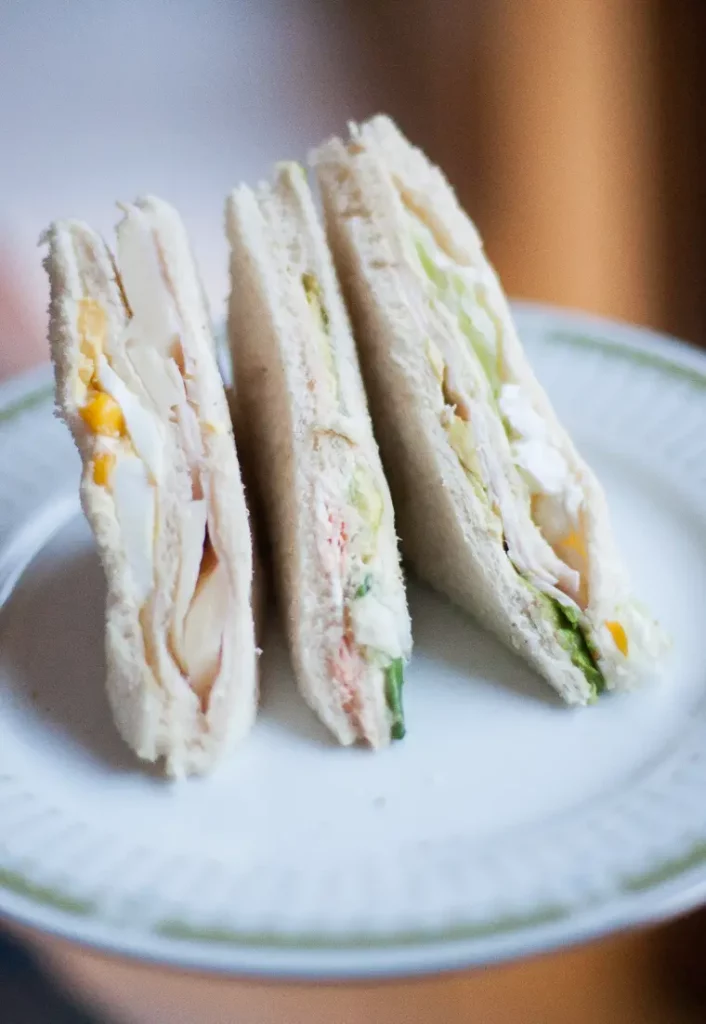 The more hands there are available, the better. They are laborious but fun to make. So invite your friends to learn this new recipe.
If you have leftovers, they are the obligatory breakfast the next day.
Do you know them by another name? Sometimes, people called them Sandwich de Tres Pisos (3 stories sandwich).
What I like the most is that they are infinitely adaptable.
If you have bread left, try this traditional Chilean sandwich Ave Palta Chicken Avocado
Print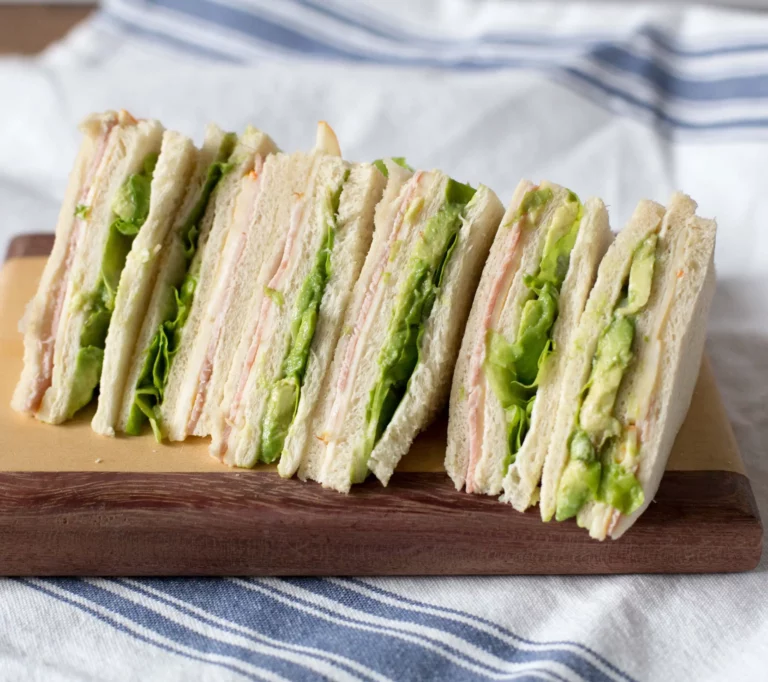 Sandwich de Miga
A classic Argentinian Sandwich.
Total Time:

2 hours

Yield:

12
4 packages of Pan de Miga (a large square without crust and thinner sliced crumb. In the US, they sell it in Chinese or Argentine bakeries)

mayonnaise

cooked corn

sliced cheese

Queso Fresco or Panela cheese sliced

washed and centrifuged lettuce

salmon spread or smoked, cooked or rotisserie chicken breast chopped, etc.

sliced hard-boiled eggs

ham

sliced avocado

sliced tomato
Instructions
Place a slice of bread on a tray, cover it with a thin layer of mayonnaise, and fill it with a layer of ham and cheese. Cover another slice of bread with mayonnaise, and place it on top of the ham cheese with the mayonnaise facing down. Spread mayonnaise on the same slice. So the middle piece has mayonnaise on both sides. Now place a layer of corn and a hard-boiled egg. Cover with another slice of bread with mayonnaise. 

Each sandwich has three bread slices and two fillings between each layer, so four fillings each. 

Assemble the sandwiches one on top of the other so that they crush themselves with the weight (photo). 
Author:

Pilar Hernandez

Prep Time:

1 hour

Cook Time:

1 hour

Category:

Sandwich

Method:

Stove

Cuisine:

Argentinian
Keywords: Sandwich de Miga, Sandwich 3 pisos, Crumbs Sandwich