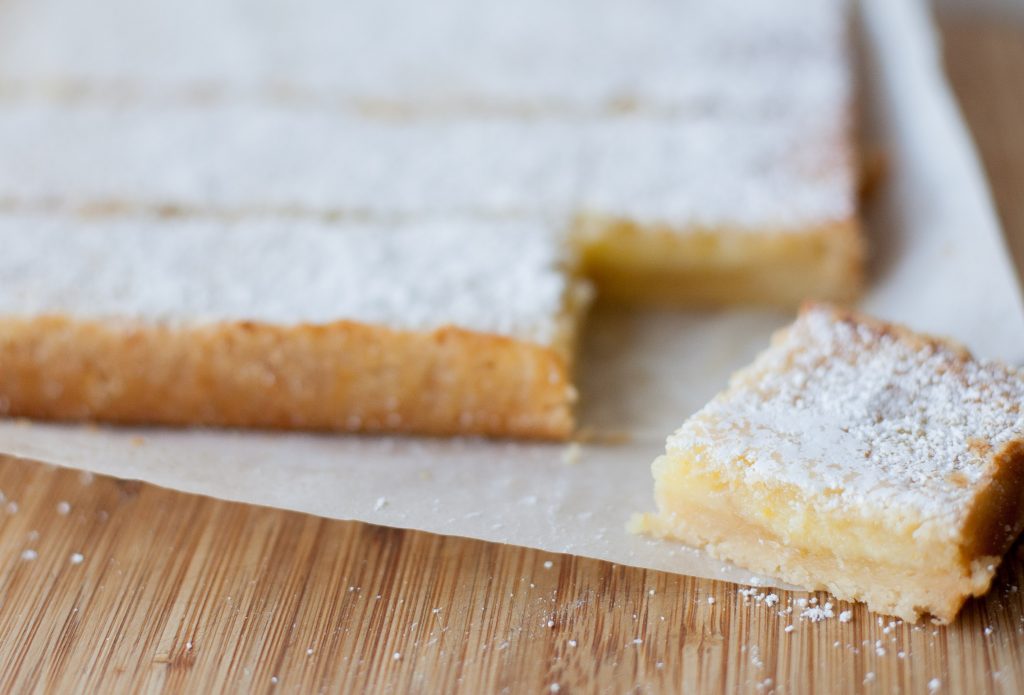 I love the lemon flavor is fresh and clean in the mouth, and lemon bars are the perfect size for tea or coffee snacks. Easier to make than lemon pie, especially with this recipe from the book of one of my favorite blogger's Smitten Kitchen. They freeze very well and can be enjoyed with coffee every day. They can be cut into 16 or 9 squares. If you can, use thin-skinned lemons like Meyer to not have to remove the bitter white part of the peel.
For this recipe, you need a food processor or blender.
Lemon bars
for 9-16 squares
Ingredients:
for the base,
1 cup (125 grams) flour without baking powder
1/3 cup granulated sugar
1/4 teaspoon fine salt
100g cold unsalted butter
Preheat oven to 350F or 180C.
Prepare a square pan or pie pan 20x20cm or 8'x8 ', cover the bottom and sides with parchment paper. Butter well.
In a bowl or food processor mix together the dry ingredients: flour, sugar, and salt. Add the diced cold butter and process until you have fine sand or work with a fork or two knives.
Pour into pan and press with a spoon, evenly distribute a layer of the same thickness. Forming a small rim of 1 cm around the mold.
Bake for 20 minutes or until lightly browned. Do not turn off the oven.
If it rises after you take it out of the oven crush with a fork.
for the filling,
1 lemon
1 cup sugar
100 grams of butter
4 eggs
2 tablespoons cornstarch
1/4 teaspoon fine salt
If you are using a regular lemon, cut the yellow part of the peel and put it in the food processor. Cut most of the whites part and discard. Cut the lemon into slices, throw the seeds to the garbage and add the pulp to the processor.
Add sugar and process until everything is finely ground. About 3 minutes. Or do the same in a blender.
Add the diced butter, processing until incorporated, 1 minute more.
Add eggs, cornstarch, and salt, process or blend until well blended.
Pour onto the hot base and return to the oven.
Bake for 30-40 minutes or until lightly browned and set. When moving pan should just giggle a little bit at the center.
Remove from oven and let cool completely on a rack before cutting.
I like them cold so I usually refrigerate before cutting.