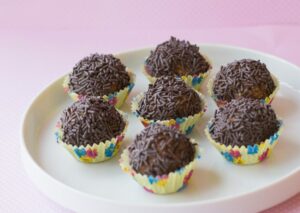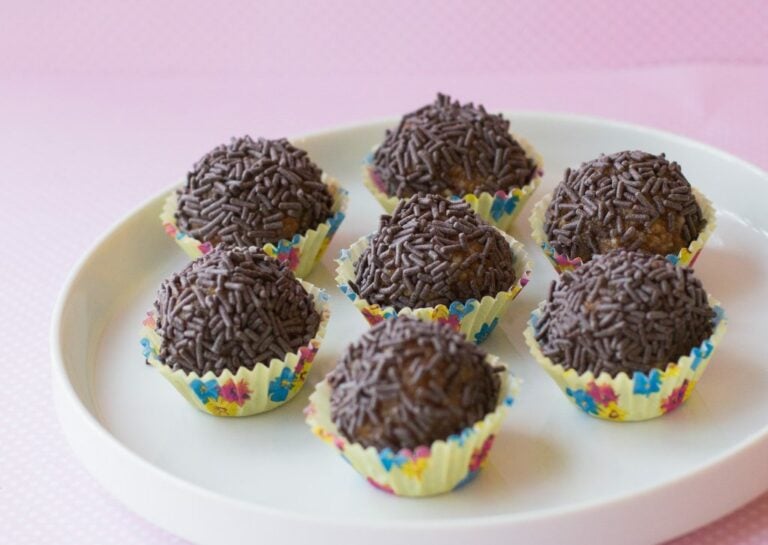 Lucuma is a fruit native to Chile and Peru. The flavors resemble caramel. These Lucuma bonbons are made with lucuma pulp brought from Chile. They are delicious.
You can get lucuma pulp (sweet like apple butter) online in the USA at this store Tu Chile Aquí. Sometimes you can find frozen lucuma pulp, Goya brand, in Latin supermarkets, like Fiesta in Texas. The frozen version doesn't have sugar, so you must cook the pulp with sugar until caramelized.
Another option is to get lucuma powder online or Whole Foods or natural supermarkets. It is trendy on smoothies.
I have never seen Lucuma fruit in the USA. I remember my grandmother cutting it and scooping the pulp to make butter or to add to whipped cream for one of our most traditional cakes: Lucuma meringue cake.
Lucuma bonbons
for 15 bonbons
Ingredients:
1/4 cup lucuma puree or 3 tablespoons lucuma powder
1/4 cup ground almonds or almond meal
chocolate sprinkles to roll
Preparation:
Mix lucuma puree with the almond meal until you get a paste. Form the balls with your hands.
Roll in the chocolate sprinkles and place them in paper cups.
Serve the same day or refrigerate.