Chileans have the most giant sweet tooth, so cookies and candies are prominent in many celebrations. Many classics to choose from.
Chilean cuisine has a variety of delicious cookies and candies, both homemade and commercially produced. These treats often reflect the country's cultural and culinary influences.
Here are some famous Chilean cookies and candies:
Homemade:
Alfajores: Alfajores are perhaps the most famous Chilean cookies. They consist of two buttery, crumbly cookies sandwiched with dulce de leche and often coated in powdered sugar or coconut flakes. There are also many commercial alfajores available in Chile. My favorites are the Sausalito ones.
Cocadas: Cocadas are coconut-based cookies. They typically contain grated coconut, sugar, and sometimes egg whites, creating a sweet and chewy treat.
Camotillos: Homemade or artisanal sweet potato candies.
Maní Confitado: Homemade or artisanal peanuts covered in caramelized sugar and cinnamon.
Cocadas de manjar: Truffles made with cookie crumbs and dulce de leche.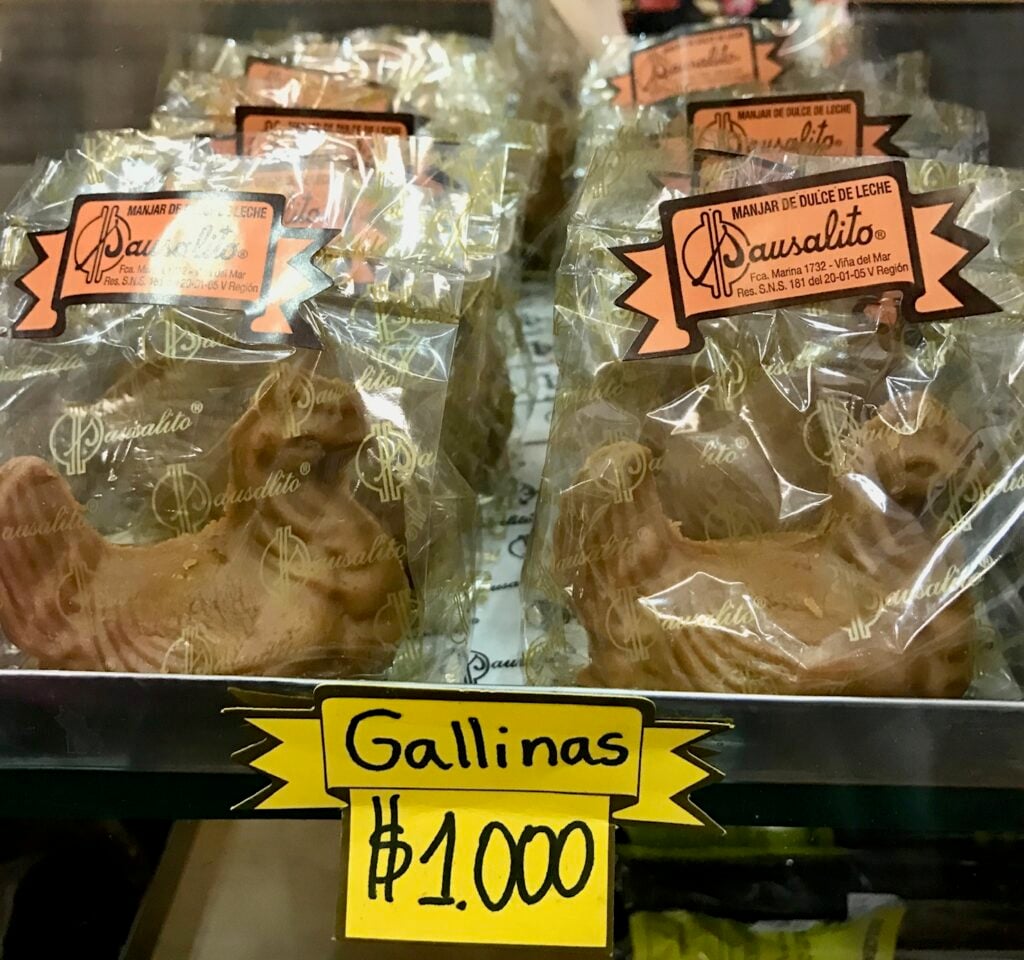 Commercial Chilean Cookies and Candies:
Super 8: Super 8 is a famous treat in Chile. They are thin wafers filled with vanilla cream and dipped in chocolate.
Suny: Dulce de leche candy by Calaf.
Sahne-Nuss: Milk Chocolate bar with whole roasted almonds by Nestle. A true classic.
Trencito: Smooth milk chocolate bar.
Bon o Bon: These candies contain a chocolate shell filled with a creamy hazelnut or peanut butter center.
Ambrosoli: Ambrosoli is a Chilean candy brand known for its range of sweets, including lollipops, hard candies, and fruit-flavored gummies (Frugelé).
Tuareg: Coconut cookie filled with coconut cream or other tropical flavor combinations.
Criollitas: Vanilla cookies shaped like Madeleines, with a flavor and texture similar to Ladyfingers.
Cuchuflí: Imagine a thin cannoli wafer filled with dulce de leche.
Alteza, Nik: Wafers cookies filled with different flavored creams.
Chokita: Vanilla cookies filled with vanilla cream dipped in chocolate.
Whether you prefer traditional homemade treats or commercial brands, you'll find various sweet options to satisfy your cravings in Chile.