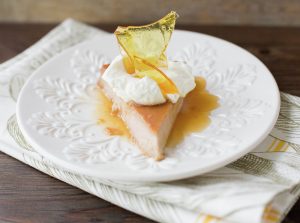 Finally, I found a jar of lucuma puree last week, and I did it. It was spectacular and delicious.
Lucuma Flan
Ingredients:
for caramel,
1 cup sugar
2 tablespoons water
Place both into a very clean saucepan. Heat over medium-high heat until boiling. Do not stir.
Wait until it changes color to caramel. Pour into the pan and let cool.
For the flan,
1 cup lucuma puree or 1/4 cup of powder lucuma with 1/2 cup of granulated
1 cup heavy cream
1 cup milk
3 eggs
Boil water for the bath.
Preheat the oven to 350F or 180C.
Beat all ingredients with a balloon whisk without incorporating too much air. Using a strainer, strain and pour over the caramel.
Bake in a water bath (place the pudding mold inside another larger pie pan and cover halfway with boiling water)
Bake for 45 minutes. Ensure that this is cooked by burying a knife. It should come out clean.
Carefully remove the pan from the oven and let cool on the counter. Refrigerate.
Unmold and cool and refrigerate until serving time.