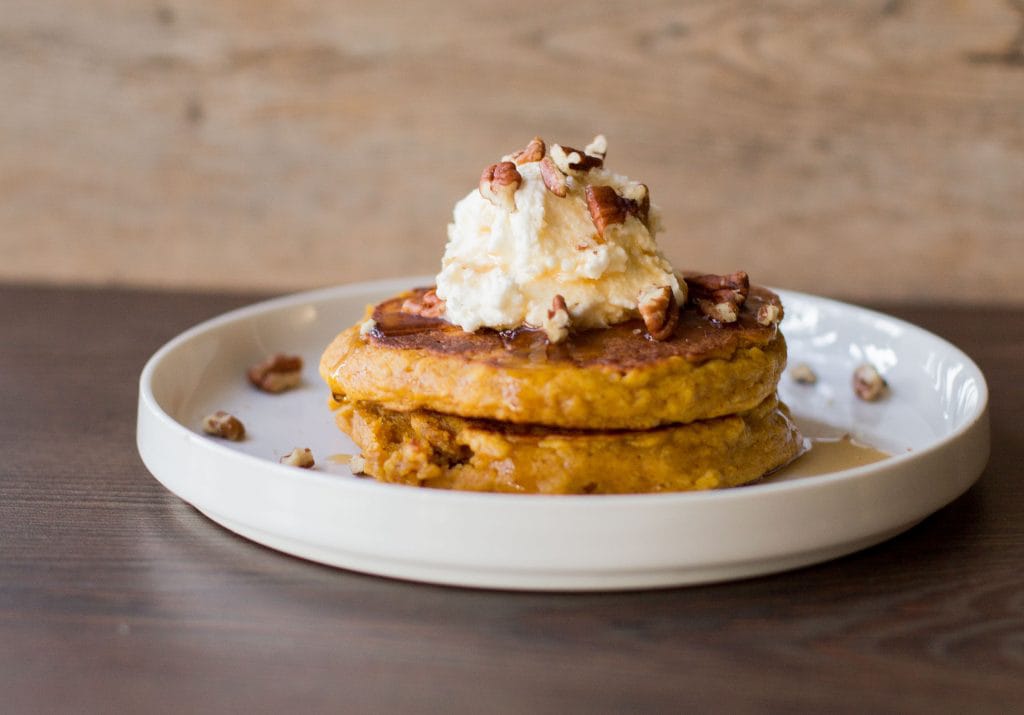 We are in full pumpkin season here in the southern USA and I love to use pumpkin puree in soups, risottos and of course on sweet things like pies, pumpkin butter or Cheesecake. Here, they are a breakfast meal, but for me, they are more like a quick bread to eat with a cup of tea.
I love them with maple syrup, whipped cream, and chopped nuts as pictured. If you have never made pancakes I recommend you do, is fast and they always work.
Pumpkin Pancakes
Ingredients:
1 1/ 4 cup all-purpose flour
2 teaspoons baking powder
1/2 teaspoon cinnamon
pinch of nutmeg, cloves
1/4 teaspoon salt
4 tablespoons brown sugar
1/2 cup pumpkin puree
1 cup milk
1 egg
2 tablespoons vegetable oil
Preparation:
In a bowl mix the flour, baking powder, cinnamon, nutmeg, cloves, and salt, stir a few times with a fork.
In another bowl mix milk, pumpkin puree, eggs, oil, and sugar. Whisk with a fork until well blended.
Pour the dry ingredients over the wet and stir just enough to mix the two and get a heavy batter.
Heat a griddle. Little oiled.
Place 1/2 cup batter and let cook a couple of minutes, they are ready to flip when you start seeing bubbles burst on the surface. Flip and finish cooking. They should be golden.
Serve with butter, whipped cream, maple syrup, ice cream to your liking.