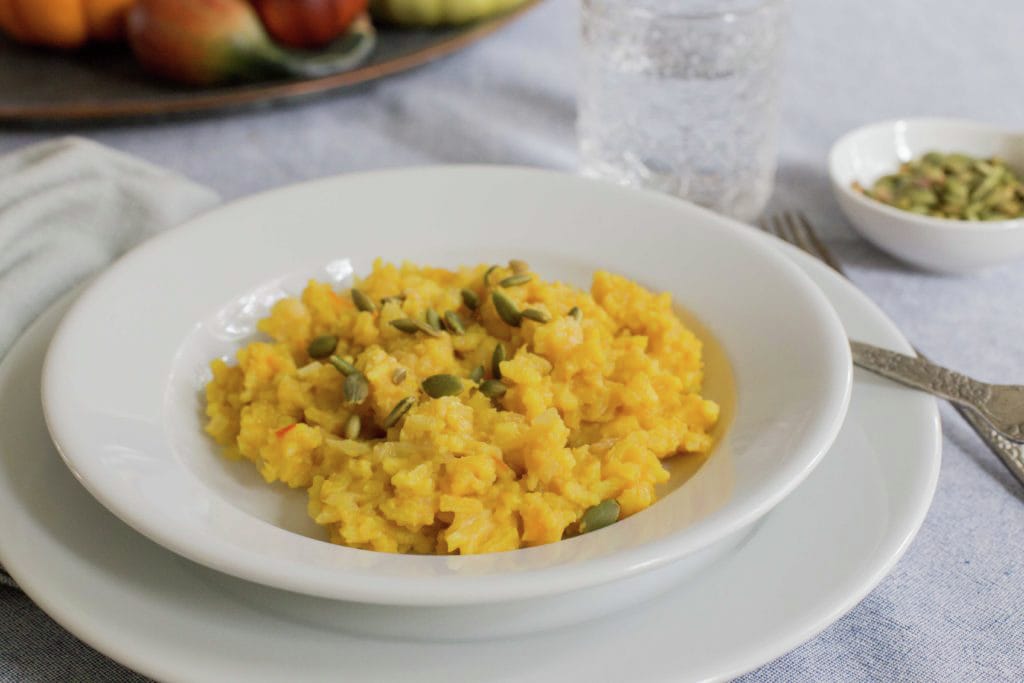 This pumpkin saffron risotto is inspired by a recipe I once saw on TV. It really is delicious and looks amazing.
I've been making risotto for years now. Before moving to the US, back in the year 2003, my mother in law taught me how to make the most traditional recipe, Milanese risotto. And I've been making it all these years, my husband loves it. Every once in a while I try different recipes and more than anything I explore new flavors. I love it that it is very easy to prepare as a vegetarian option and when we have people for dinner it's one of my safe bets.
I generally make it when the guests have already arrived, while we sip wine and eat snacks. Besides, it's not a heavy meal to eat at night.
This recipe was first published in 2008 with no photos or comments. And now it returns.

Pumpkin Saffron Risotto 
Serves 6
Ingredients:
2 tbsp butter
1 medium onion, finely chopped
2 cups arborio rice or risotto rice (short grain)
1/2 cup white wine
5 cups vegetable broth (from a box or in cubes is ok)
1/2 tsp saffron
2 cups butternut squash (or any other yellow pumpkin), boiled and pureed, warm
1/2 cup grated parmesan cheese
Preparation:
In a medium pan, allow broth to simmer.
In a large pan add a spoonful of butter over medium-high heat. Once melted, add onion and brown for 5 minutes until transparent.
Add the rice and stir constantly; allow to heat well, about 2 minutes. Add the wine and allow to reduce until completely evaporated, stirring constantly, for about 2-3 minutes. Lower heat to medium.
Add 2 ladles of broth and the saffron, stir well and allow to cook. Risotto must always bubble gently, adjust heat as needed.
From the moment you add the broth, rice should be ready in 20 minutes, set a timer for reference. Continue adding broth each time it dries (when you run a wooden spoon over the bottom, rice should not come together again). After 18 minutes add pumpkin puree, combine well.
After 20 minutes check for rice doneness. Add the last ladle of broth, parmesan cheese and 1 tablespoon of butter, stir well and turn off the heat. Adjust seasoning with salt and pepper.  Allow resting for 3 minutes covered with a kitchen towel before serving. If the rice is still hard, cook for 3 more minutes and taste again.
It may be reheated in the microwave.