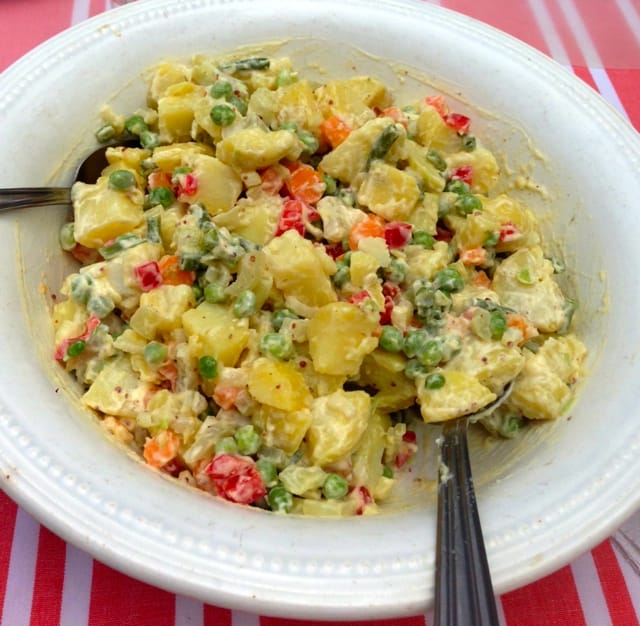 This recipe has many interpretations. Here is, the Chilean version or more probably my Chilean family version. This particular one was made for my mother and it was delicious. Do you have your own version? This is one of the salad always present on Chilean BBQ, next to a tomato onion salad or THE Chilean salad.
Russian potato salad
for 4 people
Ingredients:
5 medium red potatoes cooked, peeled and cut into cubes
1/2 red pepper diced small
2 carrots, cooked and diced
1/2 cup peas cooked
5 thinly sliced scallions, white part and the beginning of the green
1 stalk celery, chopped fine
1 small chopped apple, optional
vinaigrette
mayonnaise
Preparation:
Cook the potatoes in cold salted water, when it boils continue to cook covered for 15-20 minutes or until you can pass through easily with a table knife. Drain and cover with cold water.
Chop and cook the carrots and peas separately in the microwave or in a small saucepan until barely cooked or "al dente".
Chop the scallions, celery, and apple.
Peel the potatoes and chop into small cubes. Place all ingredients in a large bowl.
Make a vinaigrette according to personal taste: I suggest using some mustard, Dijon or yellow, oil, vinegar and salt. Mix well. Dress the salad and stir well.
Add mayonnaise, about 2 tablespoons, stir and taste, adjust the seasoning.
Refrigerate until ready to serve.